Qua bài viết này edaily.vn xin chia sẻ với các bạn thông tin và kiến thức về Qantas premium economy 747 review hot nhất hiện nay được bình chọn bởi người dùng
Airline: Qantas Airways (QF) Aircraft: Boeing 747 (VH-OJU) Flight #: QF25 Route: Sydney Airport (SYD) > Tokyo-Haneda Airport (HND) Date: September 1, 2019 Duration: 9hrs 25min Cabin & Layout: Premium Economy, 36-seats, 2-4-2 config Seat(s): 38A Miles Used: None Typical Retail Cost: $900 (AU$1,100) per person one-way
Introduction
I was incredibly fortunate to receive an invite to Japan from one of my vendors at work for a week of factory tours, meetings, and previewing future products along with a few others from the same industry.
Booking Qantas Premium Economy
While all my travels are usually self-funded, the return flights between Australia and Japan were paid for by my vendor. They booked Qantas Premium Economy for the Sydney to Tokyo-Haneda flight, which is currently served by a Qantas 747.
This ticket costs approximately $900 (AU$1,100) per person one-way.
Booking Qantas Premium Economy With Points
Alternatively, you can book this flight using airline miles. Here's a look at how many miles you'll need:
35,000 American Airlines AAdvantage Miles
43,000 Cathay Pacific Asia Miles
51,500 British Airways Avios
61,500 Qantas Points
You can book award tickets with Asia Miles, Avios, and Qantas Points online — just log into your mileage account, search for the award, and book. The only exception to this rule, however, is American Airlines.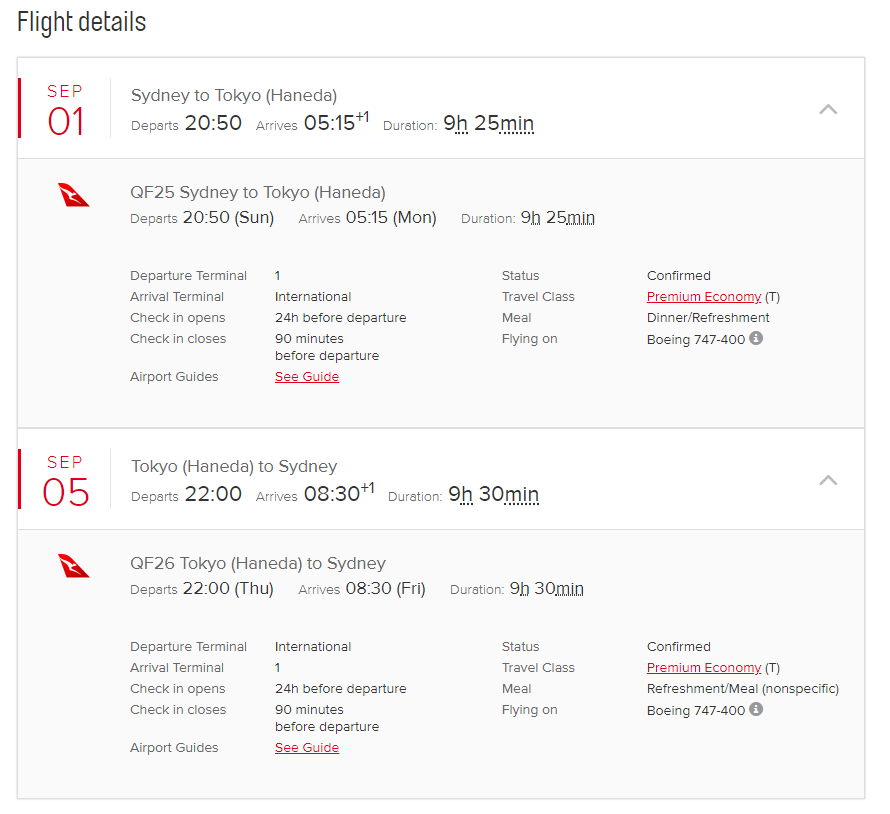 To book with AAdvantage miles, you need to find award space on British Airways "Book With Avios" site, search for a date with premium economy award space, and note the flight number.
Then, call American Airlines and ask to book a premium economy ticket on that specific flight. Make sure to tell the phone representative that you're unable to find this award ticket on the American website to avoid paying the phone booking fee.
You can transfer Marriott Bonvoy points to American Airlines AAdvantage at a rate of 3:1, and you'll get a 5,000-mile bonus for every 60,000 Marriott points you transfer.
Alternatively, you can transfer American Express Membership Rewards, Citi ThankYou Points, and Marriott Bonvoy points to Cathay Pacific Asia Miles at varying rates. This may be easier than earning AAdvantage miles if you already have a stash of credit card points that you can transfer to Asia Miles.
Miles Earned
As this was a paid fare, I opted to credit the flight to my Alaska Mileage Plan account that earned 5,314 miles.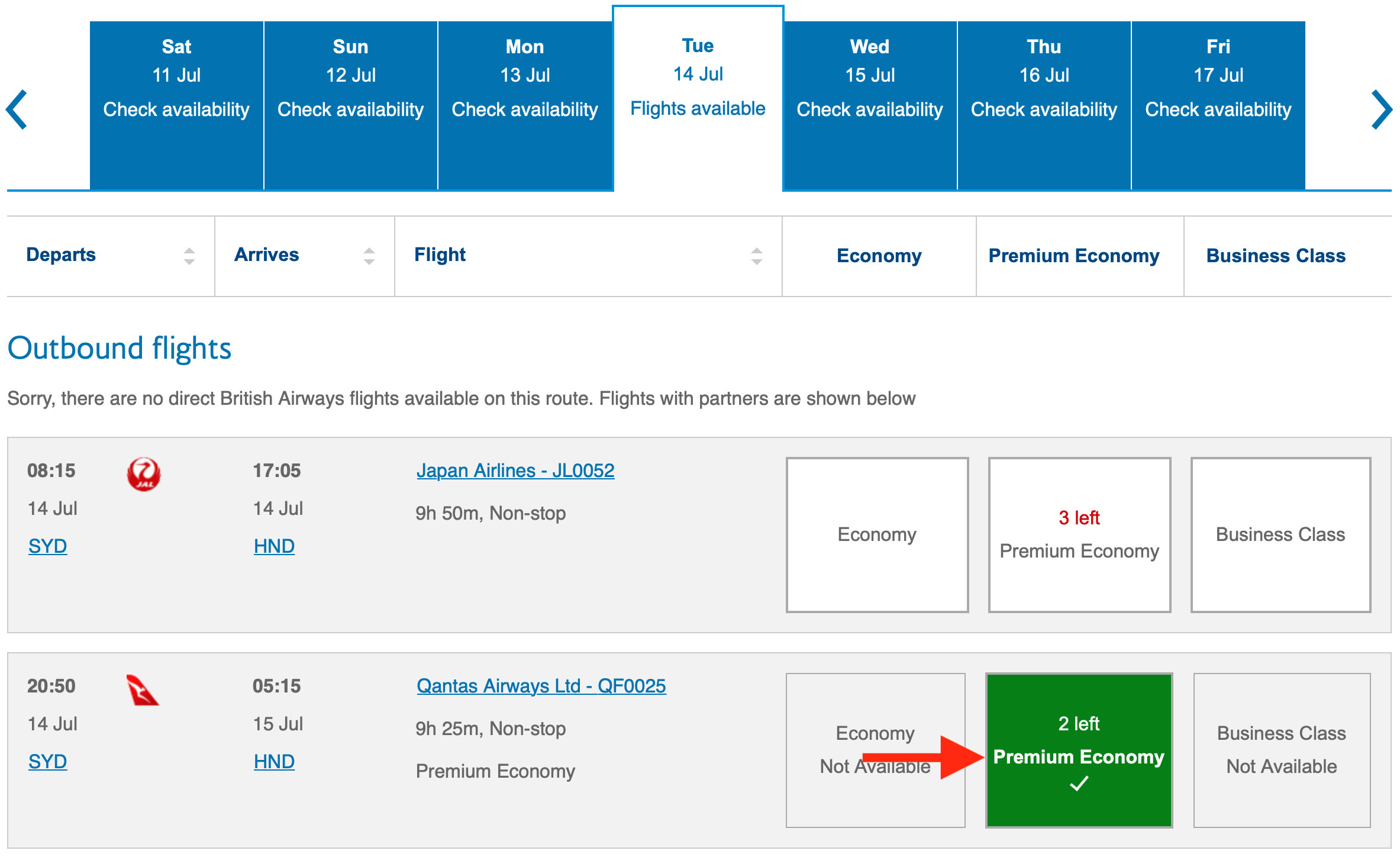 As my fare was on a group reservation, I couldn't select my seat online. I checked ExpertFlyer and it showed only 2 window seats left.

I really wanted 1 of them, so I sent off an SMS to the Qantas messaging service to see if they could secure a seat for me. I received a reply within an hour. By this time, only 1 window seat was left and it was the 1 which didn't have a window according to the Qantas seat map.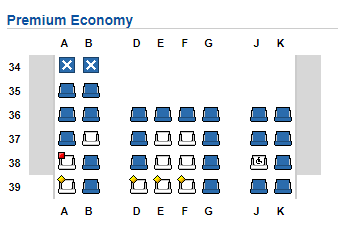 I preferred this over an aisle or middle seat, so I had it locked in by the agent. I was really impressed by the SMS service as it prevented me from calling and waiting on hold. American customers can use the service by texting +1-478-7QANTAS (+1-478-772-6827).
At Sydney Airport
I arrived at the airport at 5:55 p.m. for my 8:50 p.m. flight to Tokyo.
The Qantas check-in area predominately uses self-service kiosks with roaming staff to assist. At this time of the evening, it was fairly empty with no queues so check-in took me just a minute.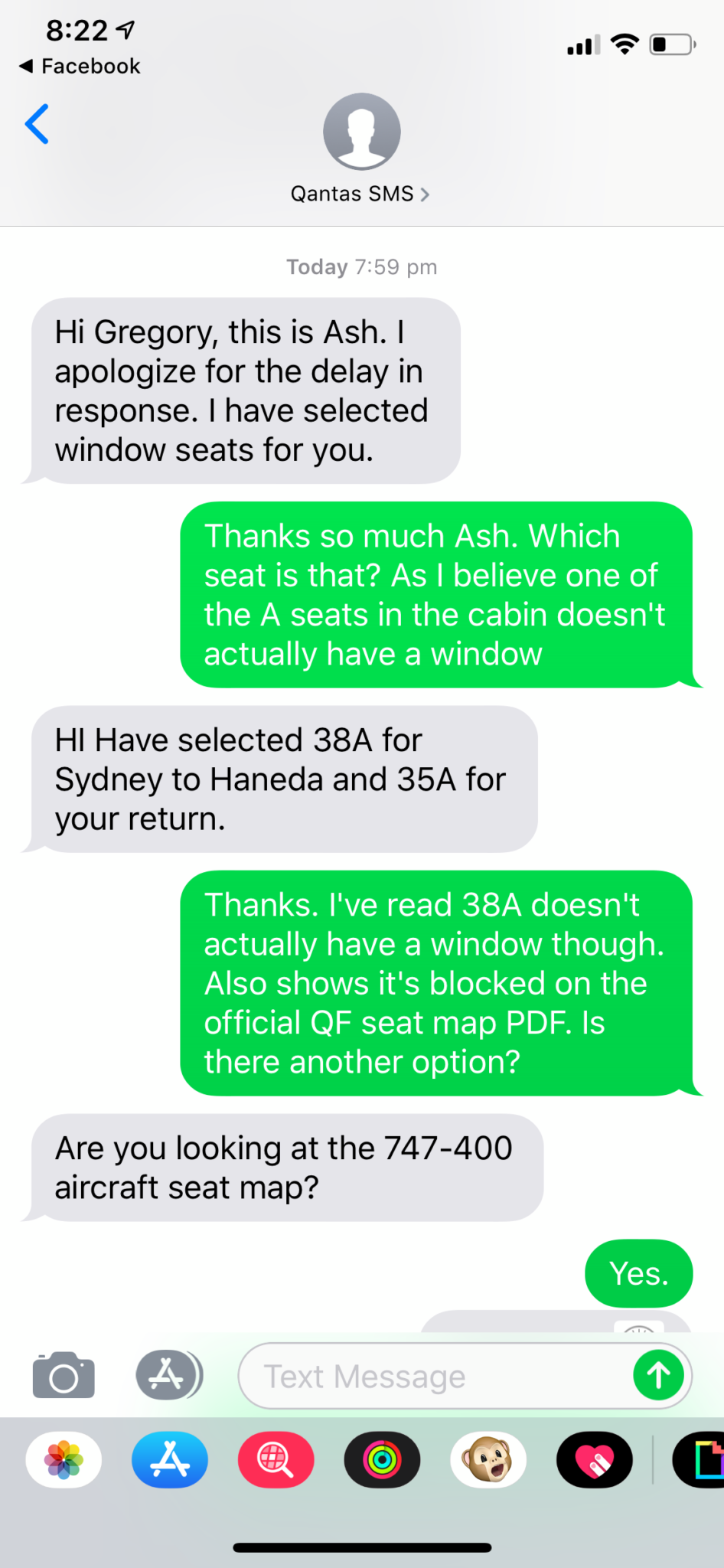 My bag tag was printed, and after I worked out how to attach it to my handle myself, I dropped it off at one of the automated bag drop machines which scanned, weighed, and took my bag off to the aircraft.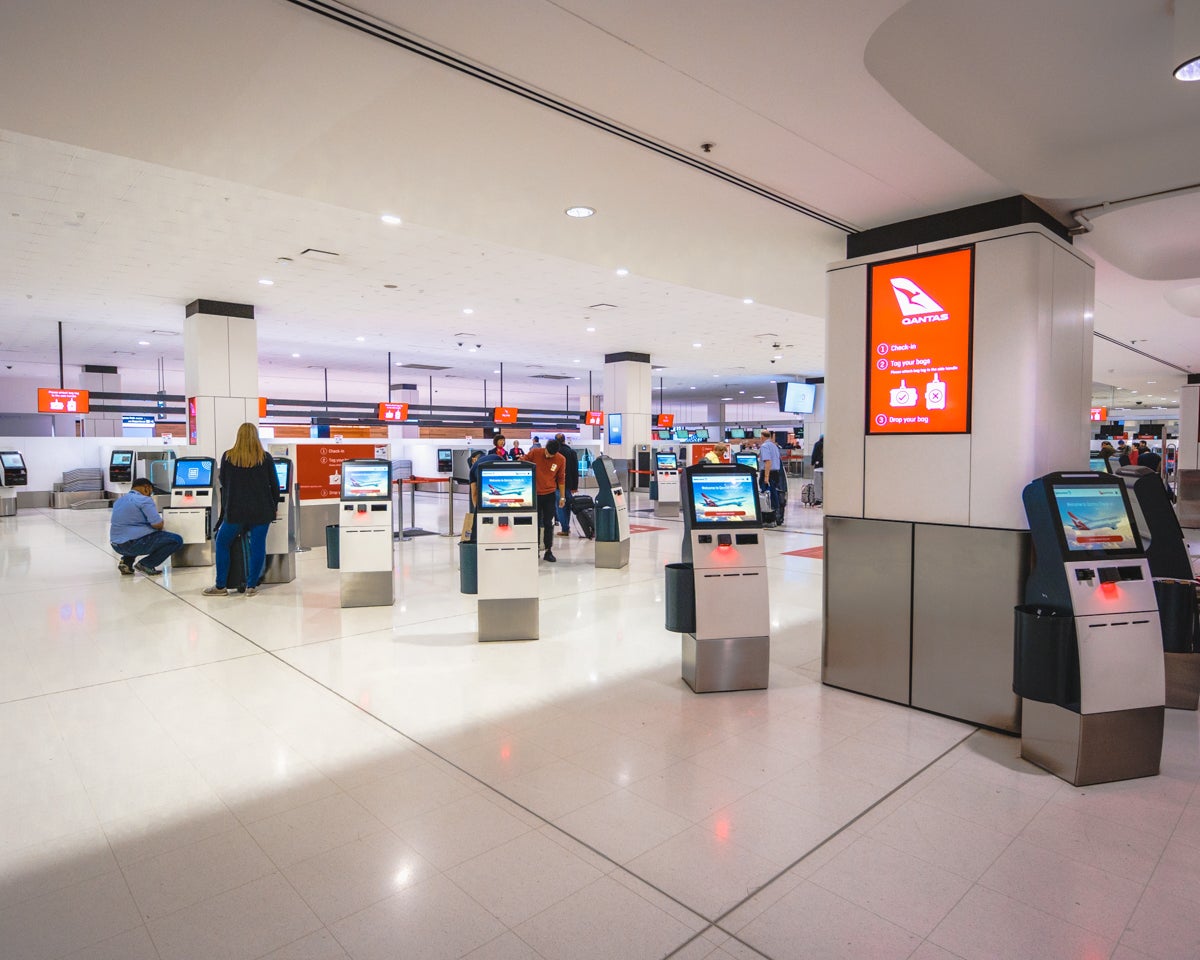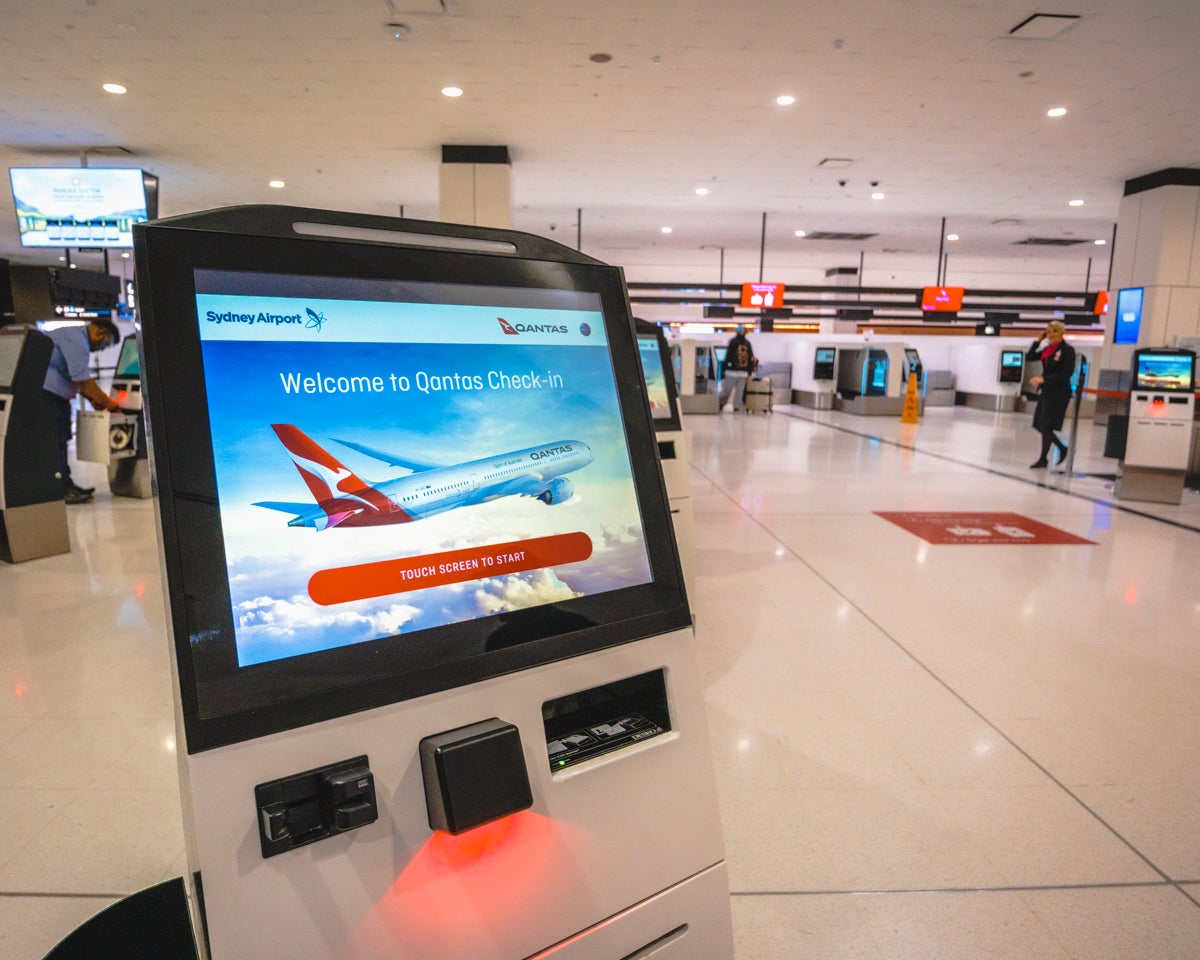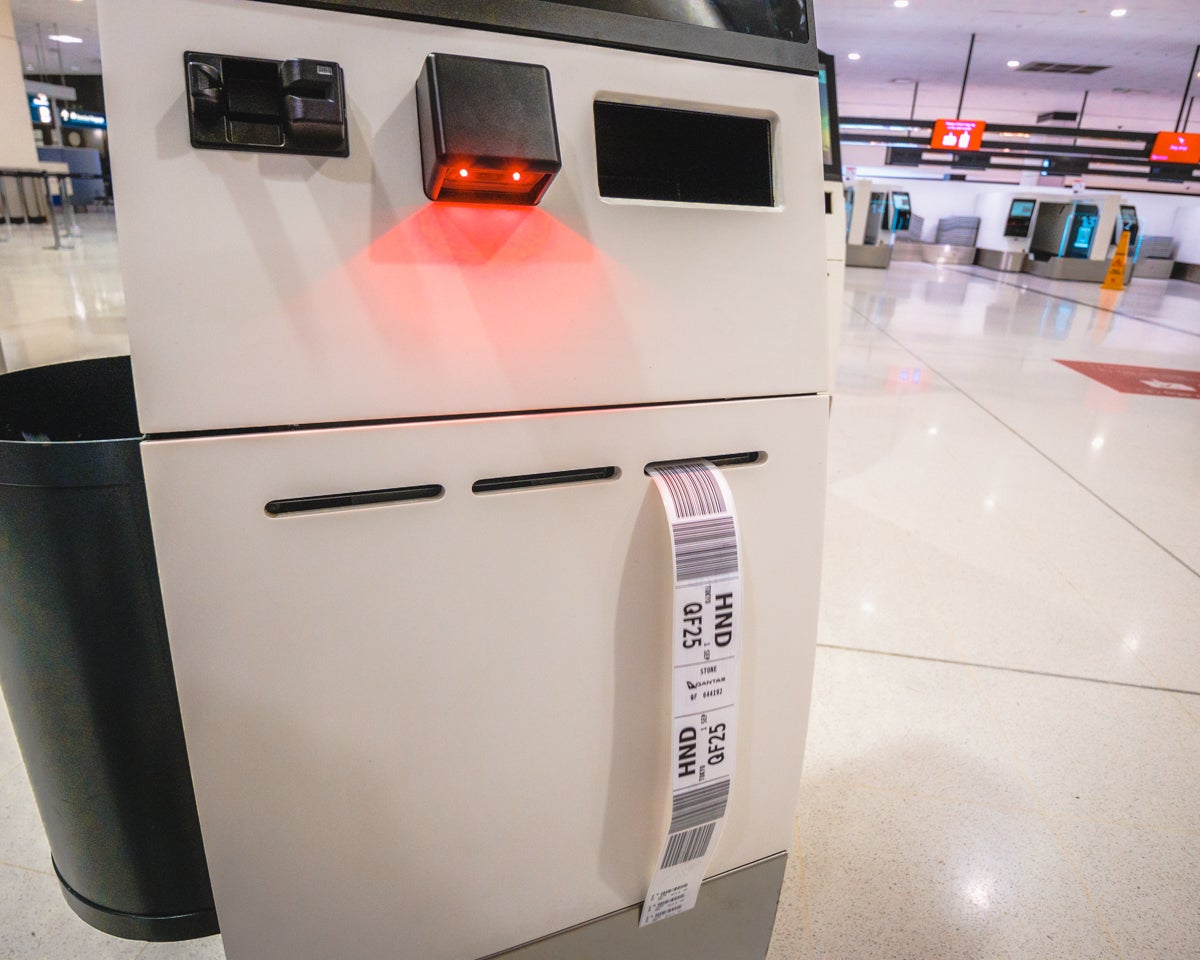 Sydney Airport recently unveiled a refreshed departure area before security which looks great.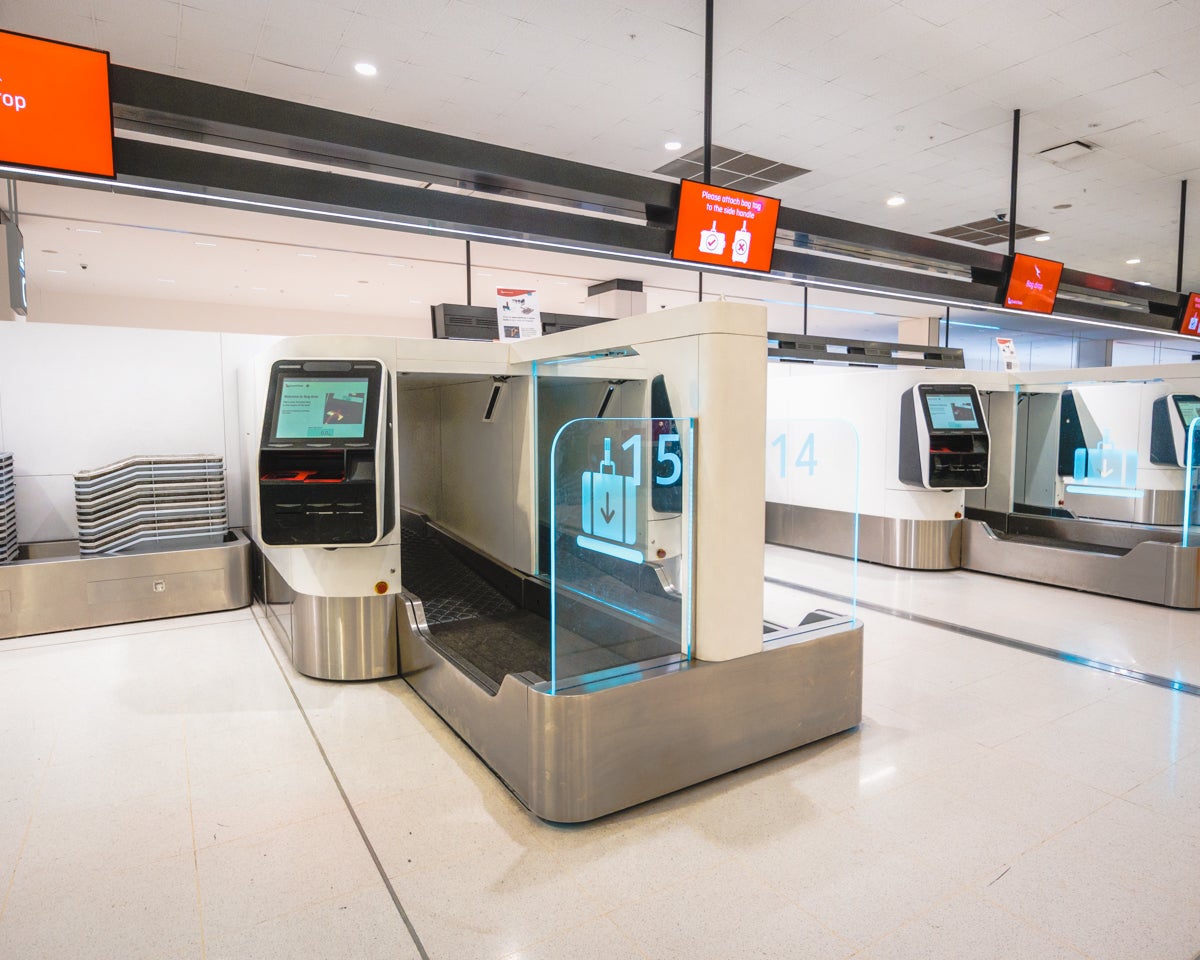 Even though I had no "Express Path" priority screening as I wasn't flying in business or first class, the airport was quiet, so I was through immigration and security by 6:10 p.m., just 15 minutes after arriving.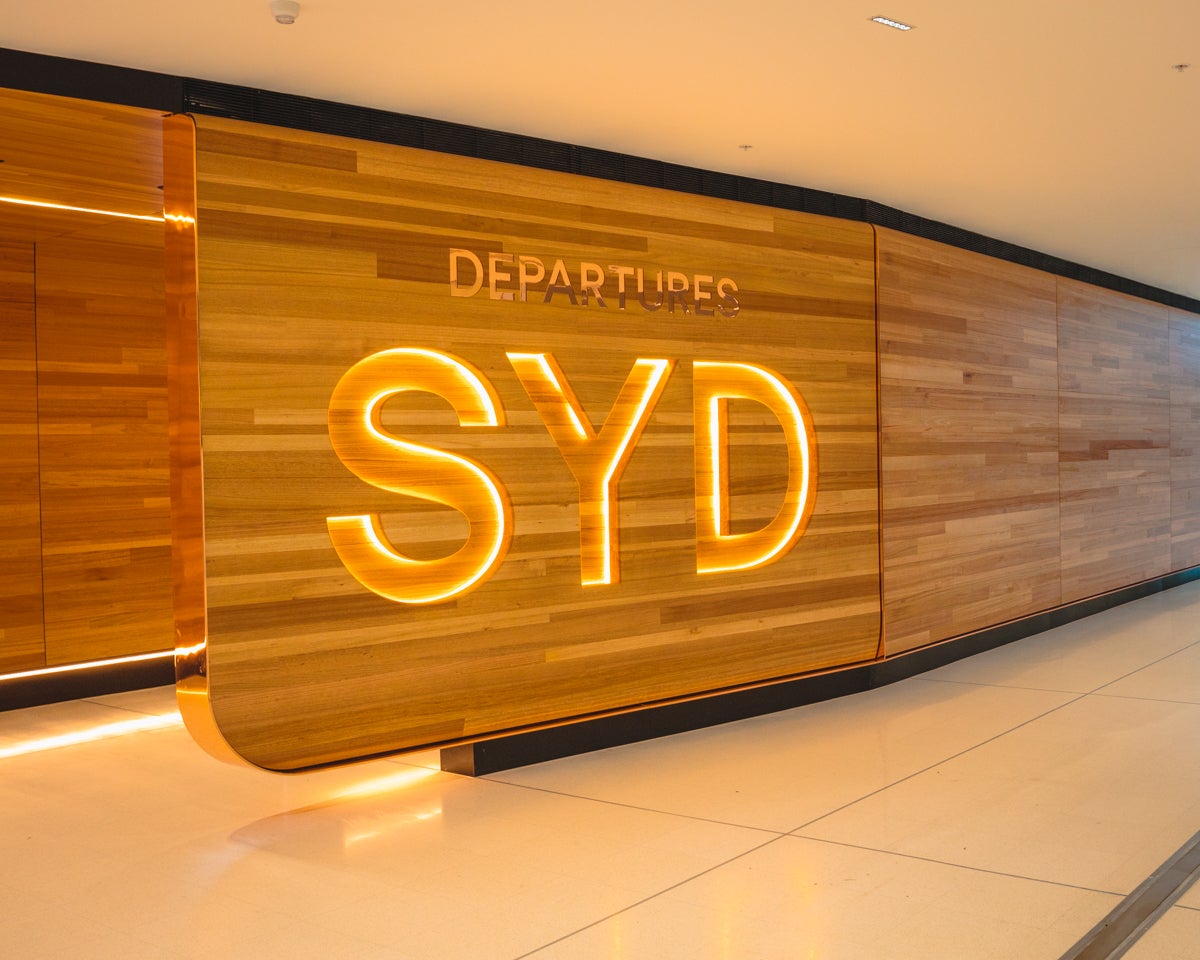 My Premium Economy ticket also didn't provide me with any lounge access, so I bypassed the Qantas lounge entrance and headed towards the American Express lounge instead.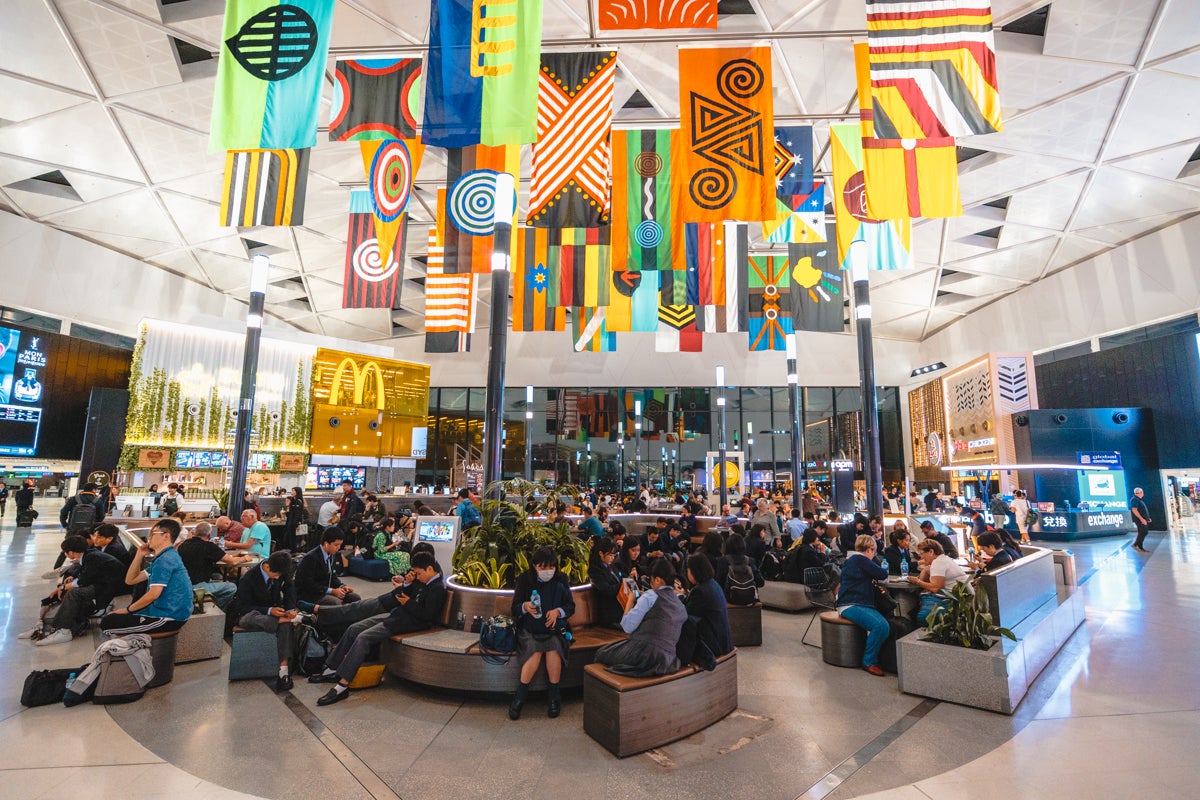 I used my Platinum Card® from American Express to gain entrance to this lounge.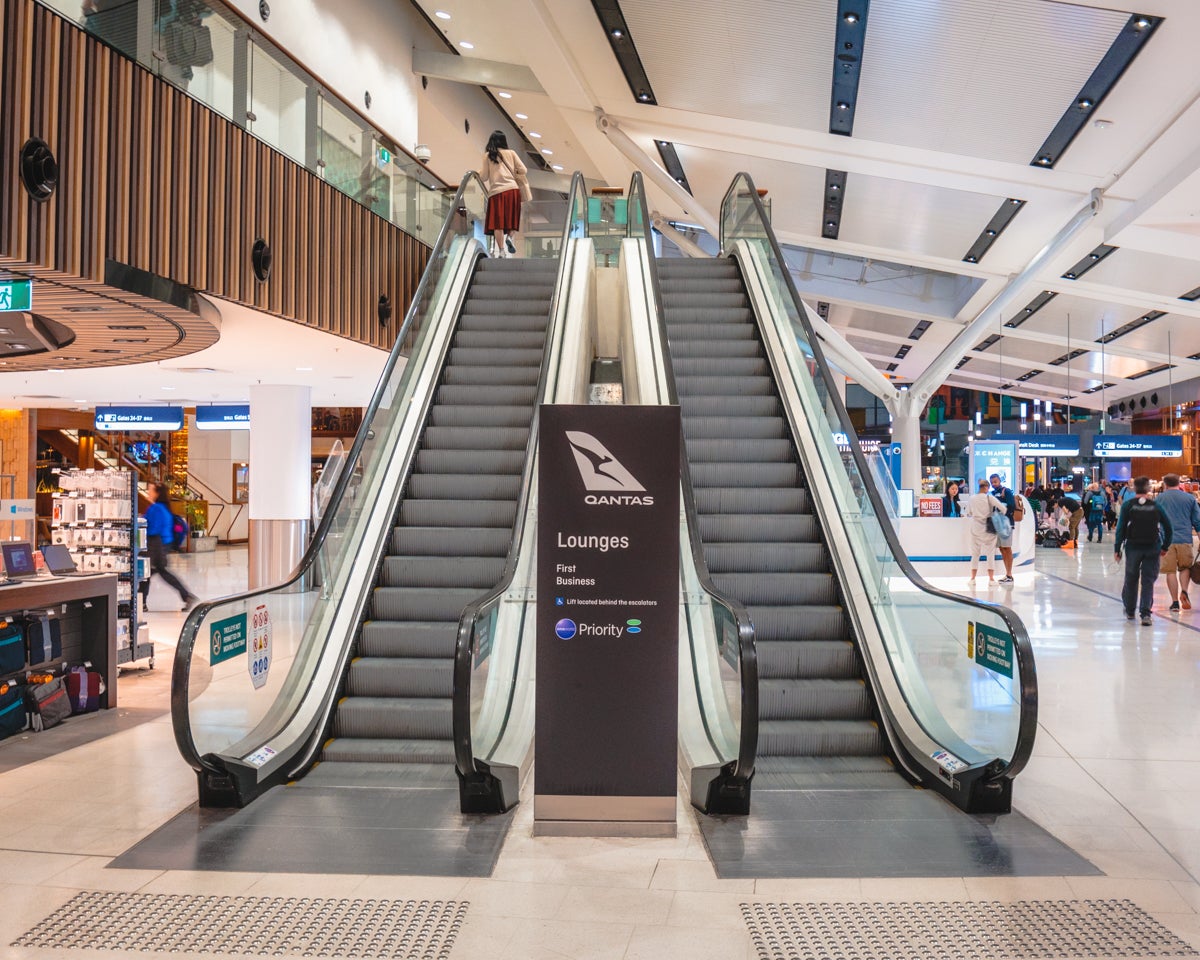 I won't go into any details on this lounge as it closed just a week later after the company unveiled a 3 times larger lounge across the other side of the terminal. You can read more about the new American Express Lounge Sydney in this Jetstar 787 review.
It is rumored that another Plaza Premium lounge will open in its place.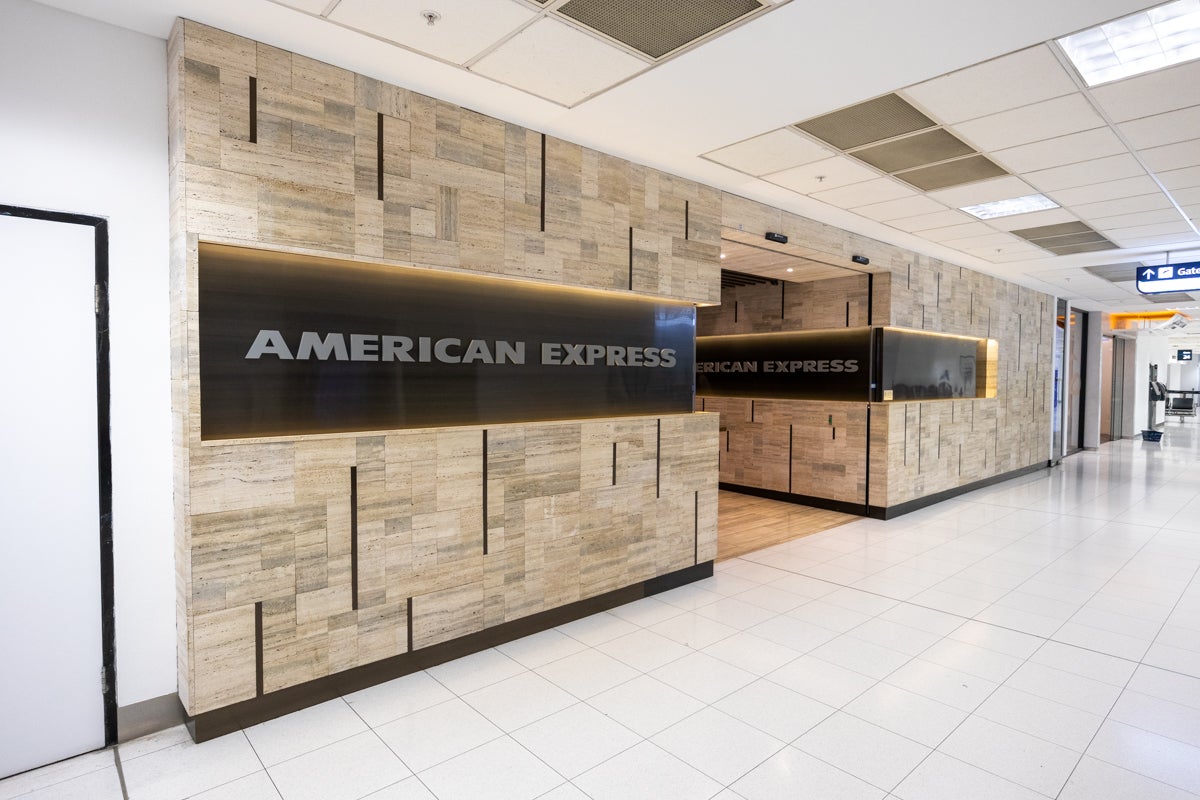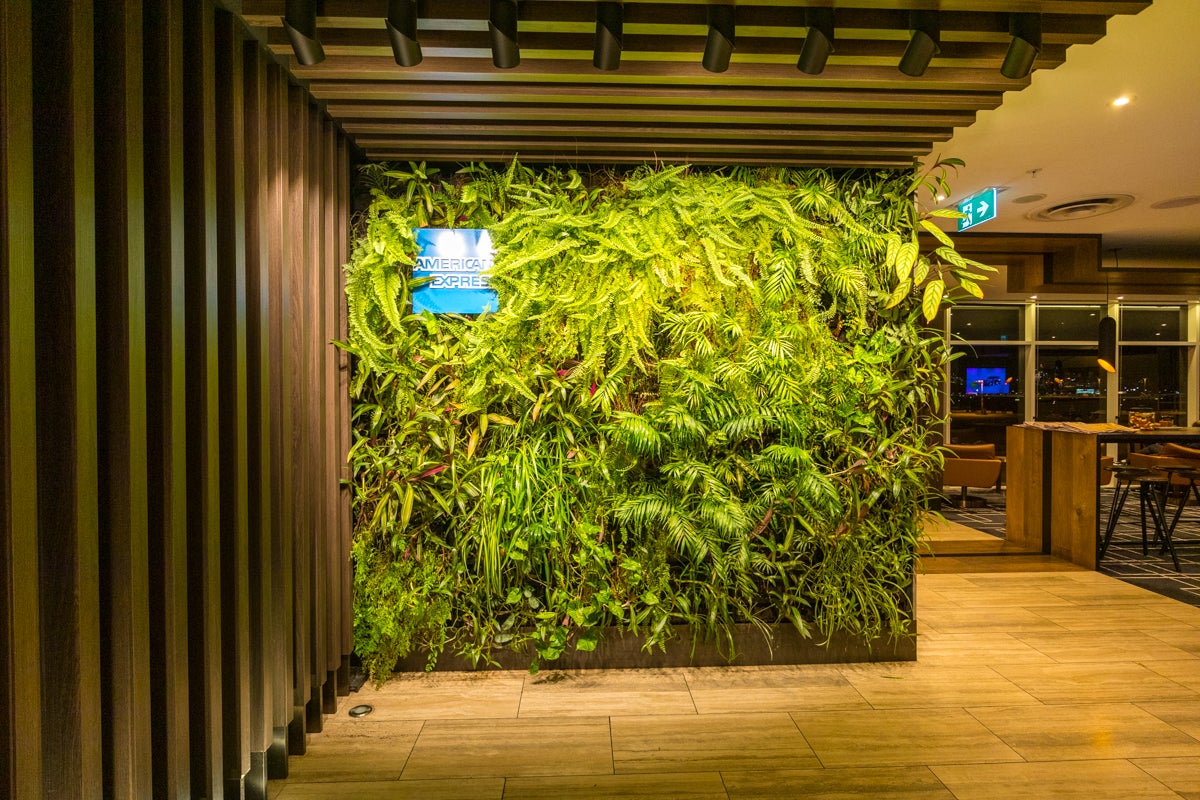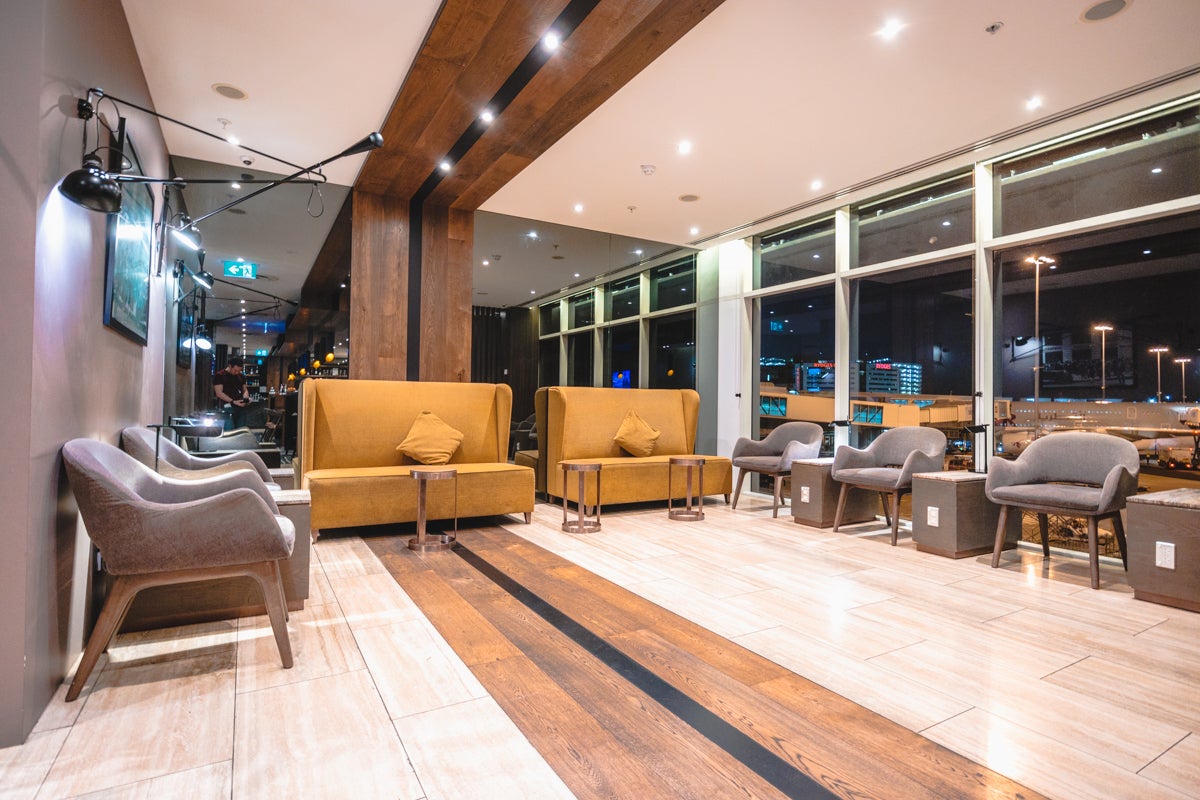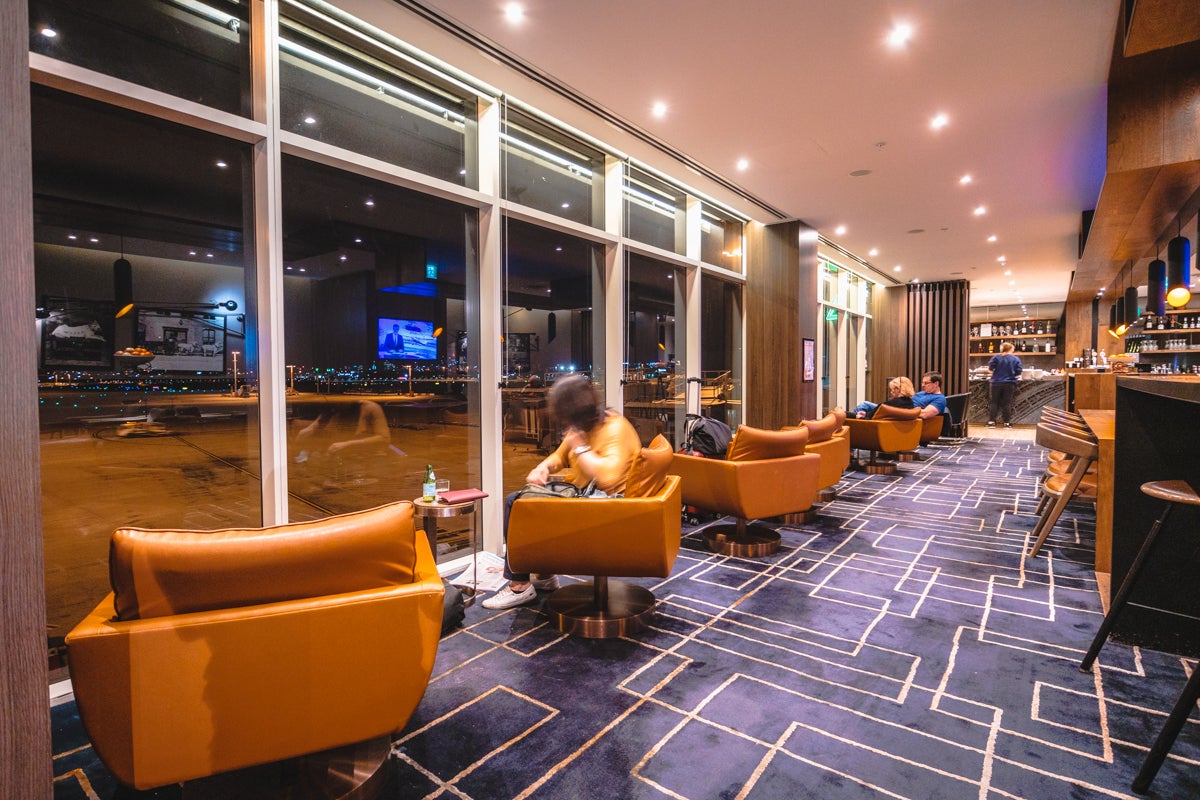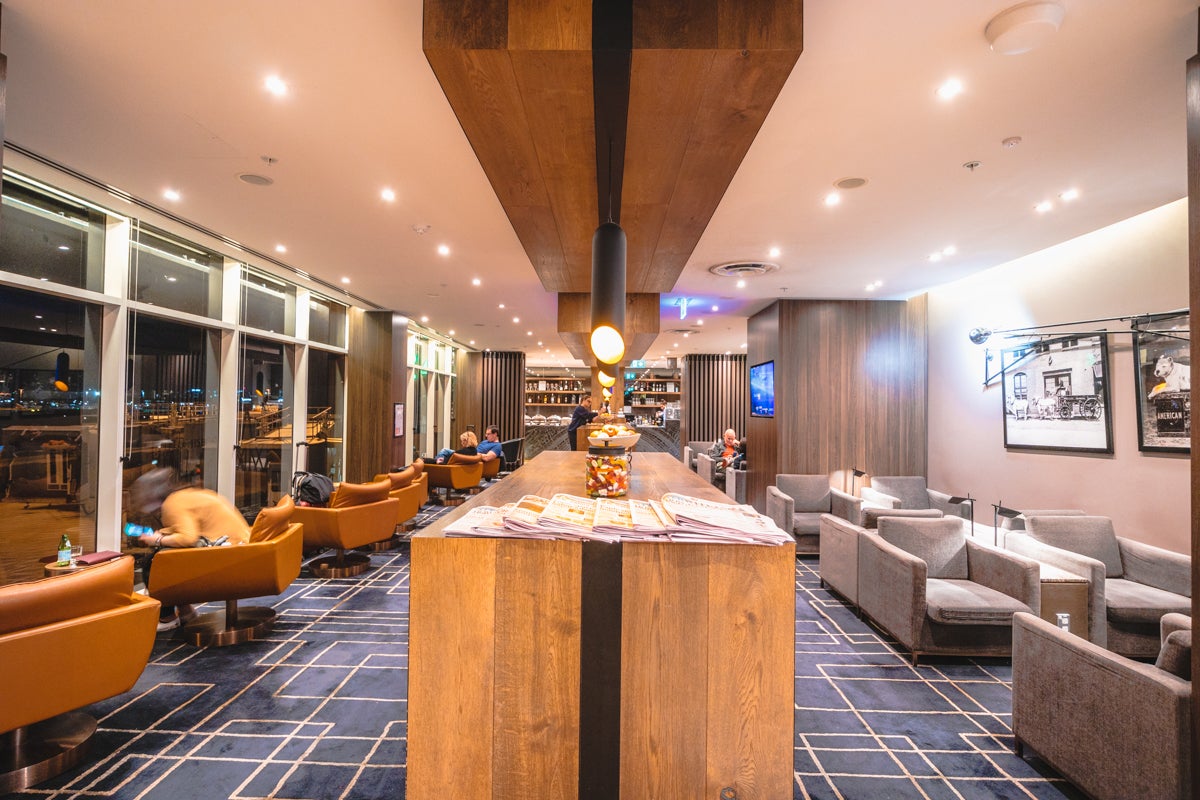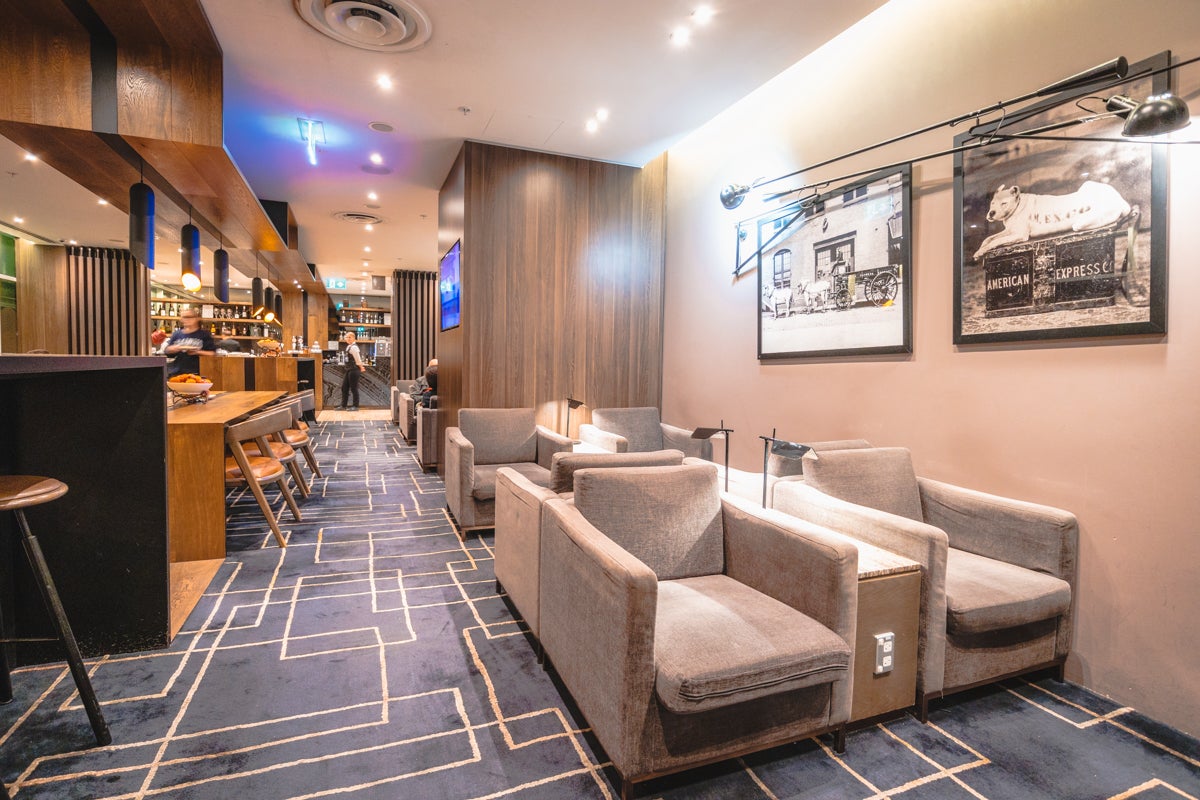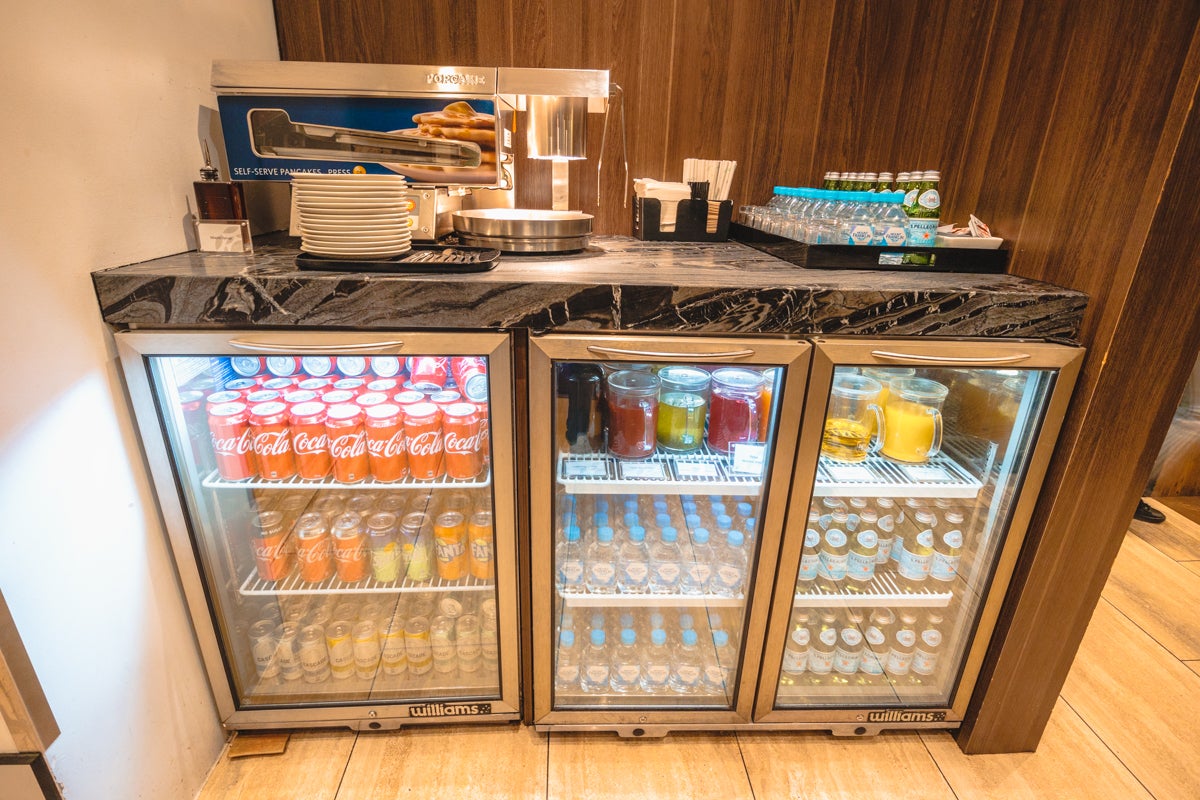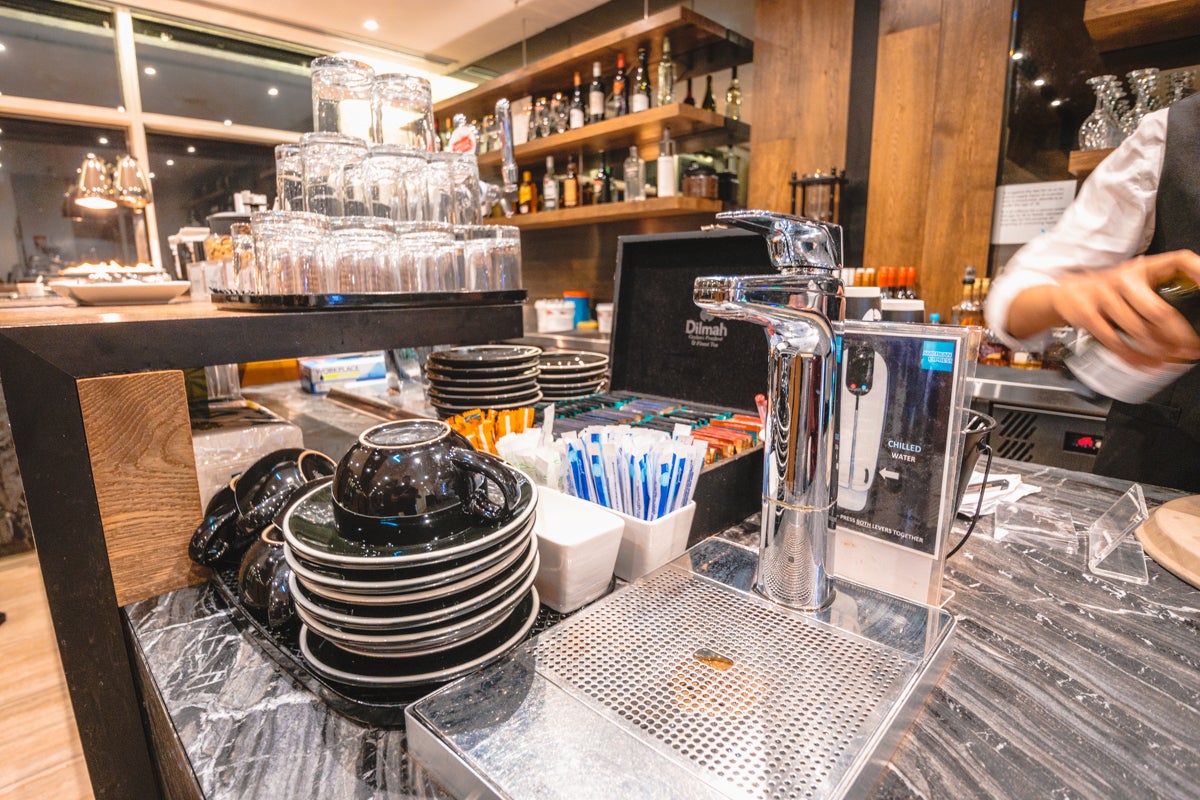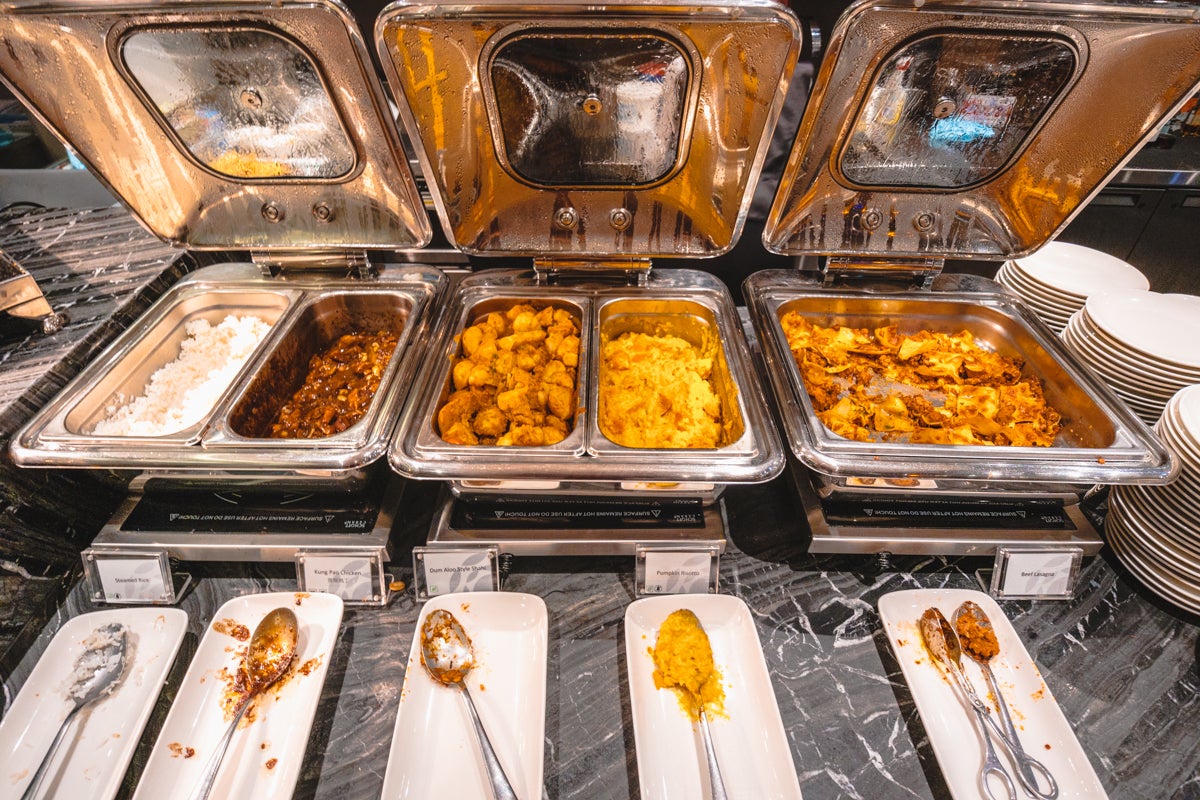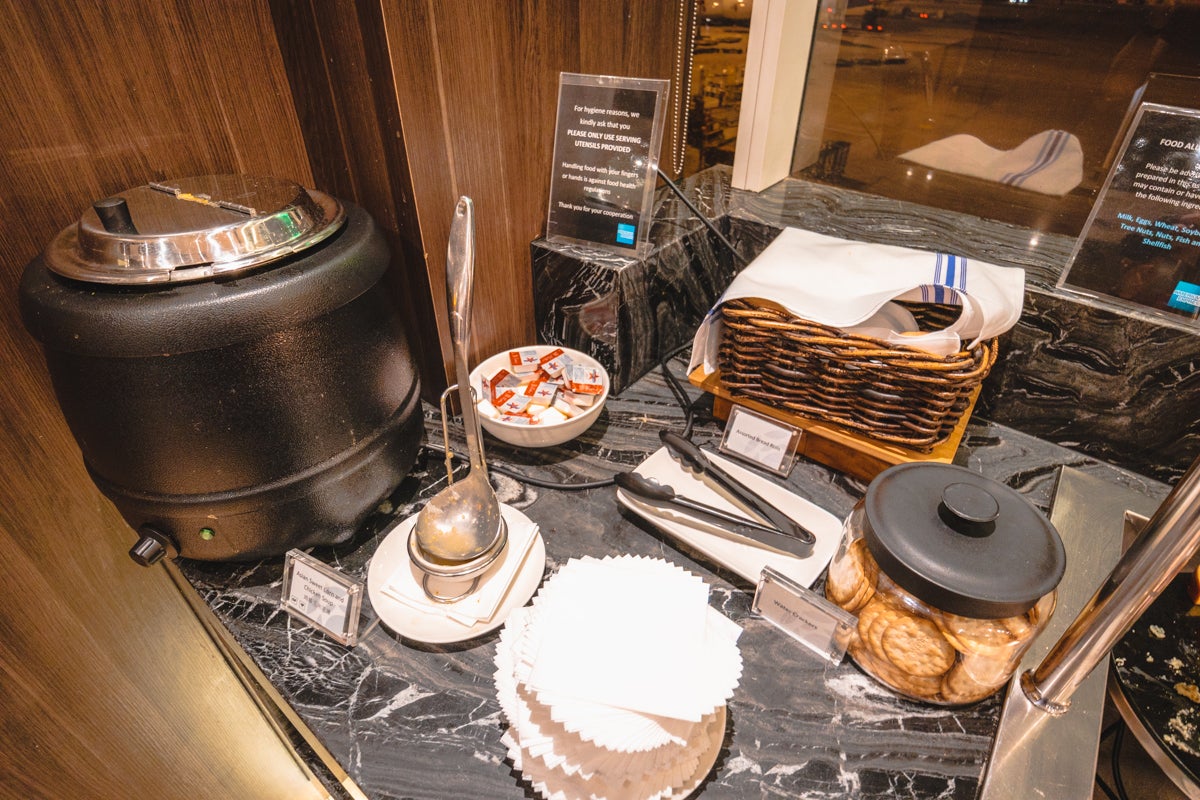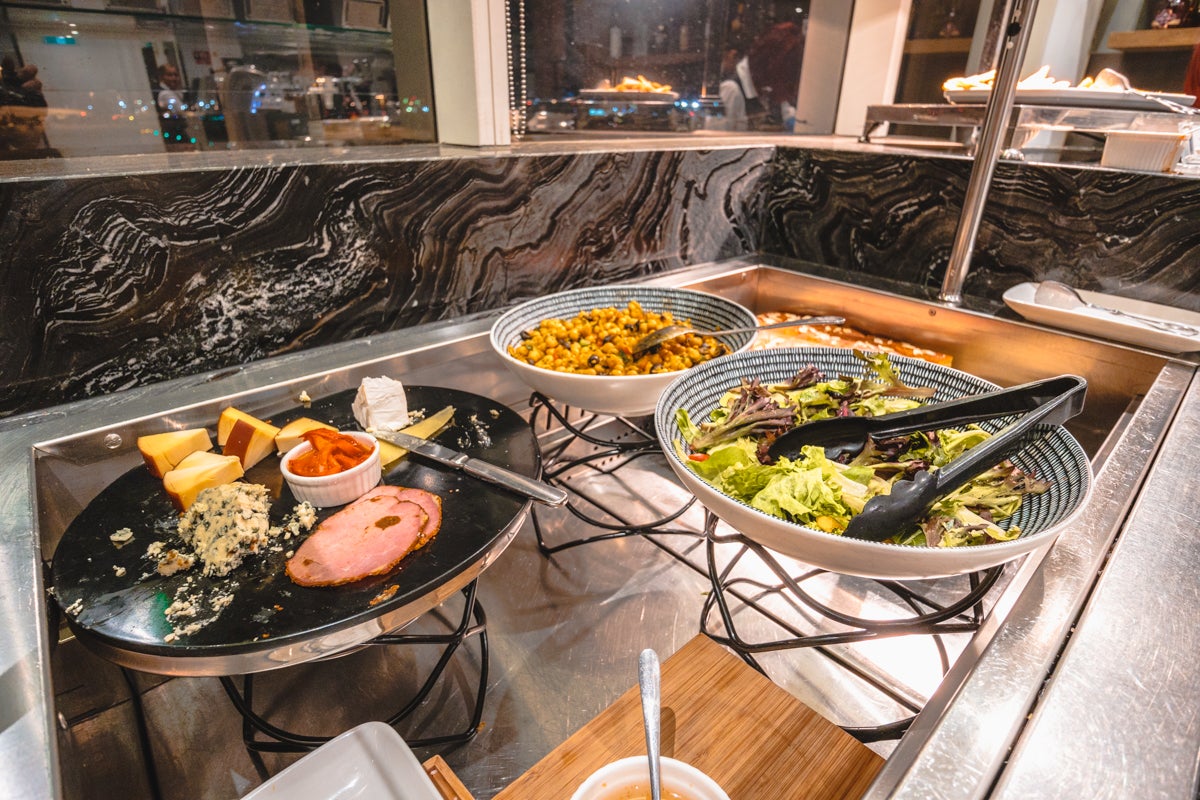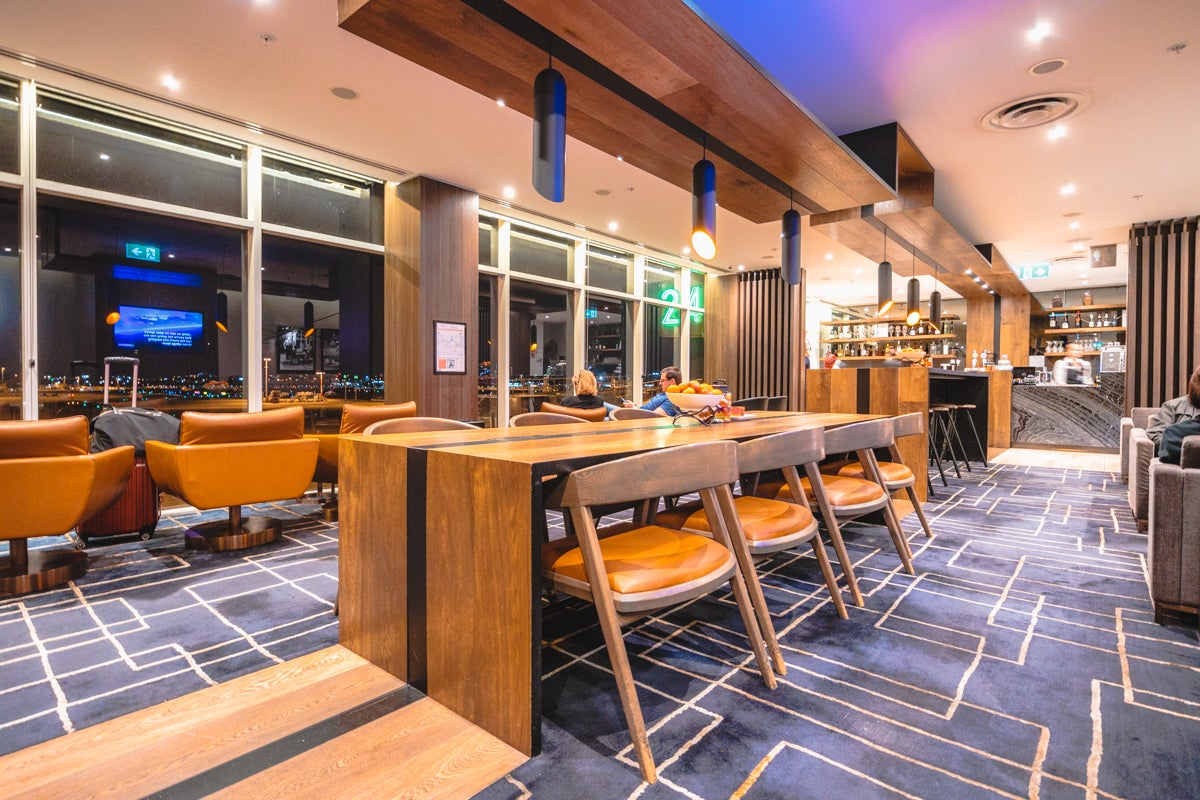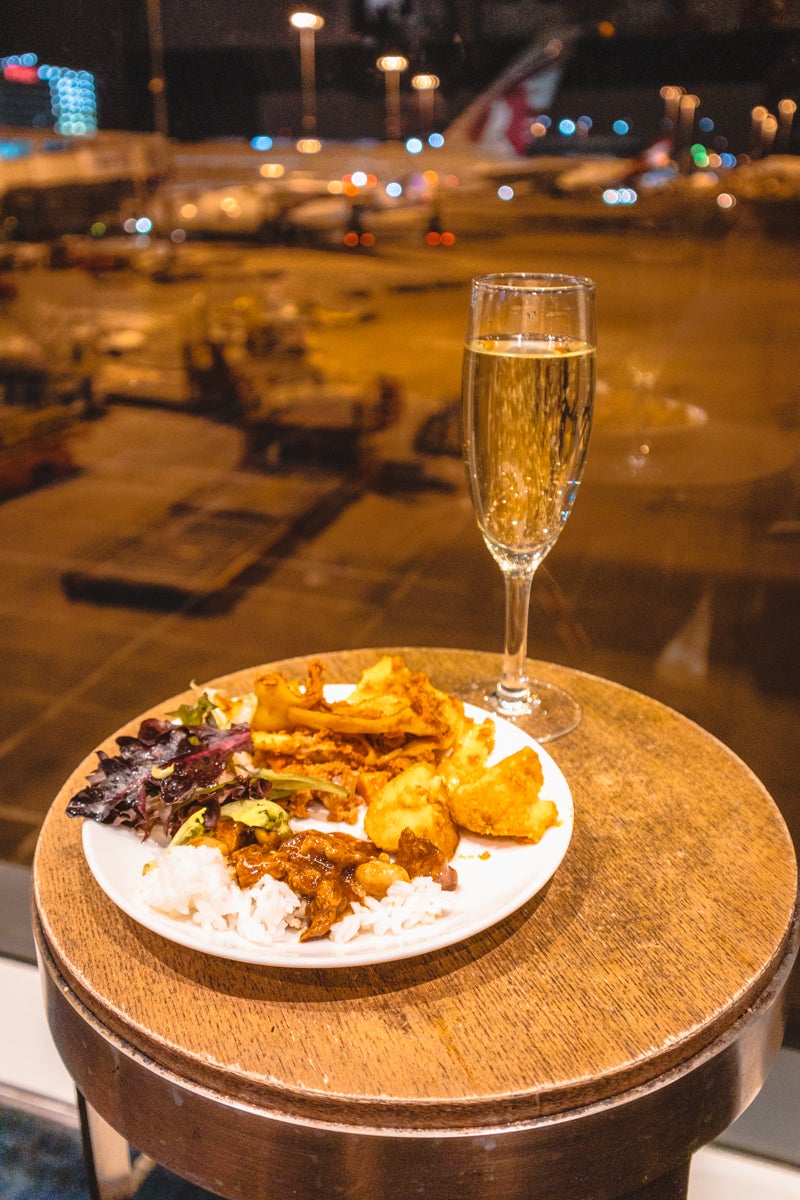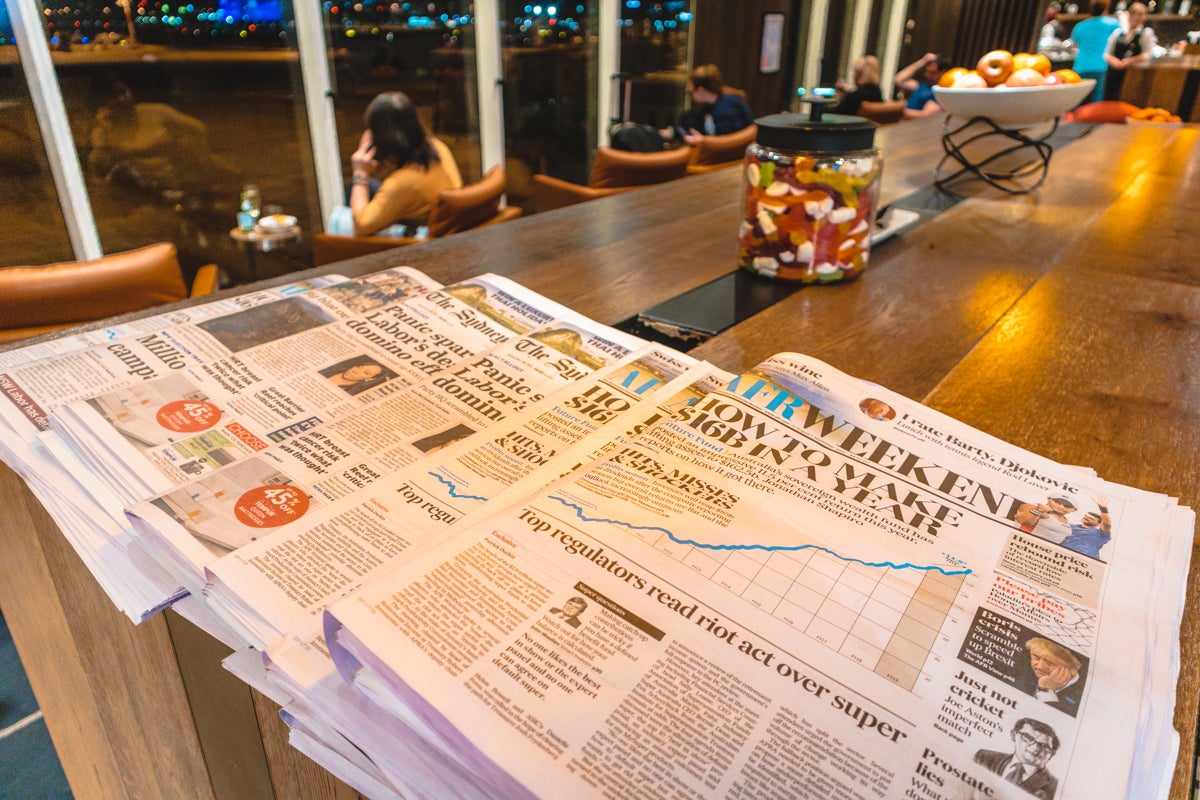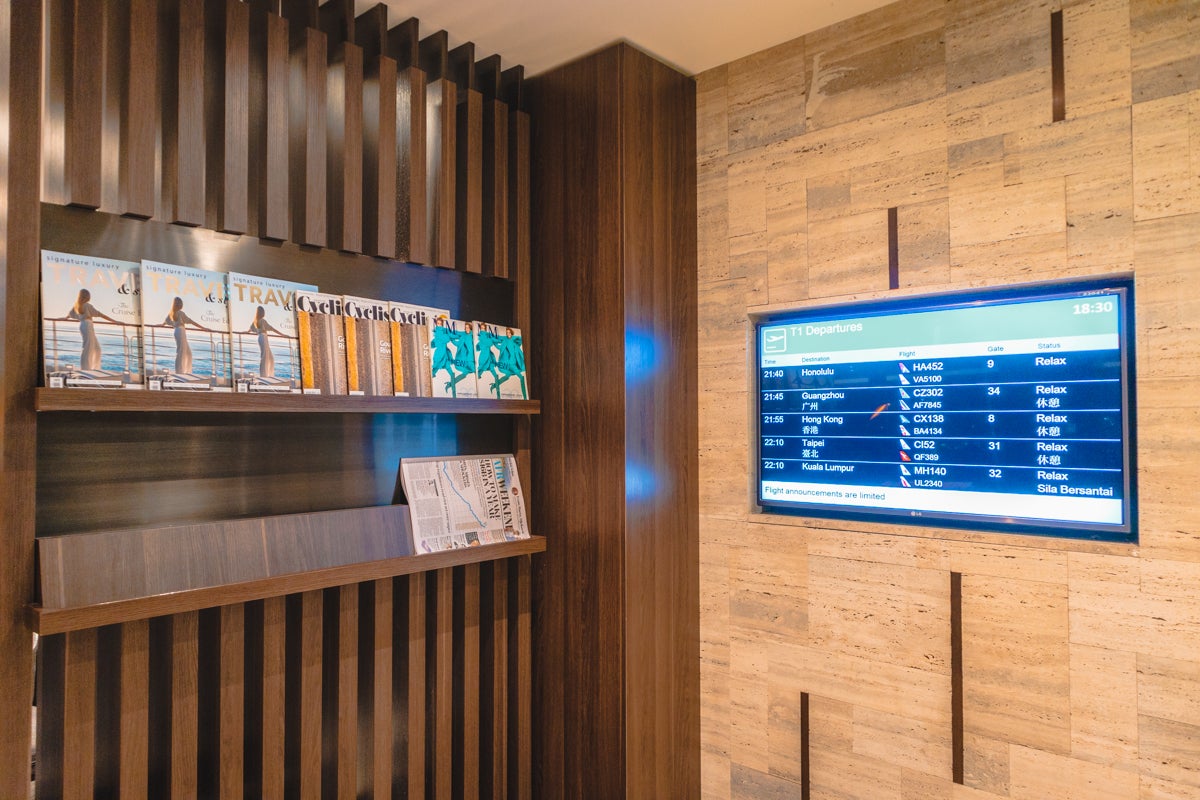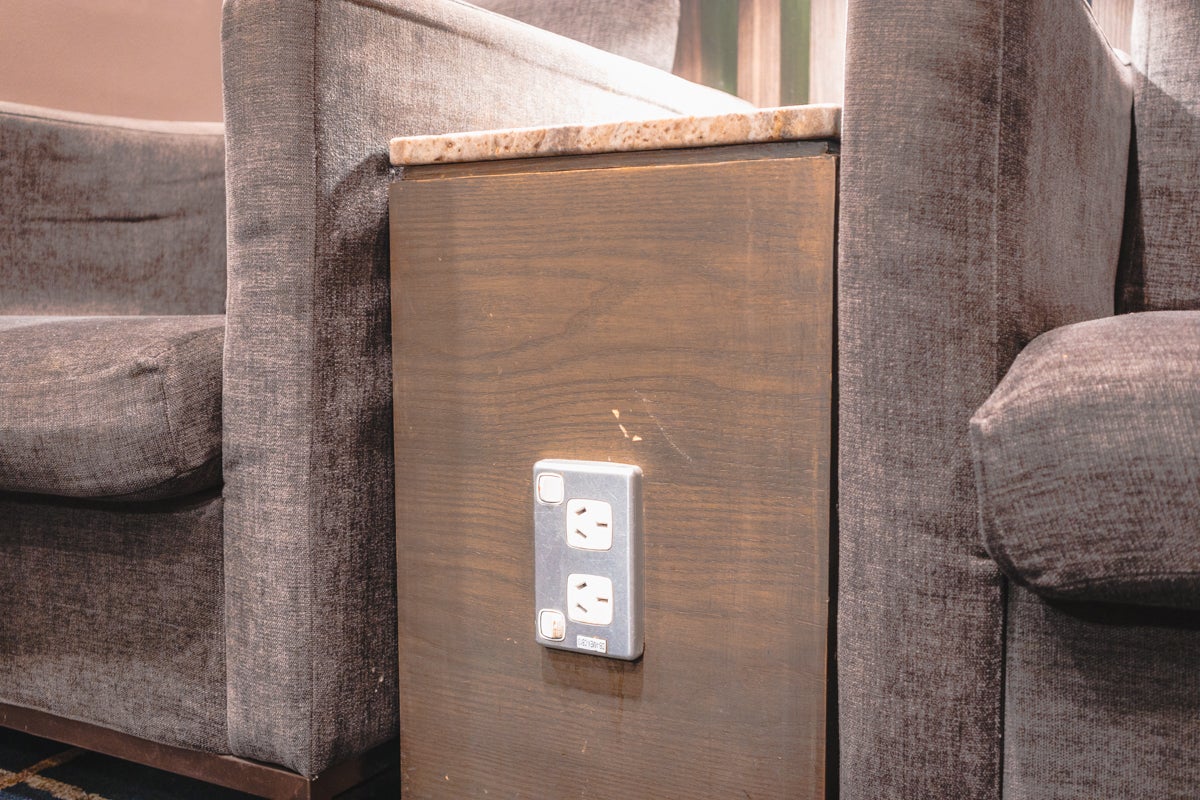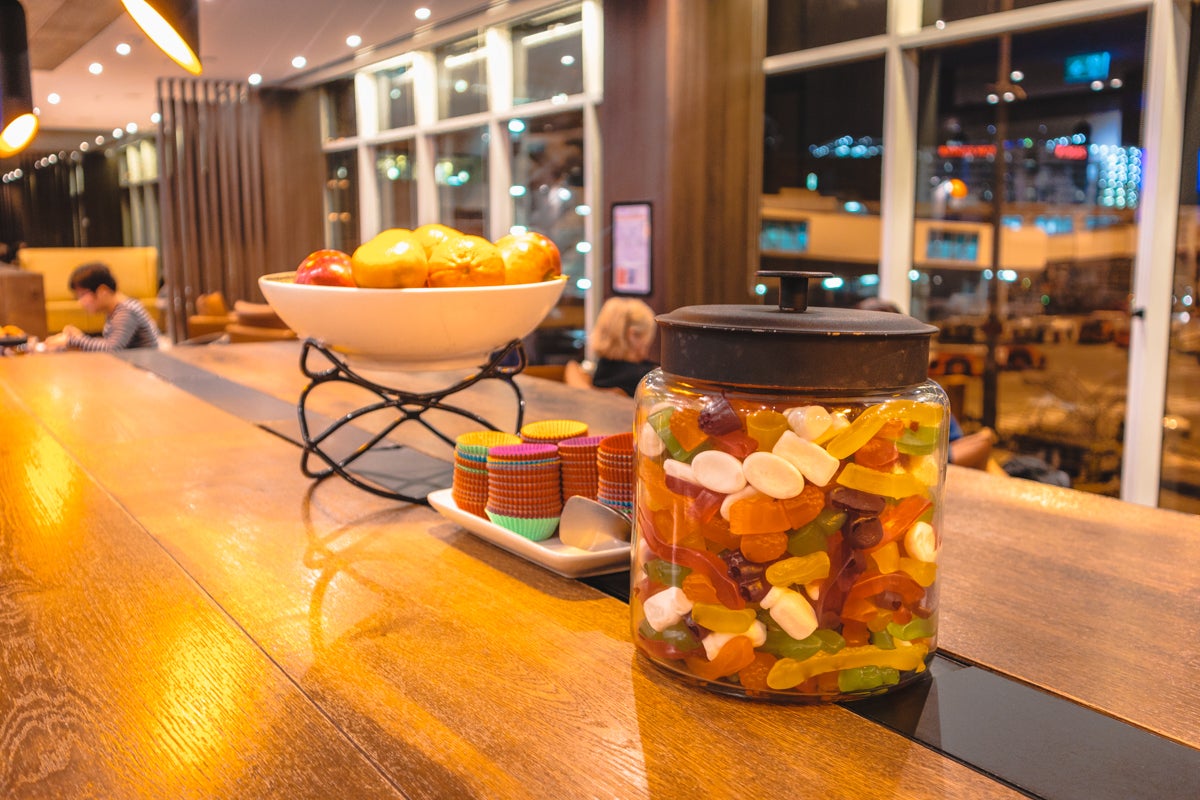 Flight
Aircraft
QF25 is operated by a Boeing 747-400 aircraft. Carriers around the world are progressively retiring their fleet of old 747 as they are replaced with the newer generation of more fuel-efficient, twin-engine aircraft. I hadn't flown a 747 since February 2017, so I was excited to once again fly the nostalgic Queen of the Skies once again.
At the time of writing, Qantas currently has 6 Boeing 747-400 aircraft left in its fleet which fly between Sydney and:
Johannesburg (JNB)
San Francisco (SFO)
Santiago (SCL)
Tokyo (HND)
My aircraft on this evening's flight, VH-OJU, was the seventh last 747 in the Qantas fleet and this flight would end up being the aircraft's thirty-third last revenue service. Its last revenue service was on October 13, 2019 at the age of 19 years.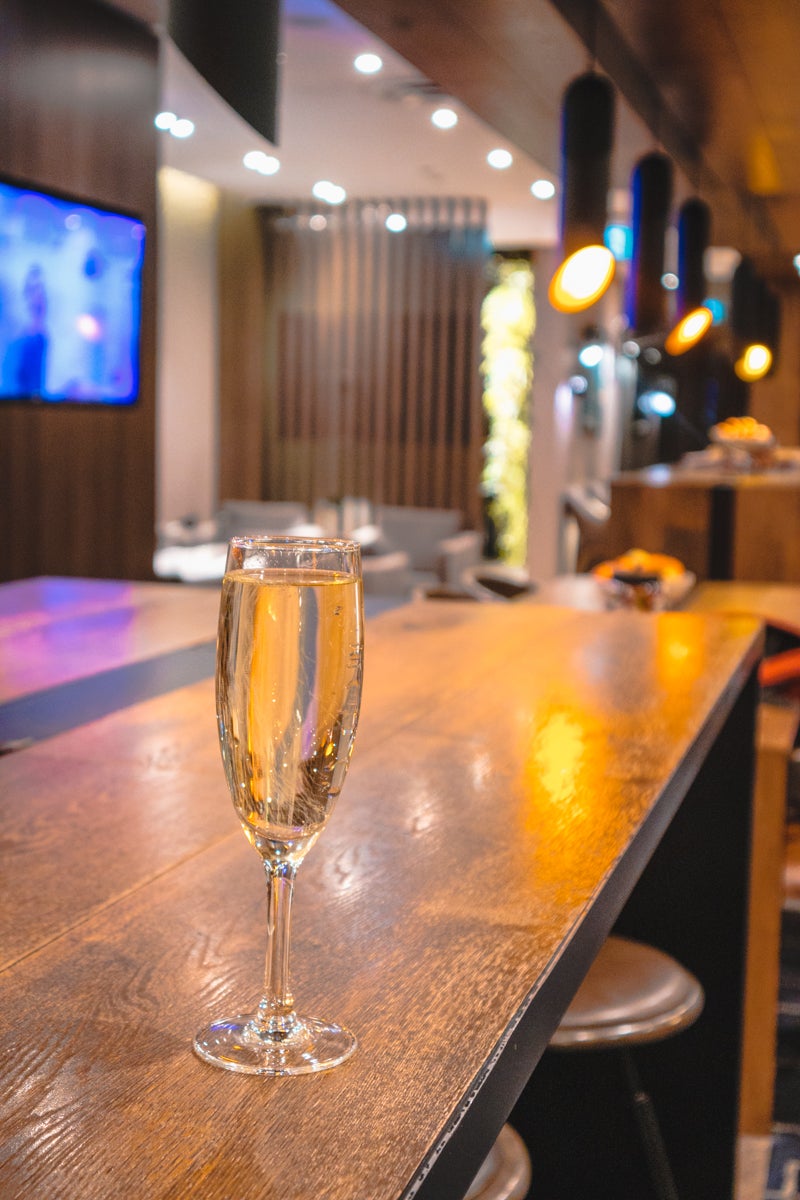 Qantas plans to have its remaining 747-400 aircraft retired by the end of 2020.
The remaining 6 planes are configured the same as OJU.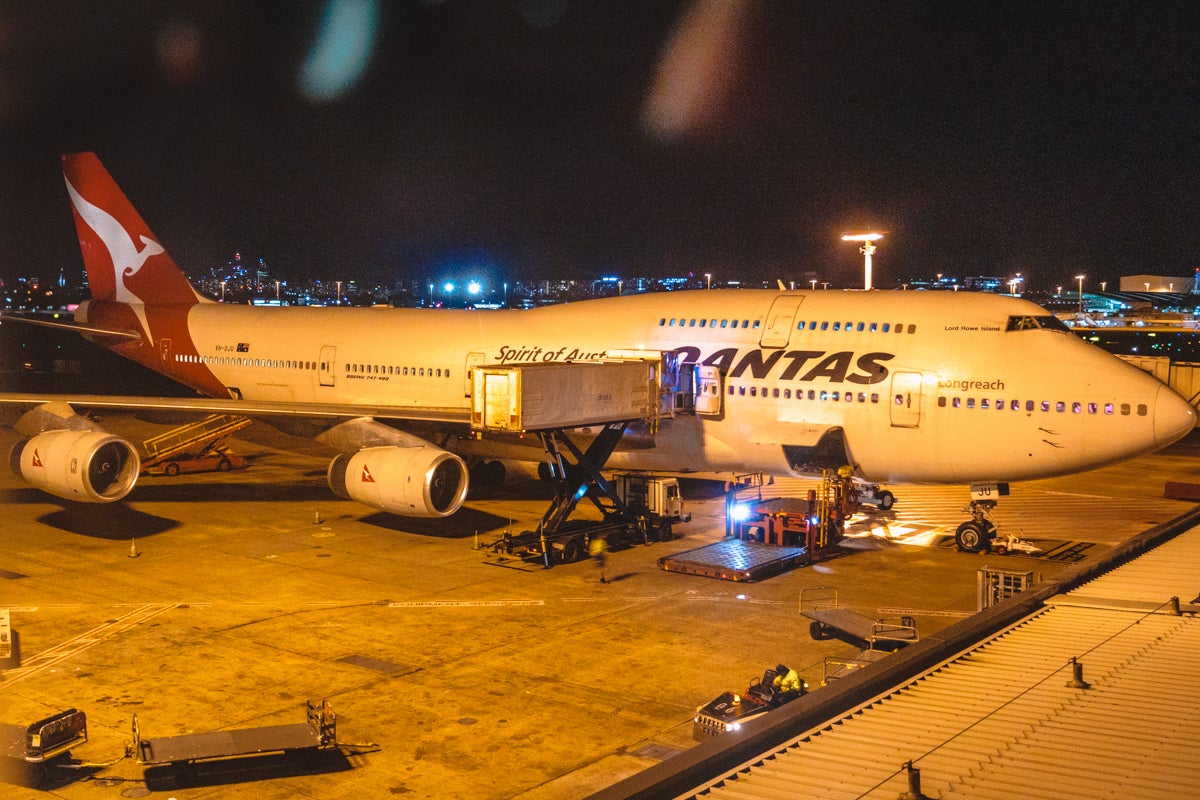 Business class takes up the entire upper deck with 18 seats in 2-2 configuration. 40 remaining business class seats are in the nose until door 2 in a mixed 2-2 and 2-3-2 configuration.
Premium Economy follows in a 2-4-2 configuration with 36 seats.
Economy occupies the rest of the aircraft in 3-4-3 configuration with 270 seats.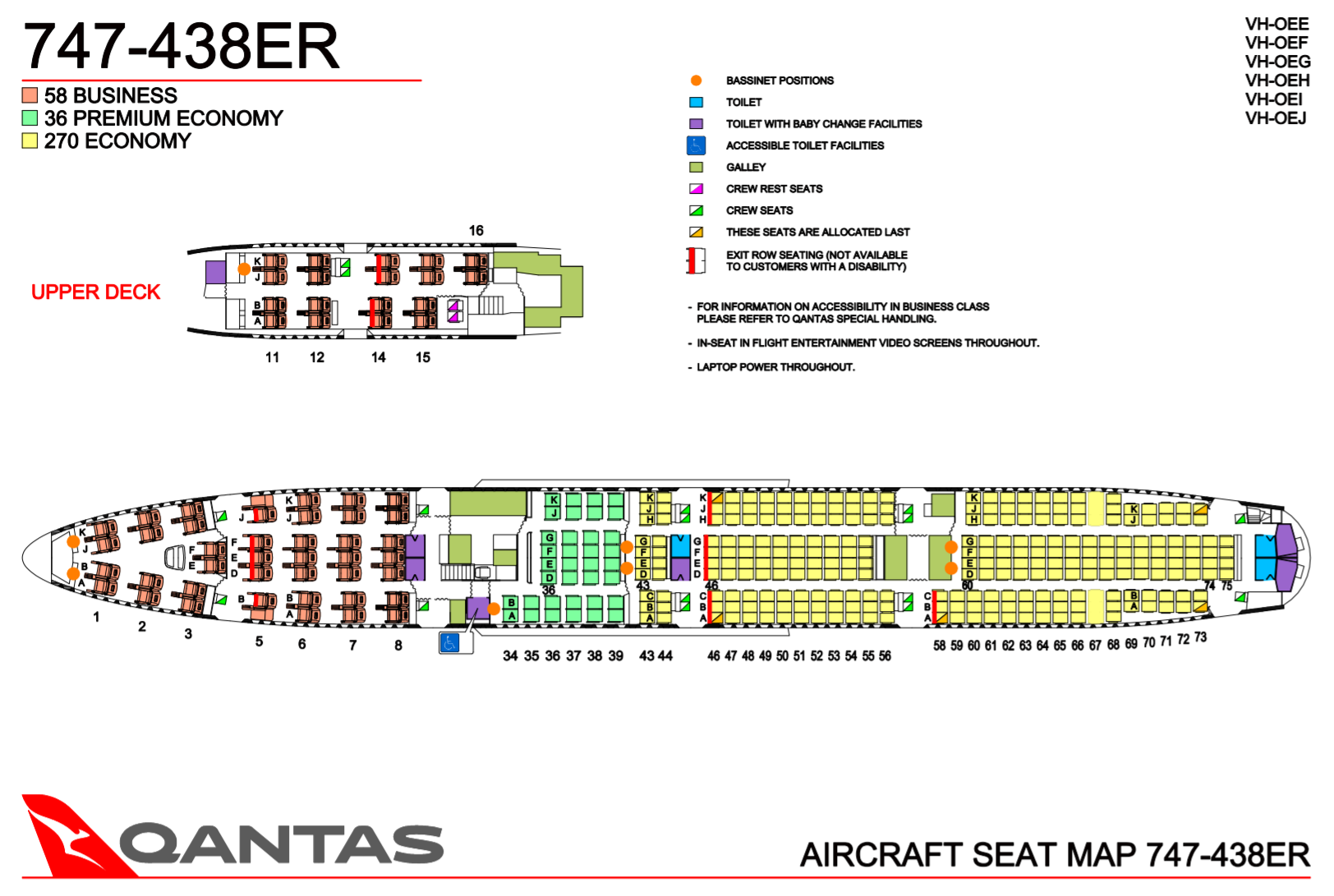 Premium Economy
There are 36 Premium Economy seats arranged in a 2-4-2 configuration.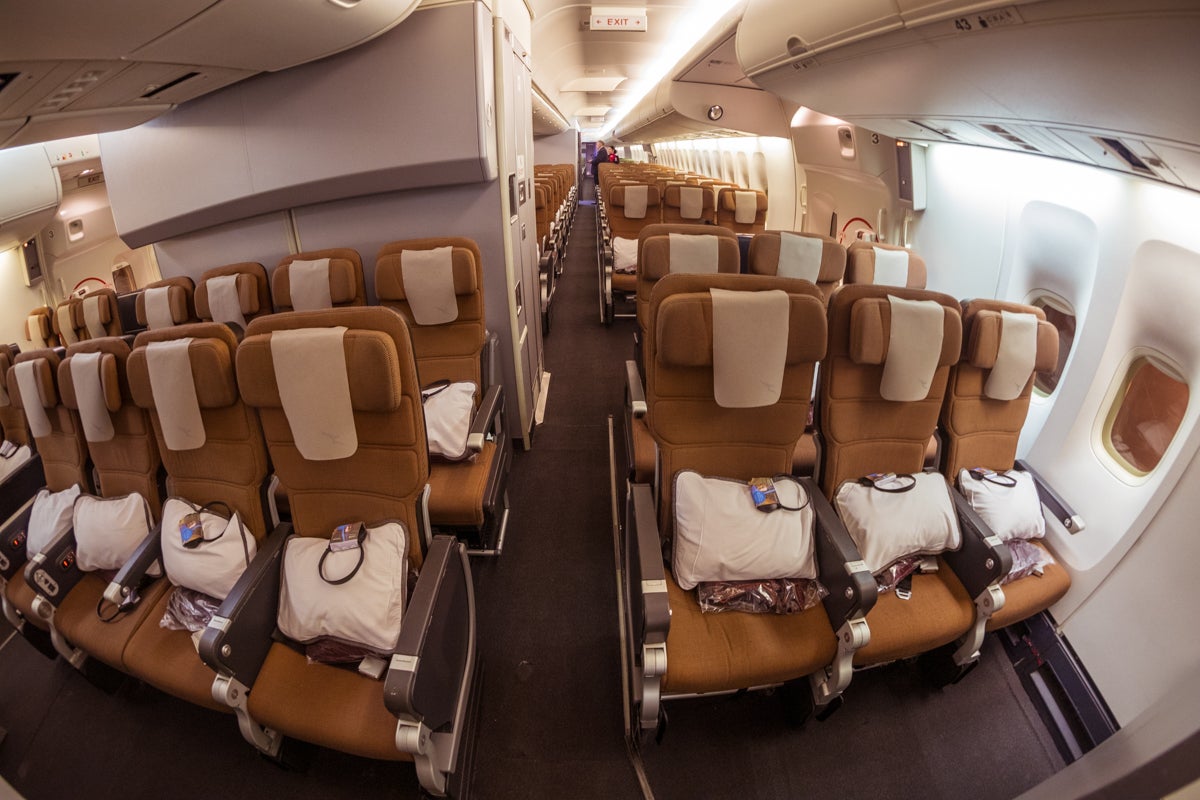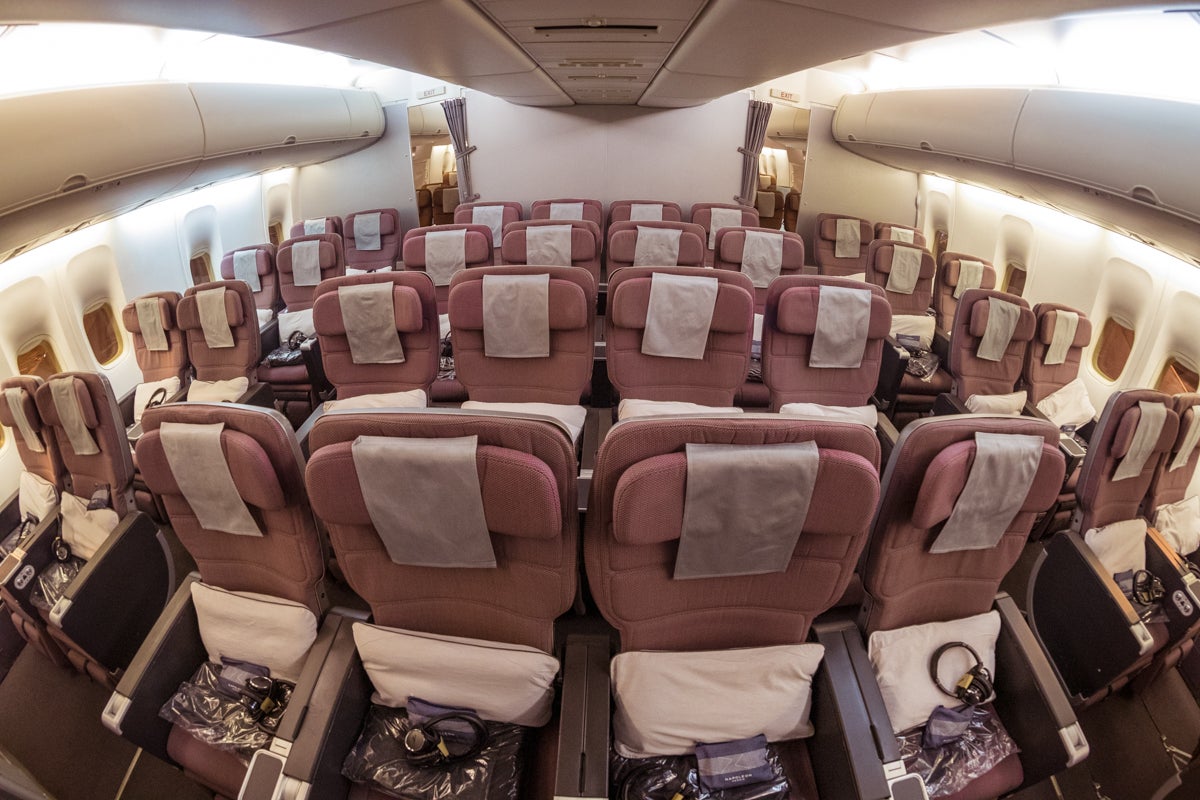 The seats are 19 inches wide with a 38-inch pitch, which is respectively 1.5 inches wider and 7 inches greater distance compared to the economy seats.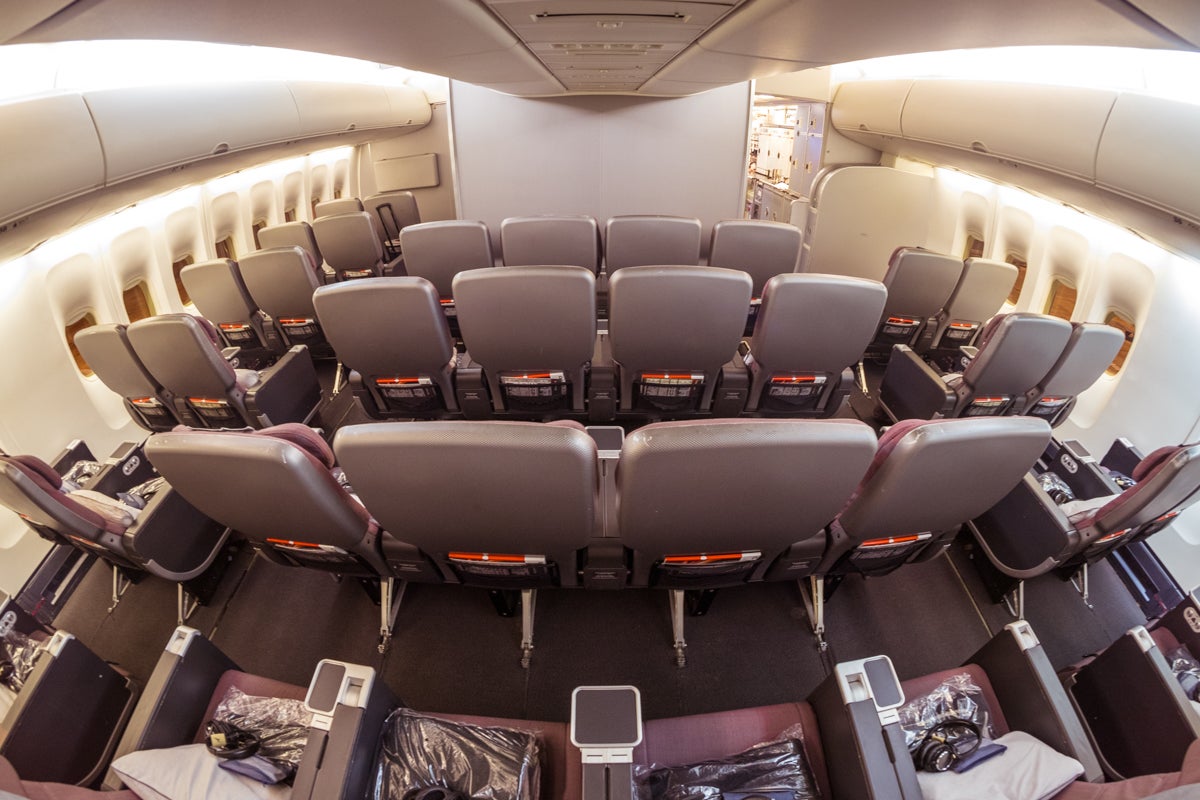 These are also the same seats as the carrier has on most of its Airbus A380 aircraft, which are in the process of being refit with newer generation Premium Economy and business class seats.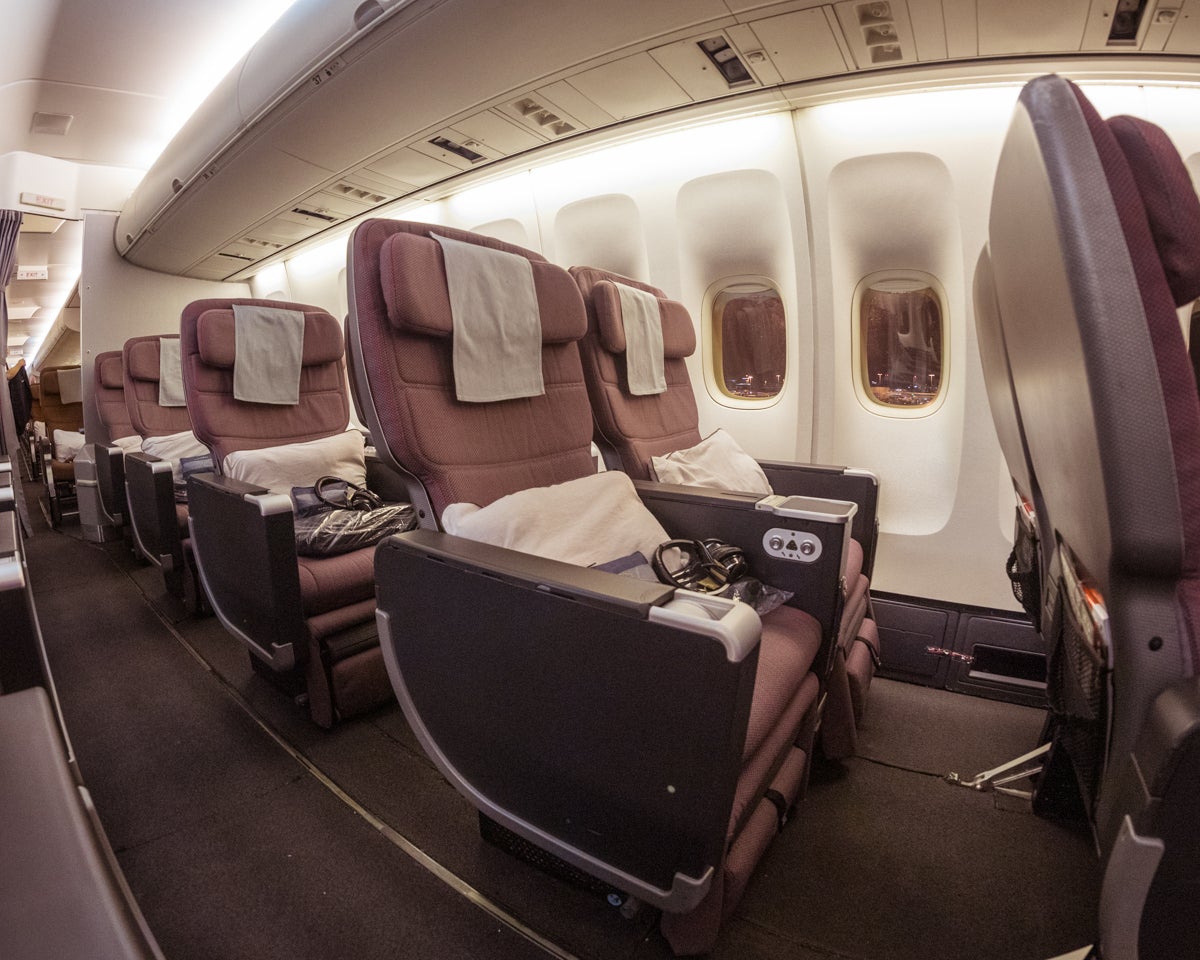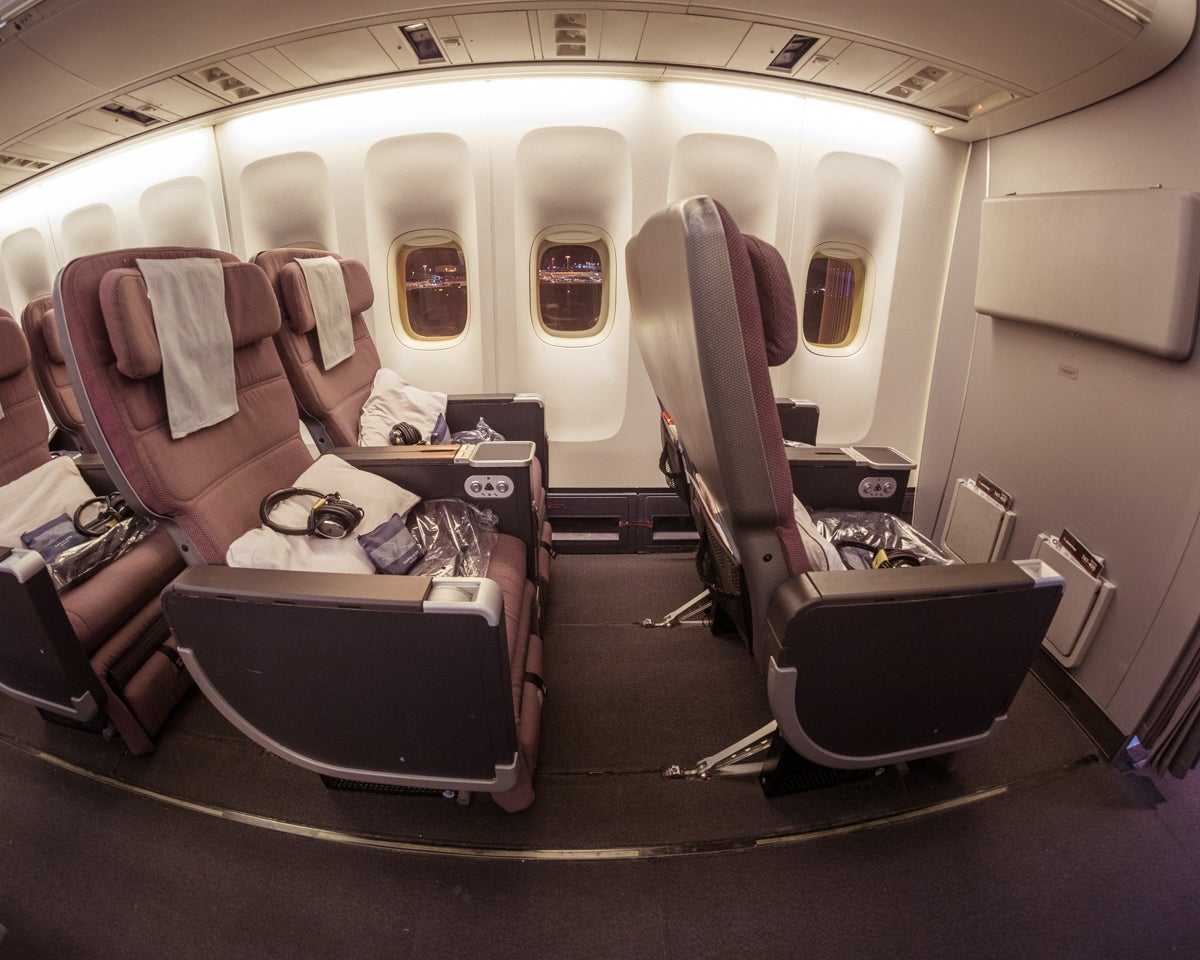 The seat reclines 9 inches which provide an extra 3 inches compared to economy class.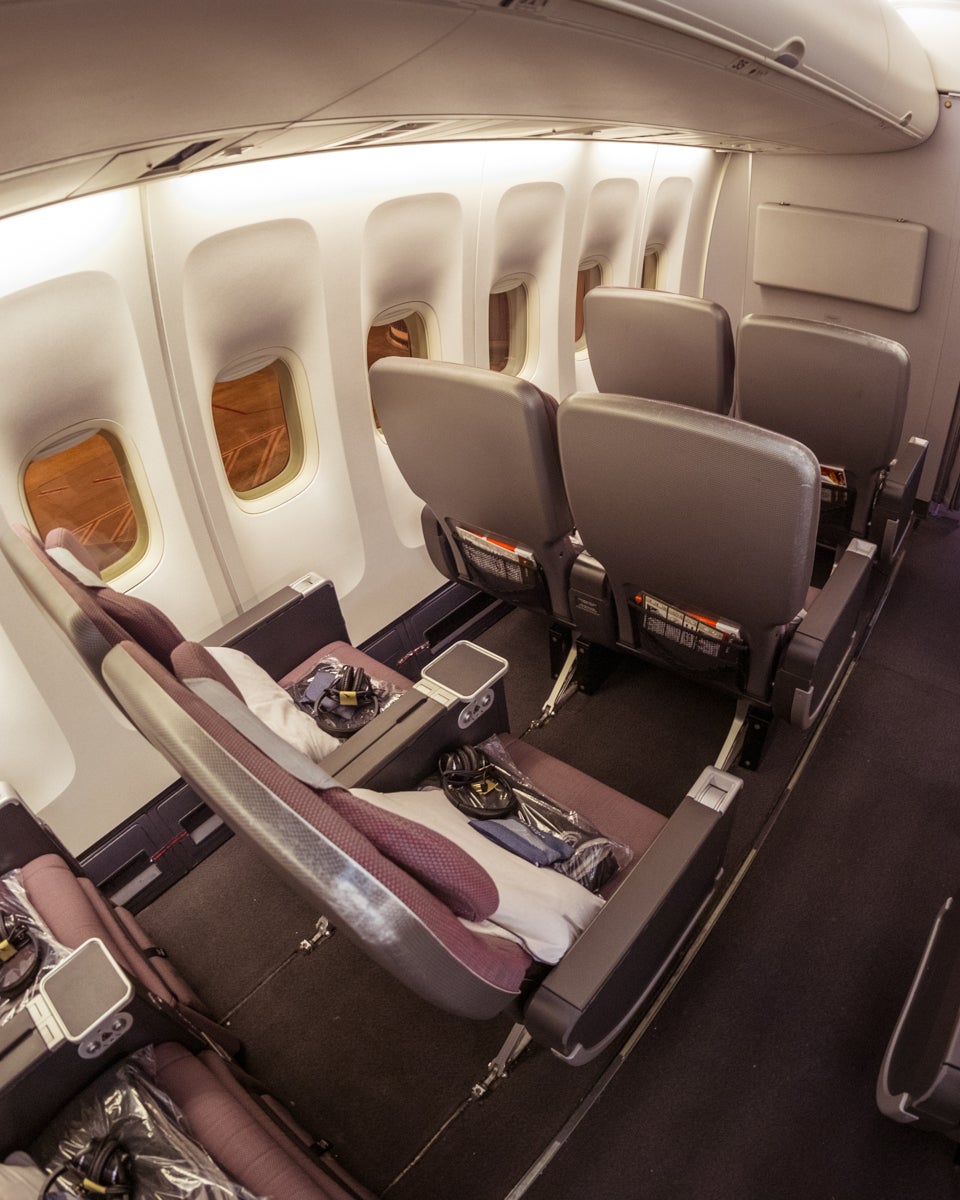 The seat also has an adjustable winged headrest to hold your head in place. A leg rest extends out which has a footrest which is a bit of a pain to flip out.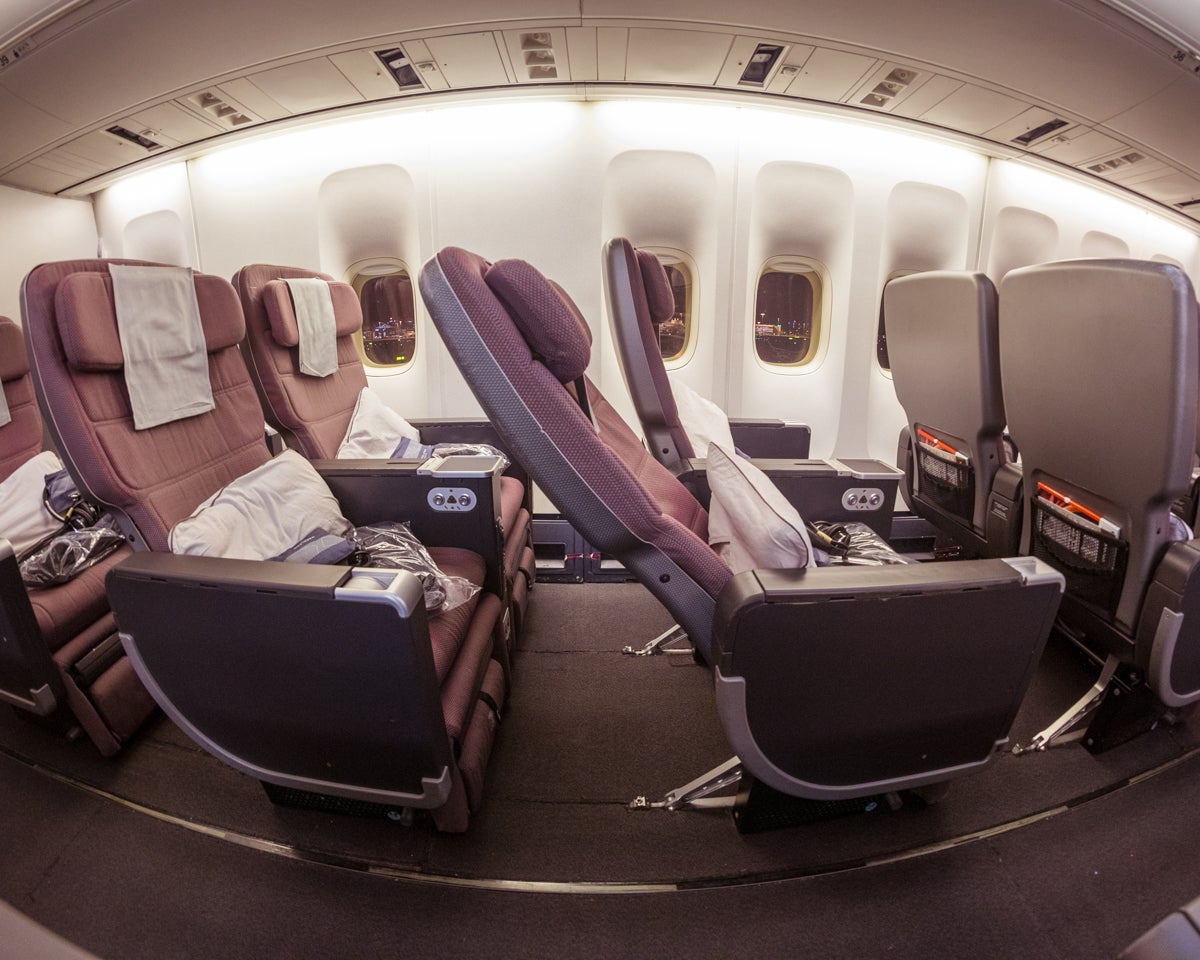 With the seat in front fully reclined it provided a decent angle to snooze, yet it does require you to contort your way over your neighbor if you're in a middle or window seat.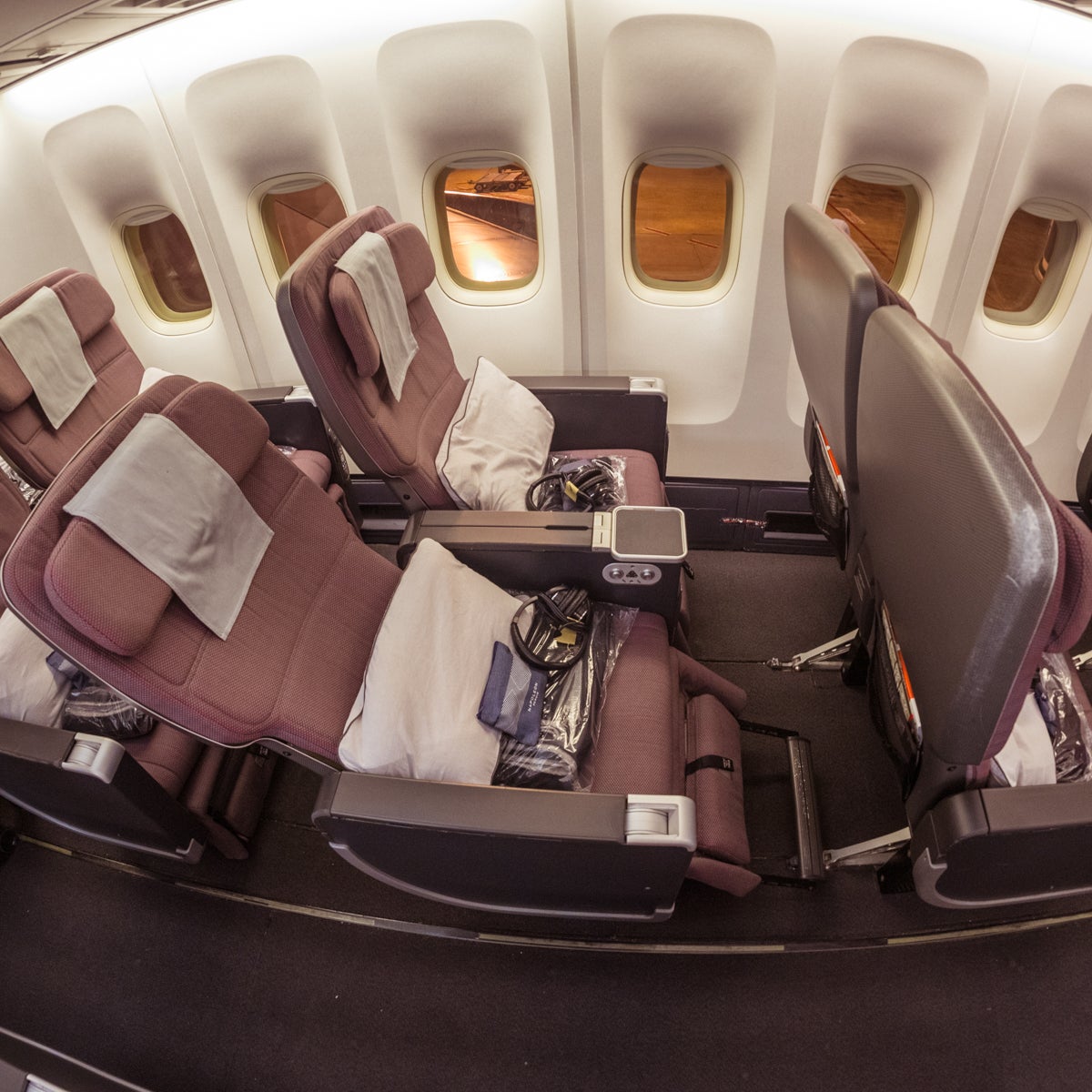 The lower bulkhead pushes forward to provide a bit more legroom for bulkhead seats, but you miss out on the extra space under the seat in front to stretch out or store a bag.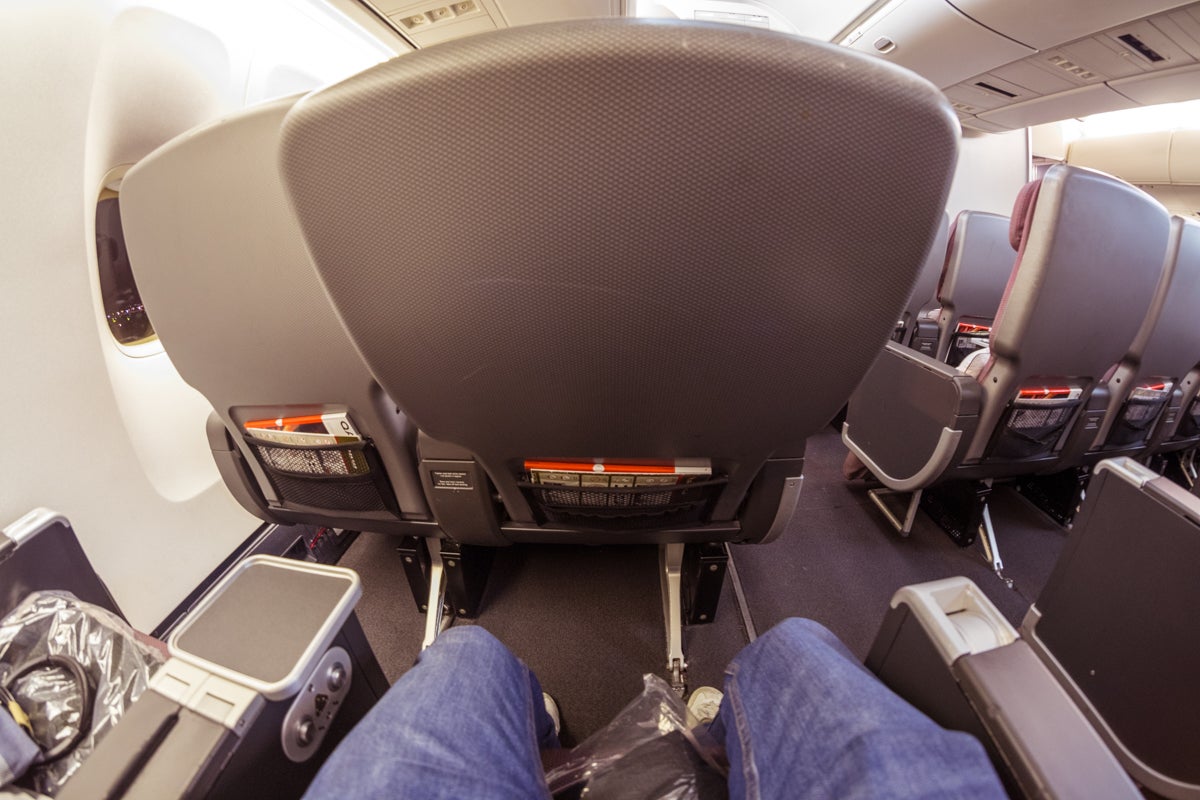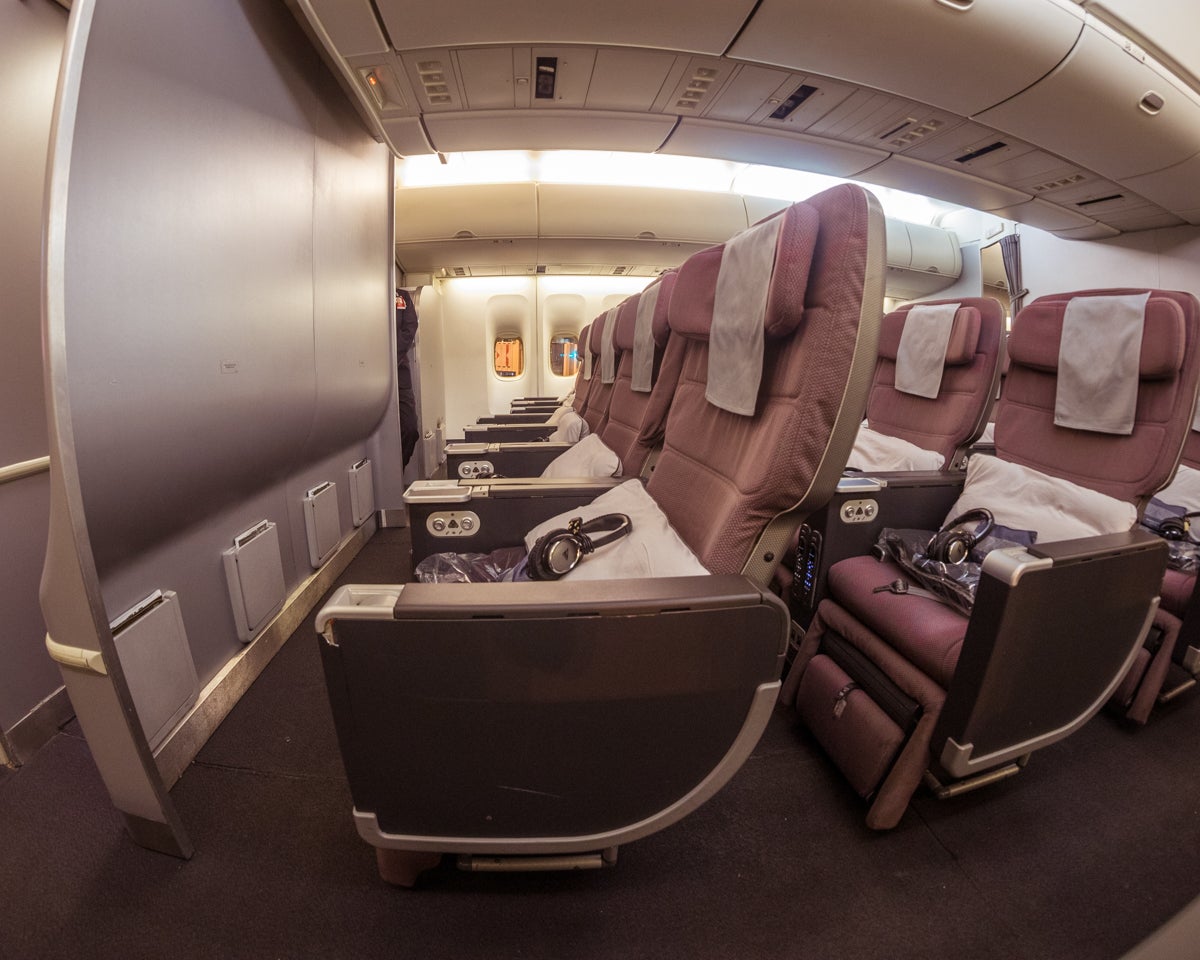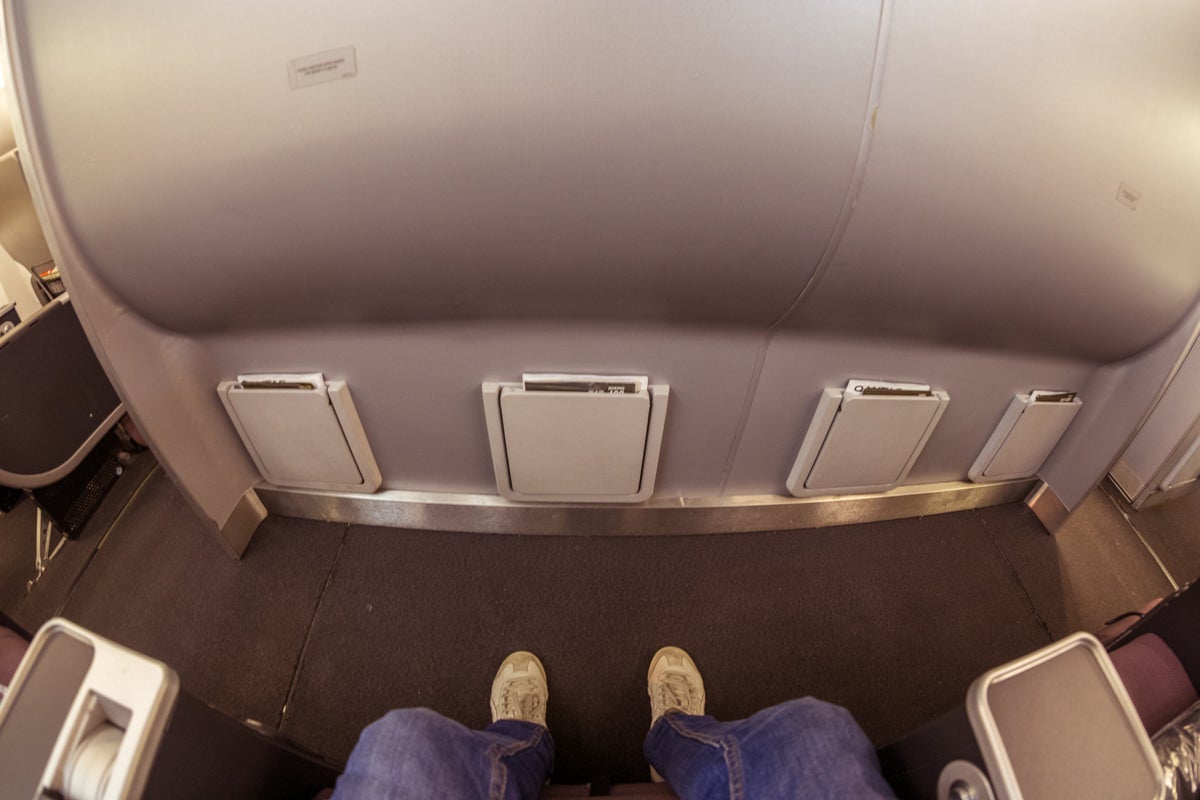 I managed to get the last "window" seat which was missing 1 window but the window I did have was closest to my head so I was still able to enjoy the views of my morning arrival into Tokyo.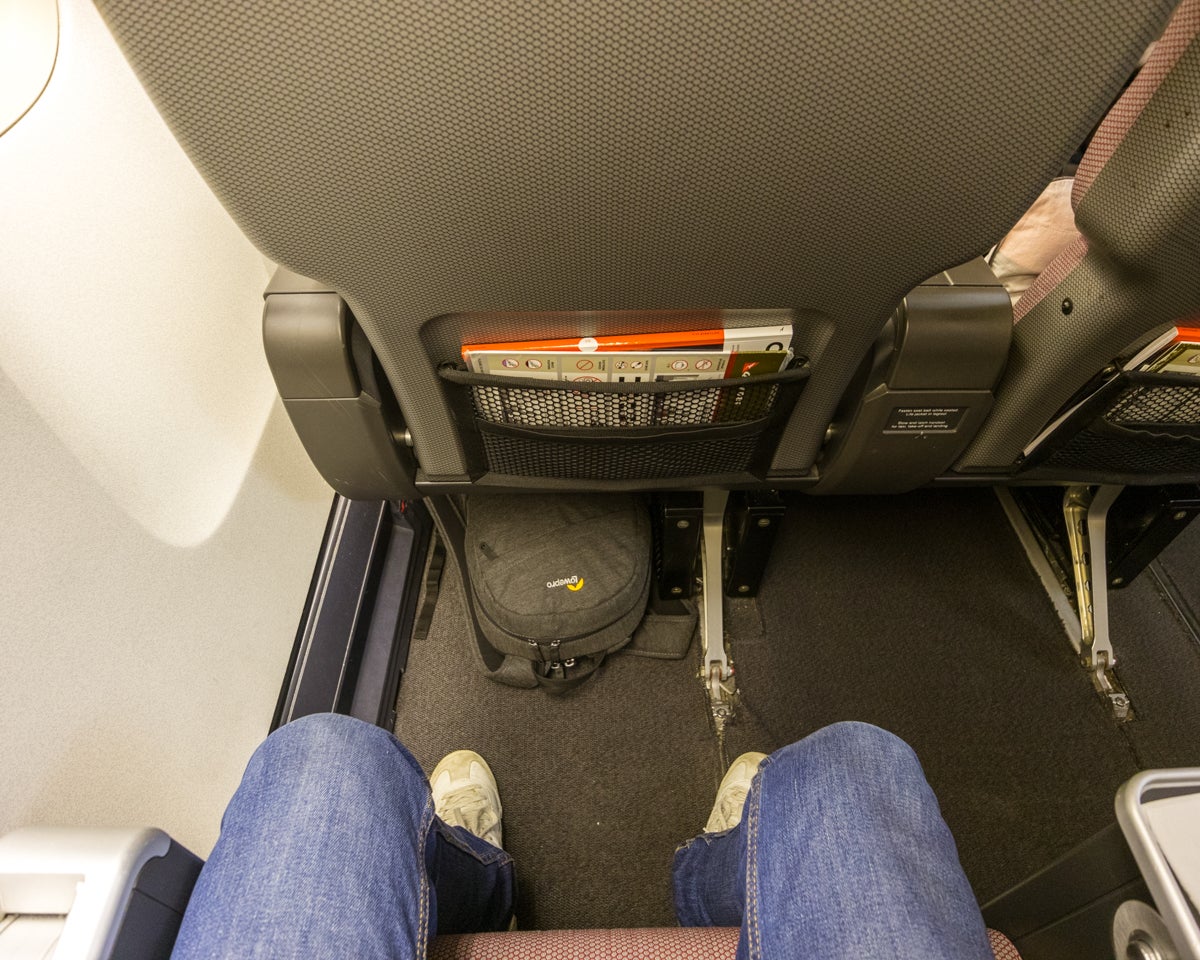 There is a shared cocktail table between seats which isn't big enough, so I had to be careful not to spill my neighbor's beverage.
Upon boarding, a plastic-wrapped fleece blanket, pillow, amenity kit, and headphones were sitting on the seat.
The seat controls are on the inside of the armrest.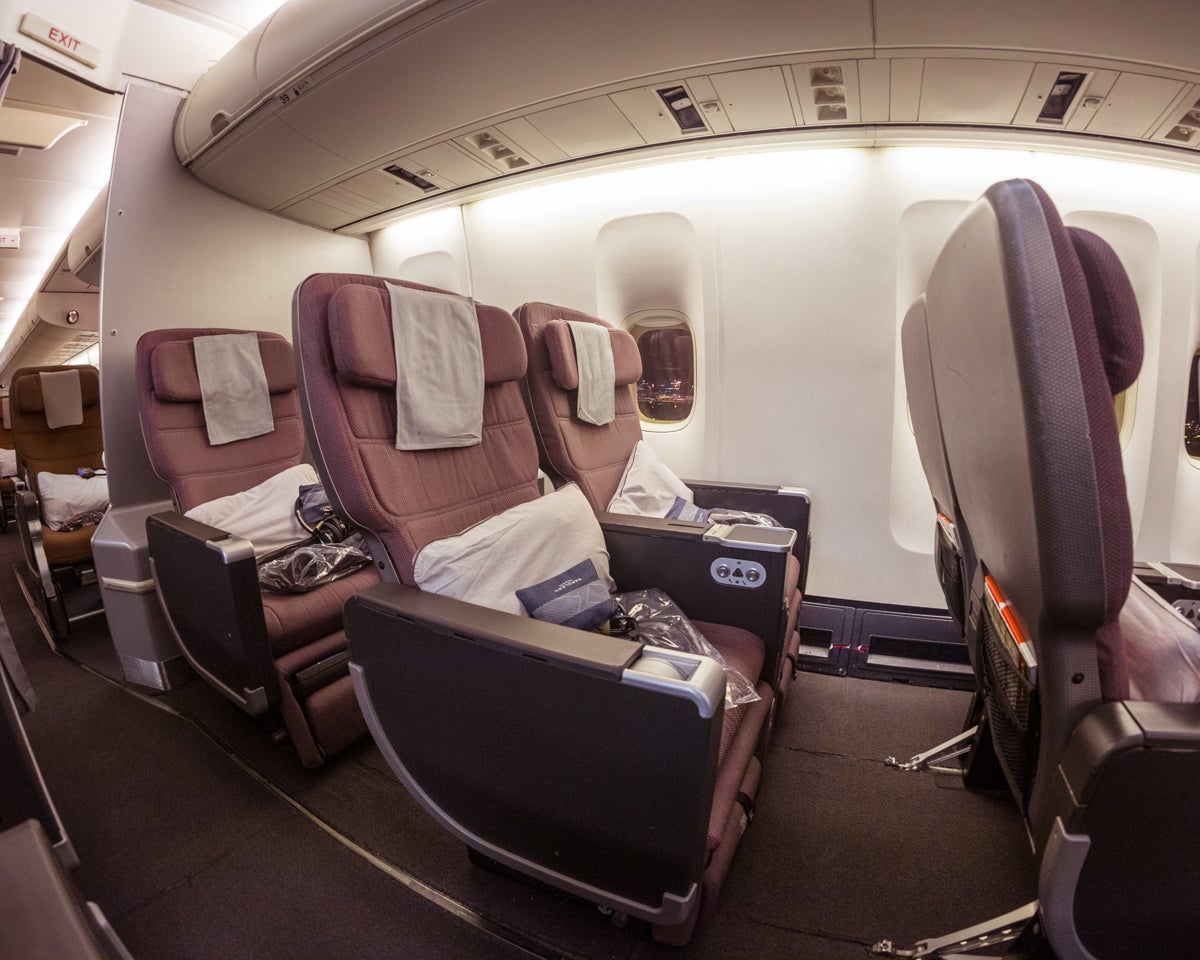 A tray table flips out from the between the seat pairs and provides a decent space to use a laptop.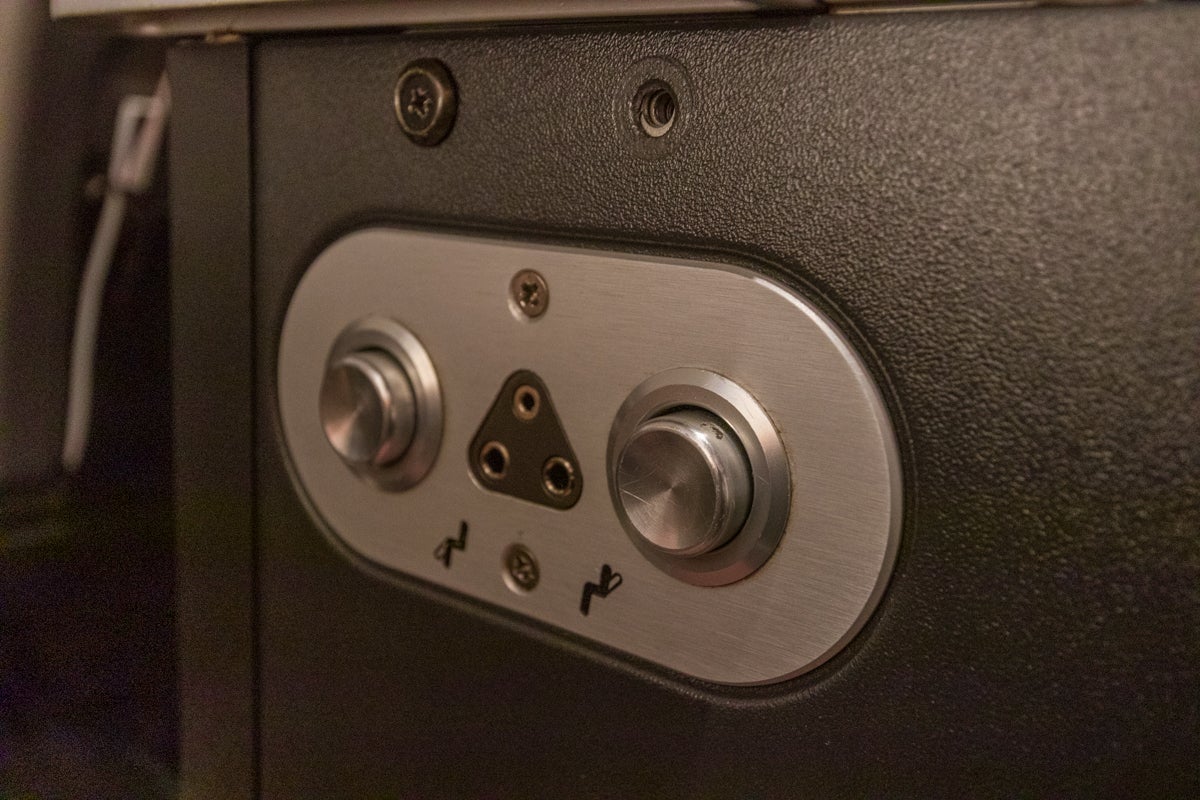 A shared power socket and USB ports are located at floor level between seat pairs.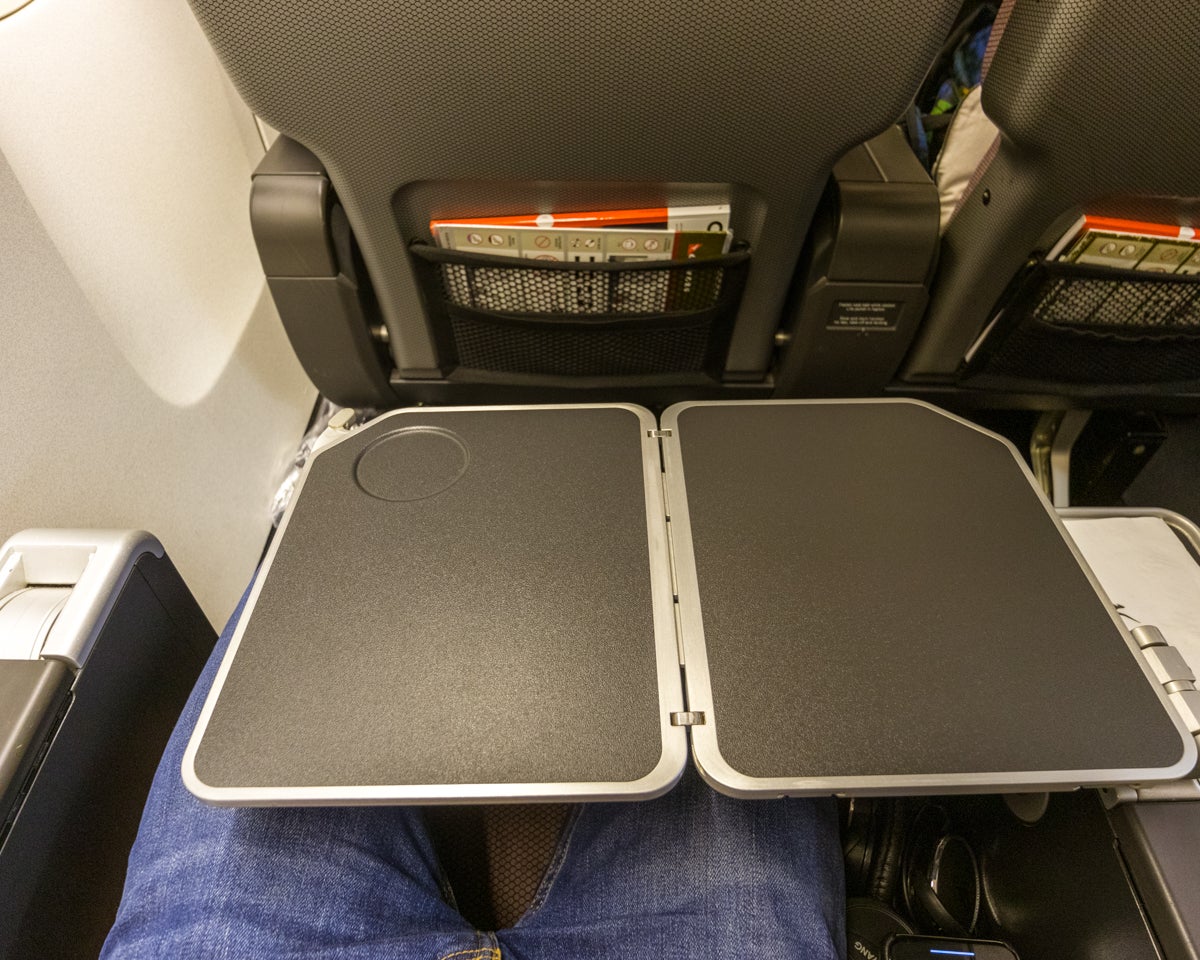 Directly above is the IFE remote.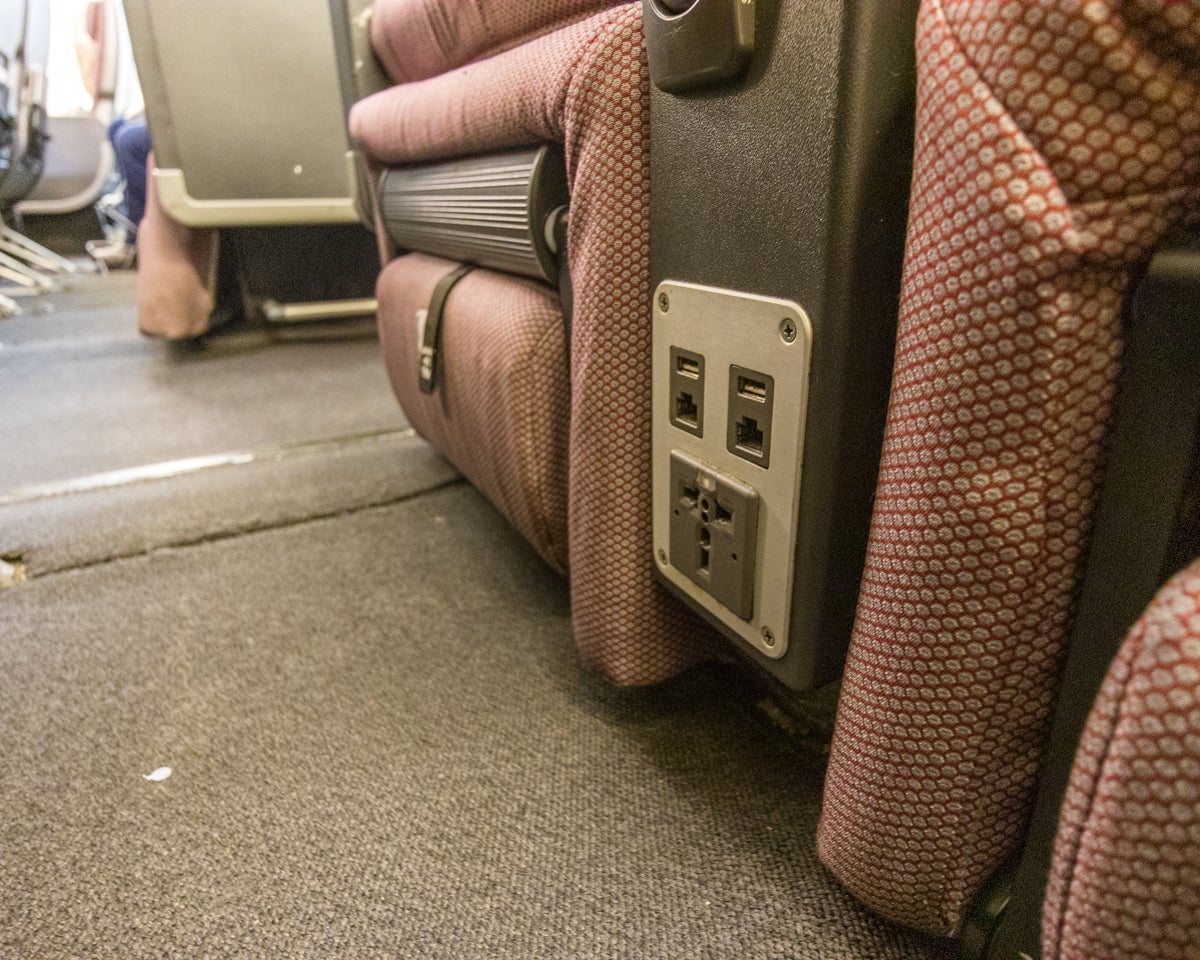 It was also great to have individual air vents which are becoming rare on new aircraft.
Premium Economy and the lower deck business class passengers share the 3 lavatories between both the cabins.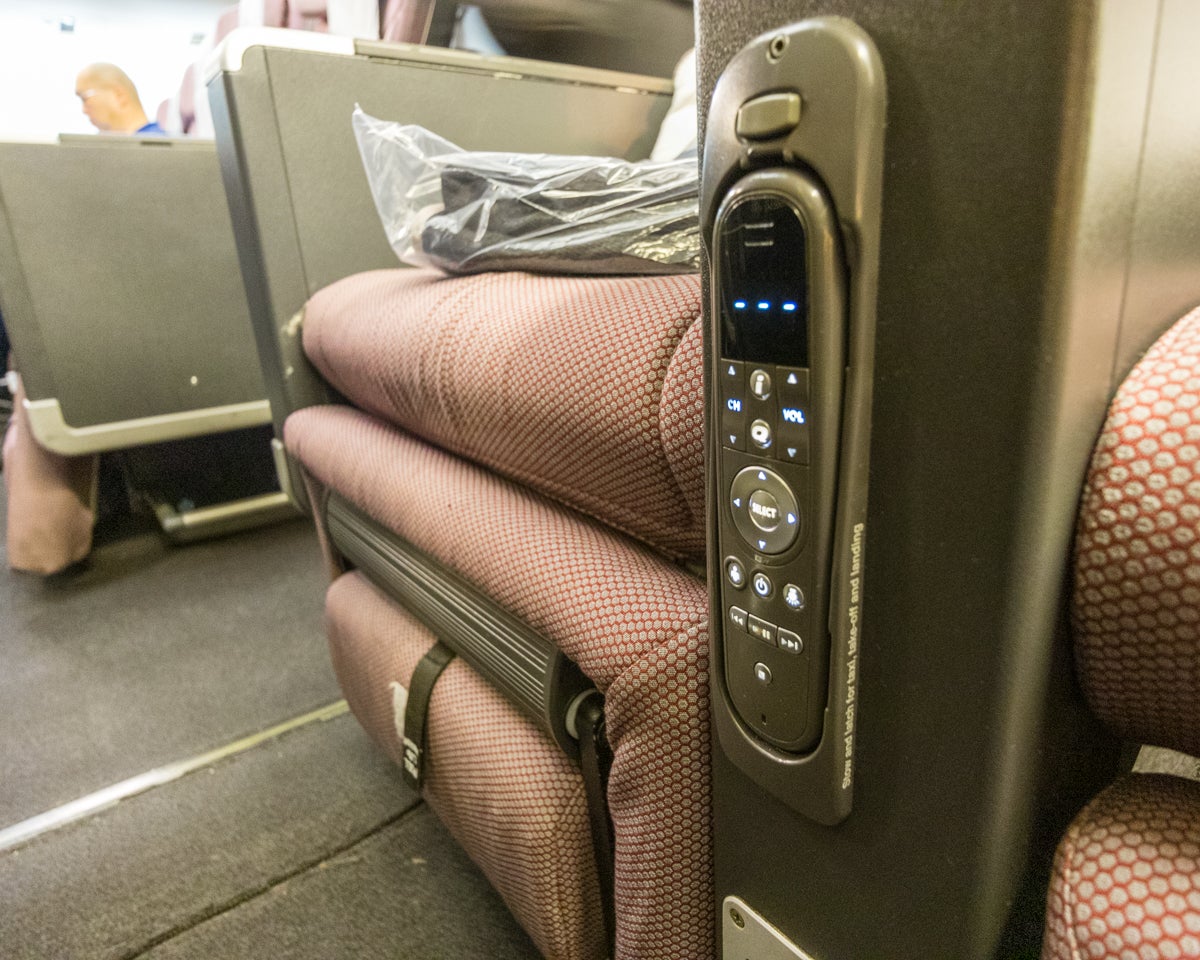 As such, the passenger to toilet ratio is a shocking 76:3 and meant there was always a wait to use a bathroom. Qantas feature Aspar toiletries.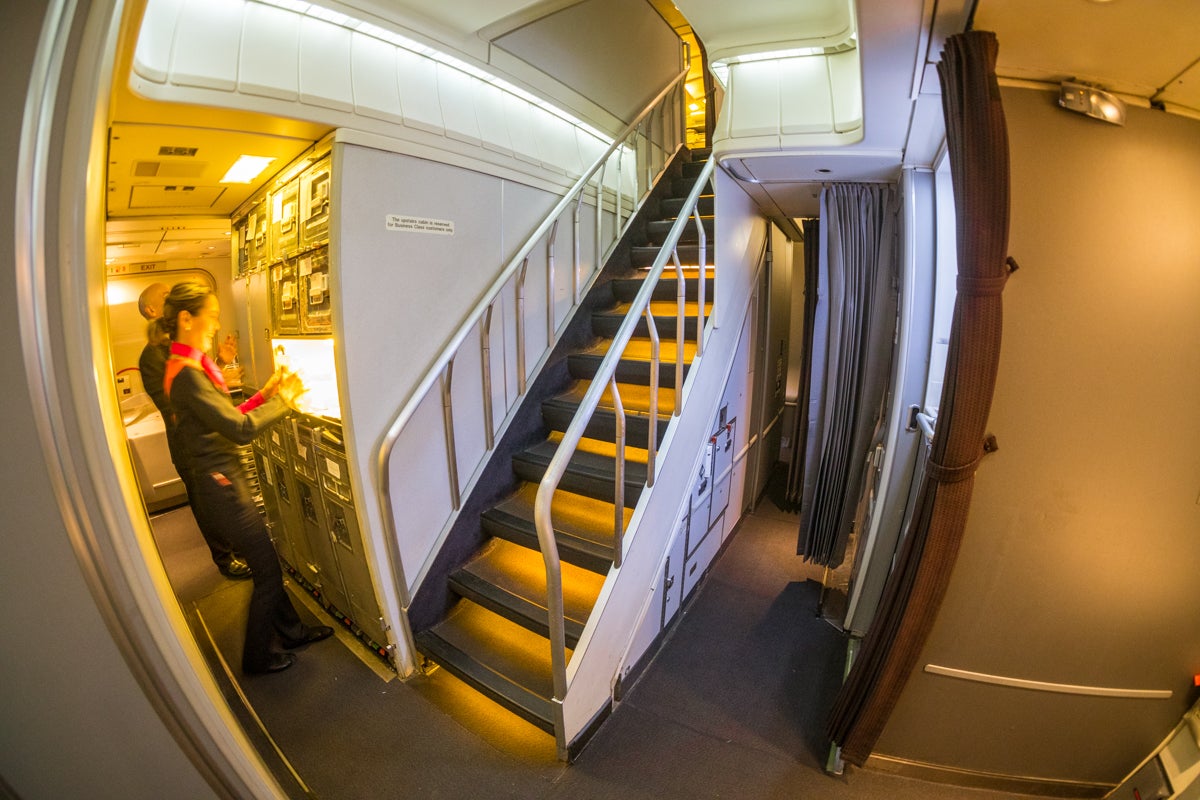 When it came to sleep, I found the blanket was an excellent thickness and the pillow was just the right size. With the eye mask on, earplugs in, and some bring-your-own Melatonin to aid sleep, I managed to get a couple of hours of broken rest during the night.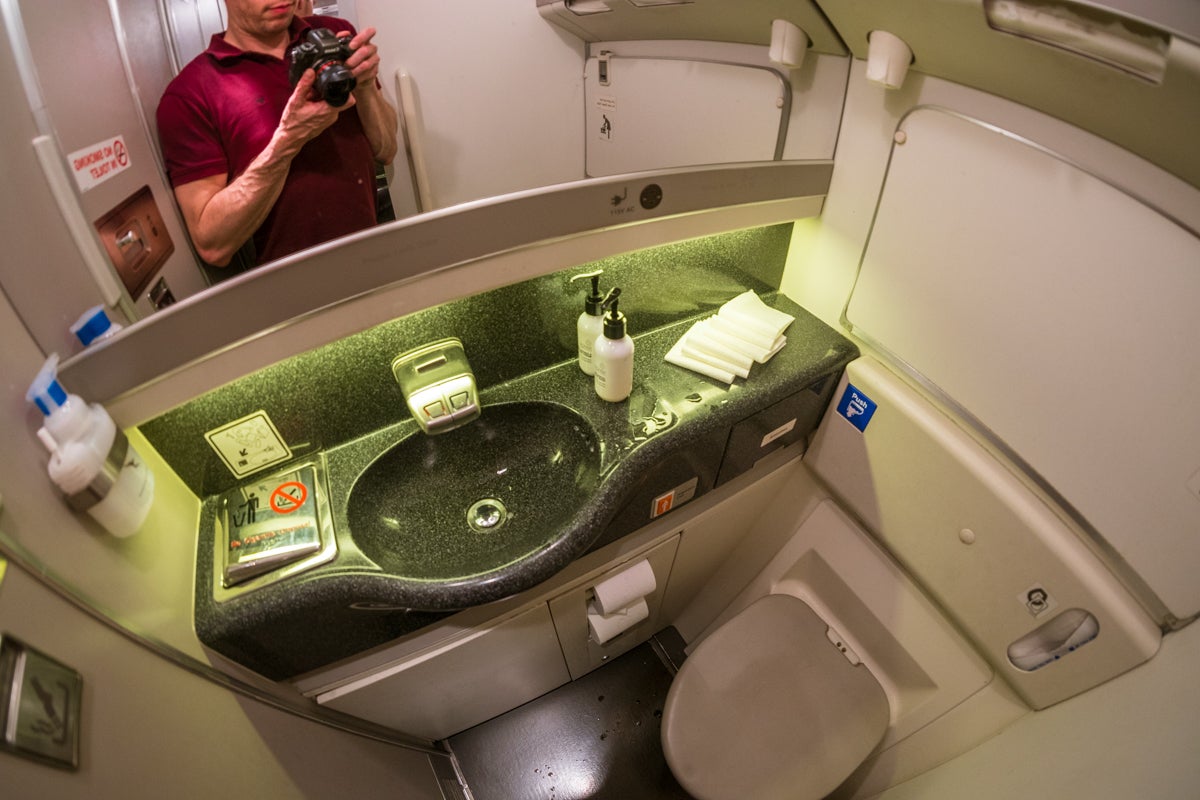 Amenities
A Napoleon Perdis amenity kit was waiting at my seat upon boarding.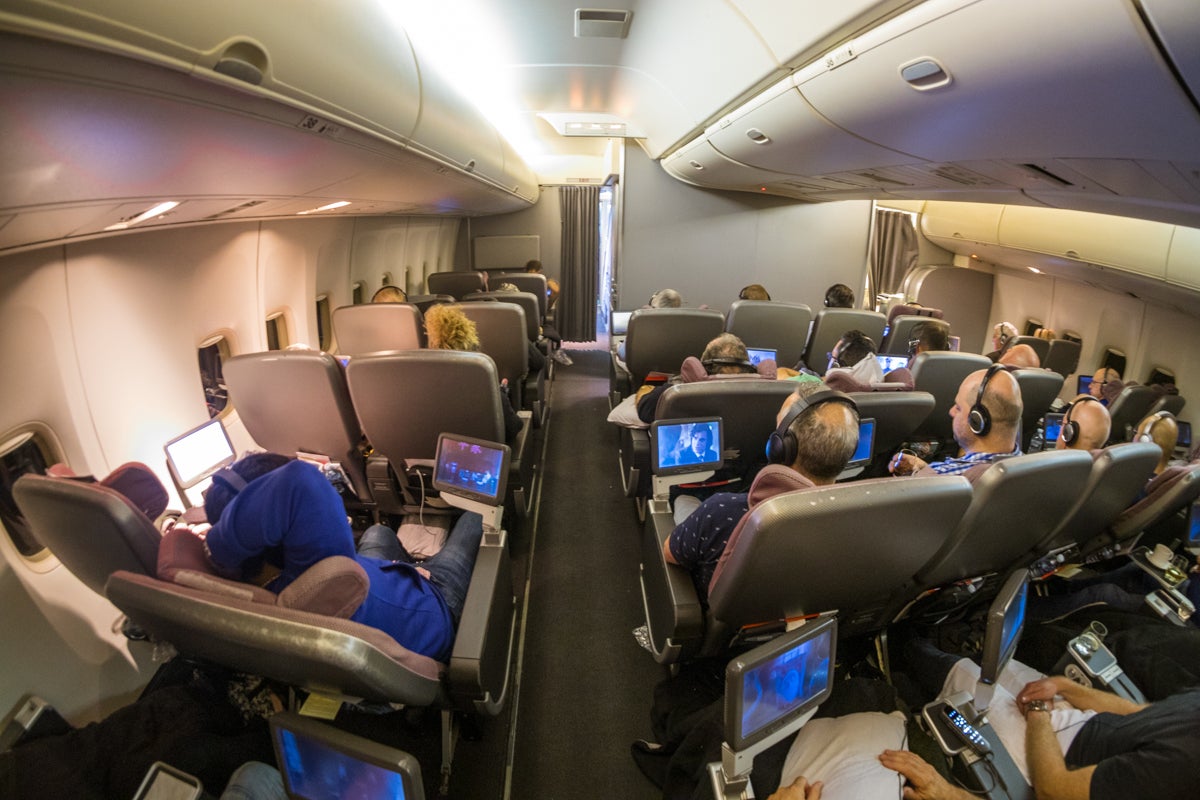 It includes essentials like socks, dental kit, lip balm, and eye mask.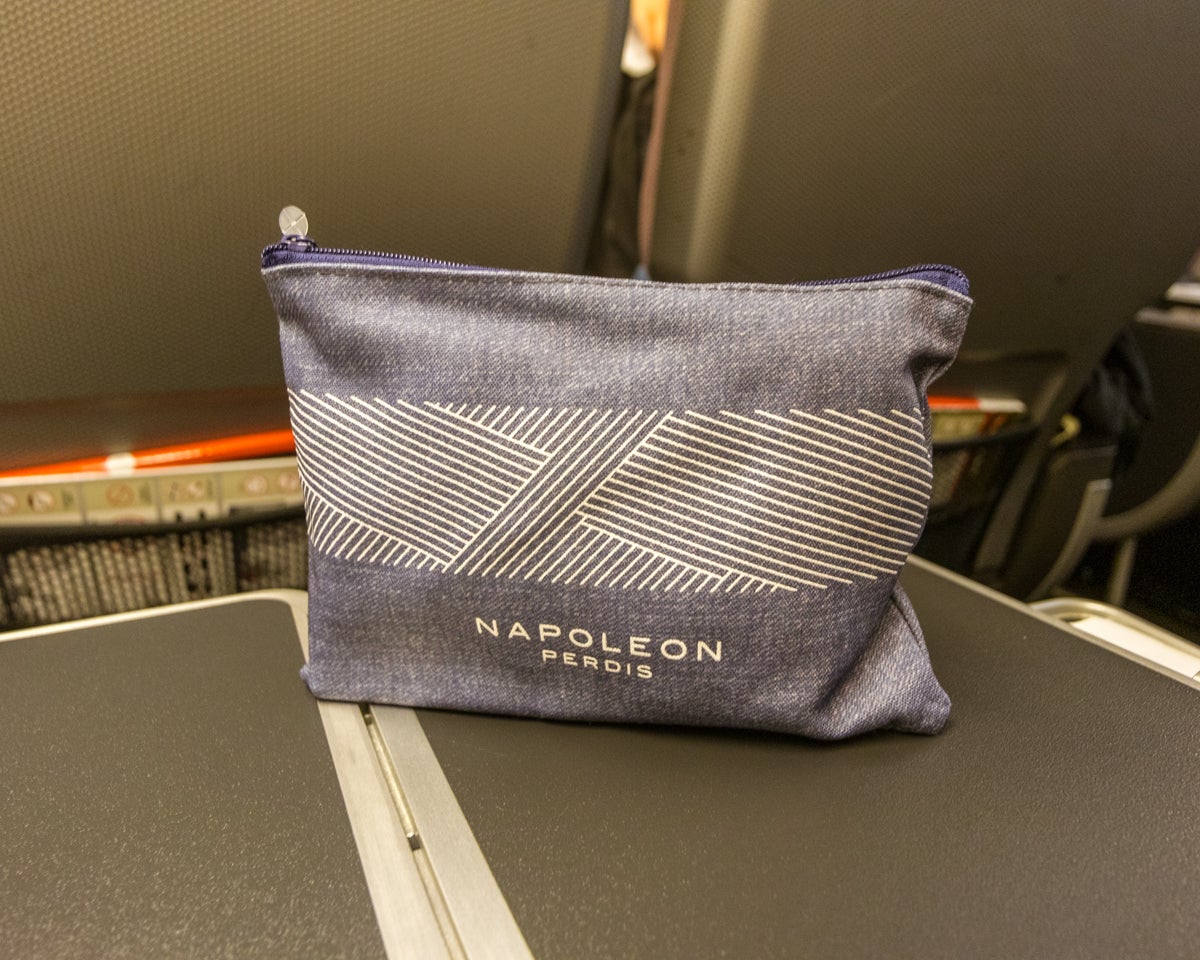 After flying so many new-generation aircraft recently, like the Airbus A350, Boeing 787, and even the Airbus A380, I had forgotten just how loud the 747 is to fly. But thankfully, Qantas also supplies Premium Economy passengers with earplugs in the amenity kit.
Entertainment
The aircraft's age is also obvious when it comes to the inflight entertainment system.
The screen is 10.6 inches and has a very low resolution. There is a screen protector that reduces the viewing so your neighbor can't see what you're watching (and also makes it difficult to photograph).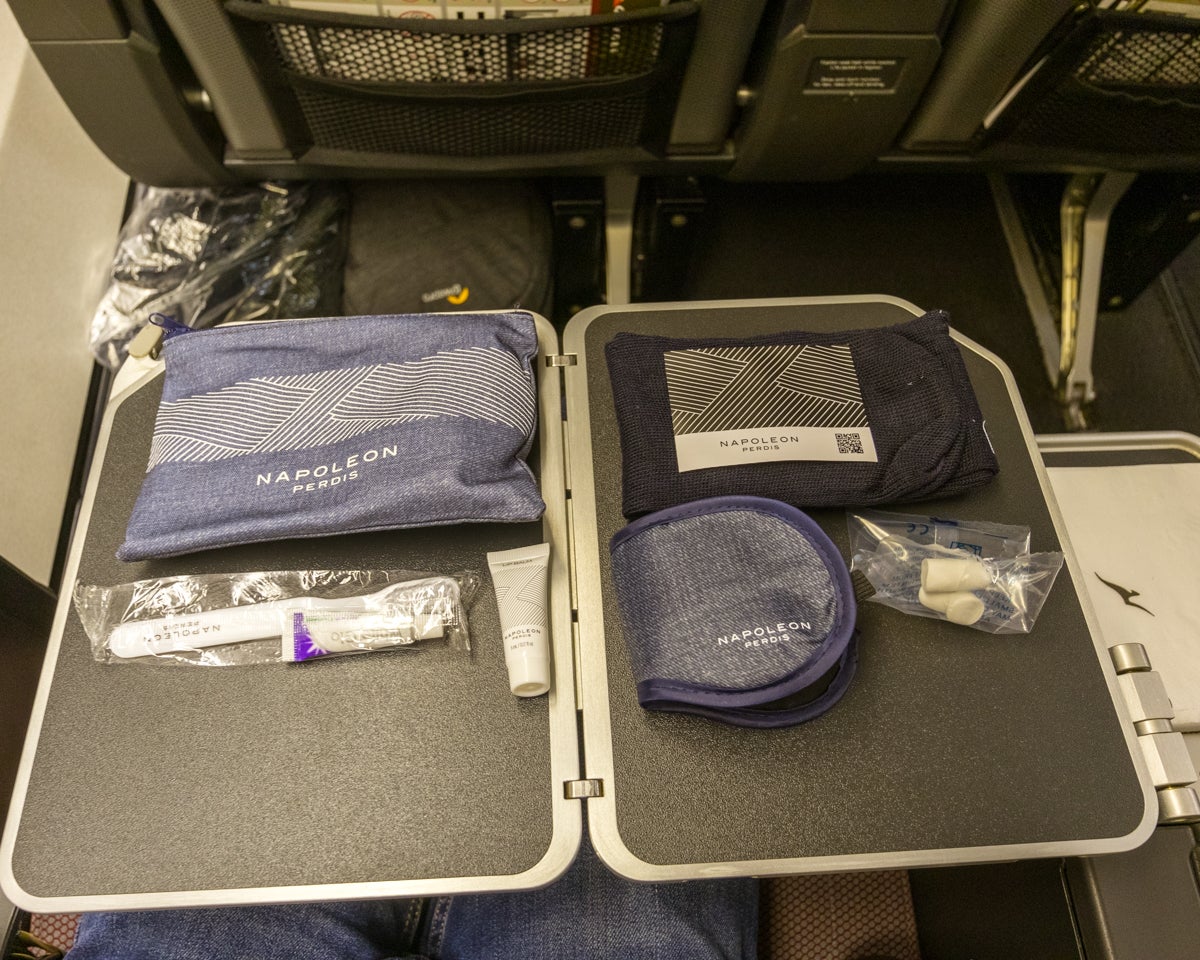 I did not need the IFE remote as the touchscreen did the job. It just occasionally needs a few firm presses to get it to respond.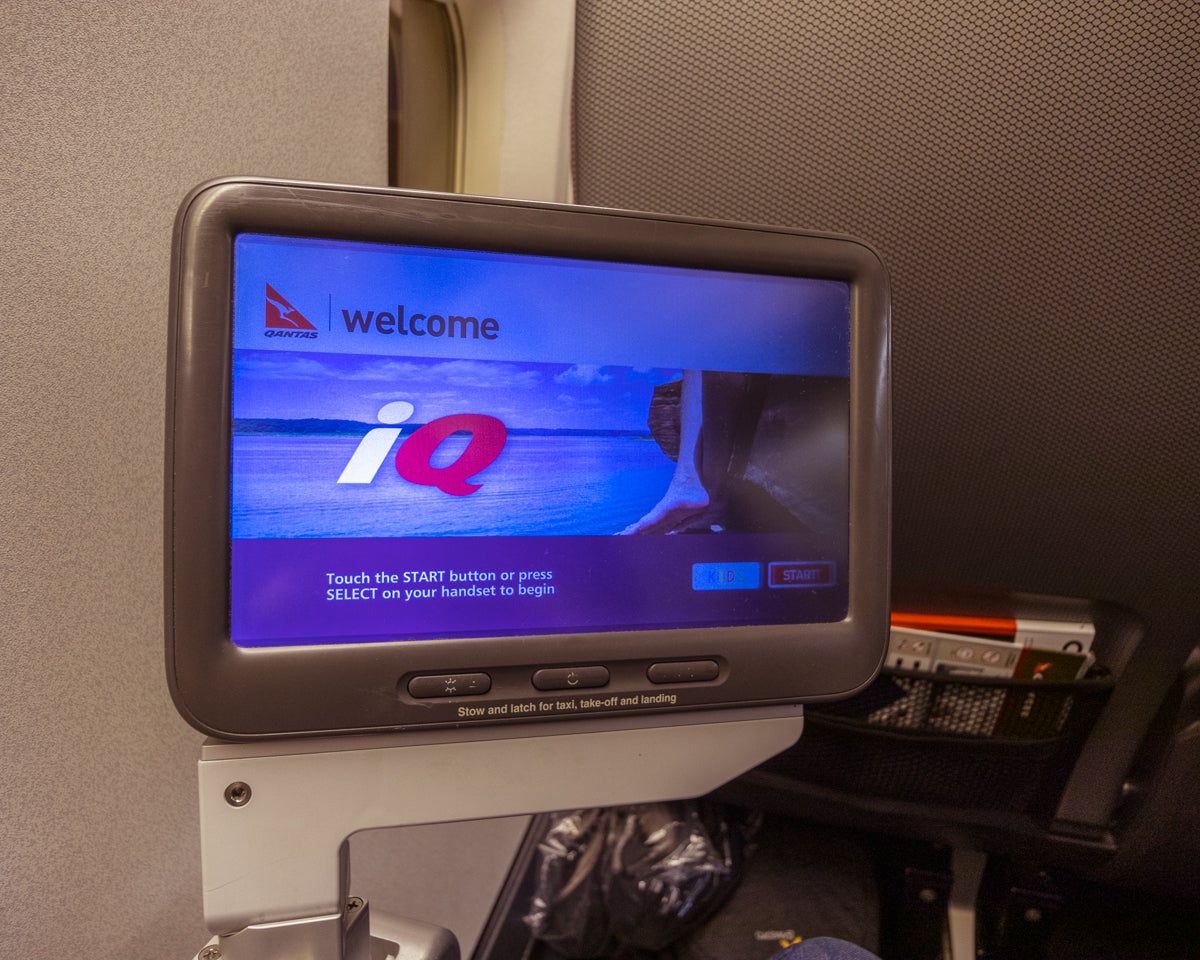 Despite the age of the software, the content selection was excellent. I counted 35 new release movies including full collections from Marvel and Harry Potter, plus 35 box-set TV shows.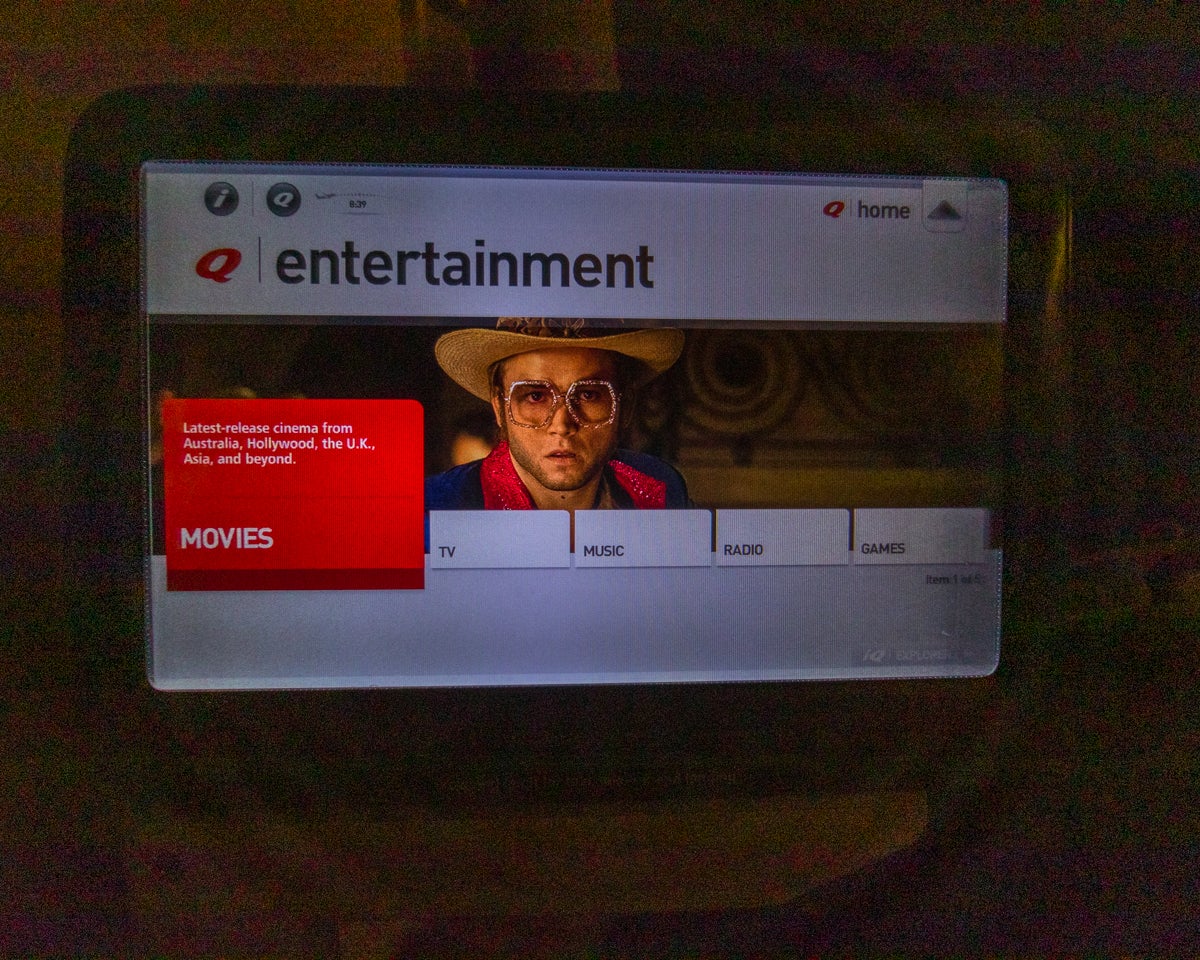 You just have to wait through a ridiculous number of advertisements before your program begins.
Wi-Fi isn't available on this old 747, or any Qantas international aircraft for that matter.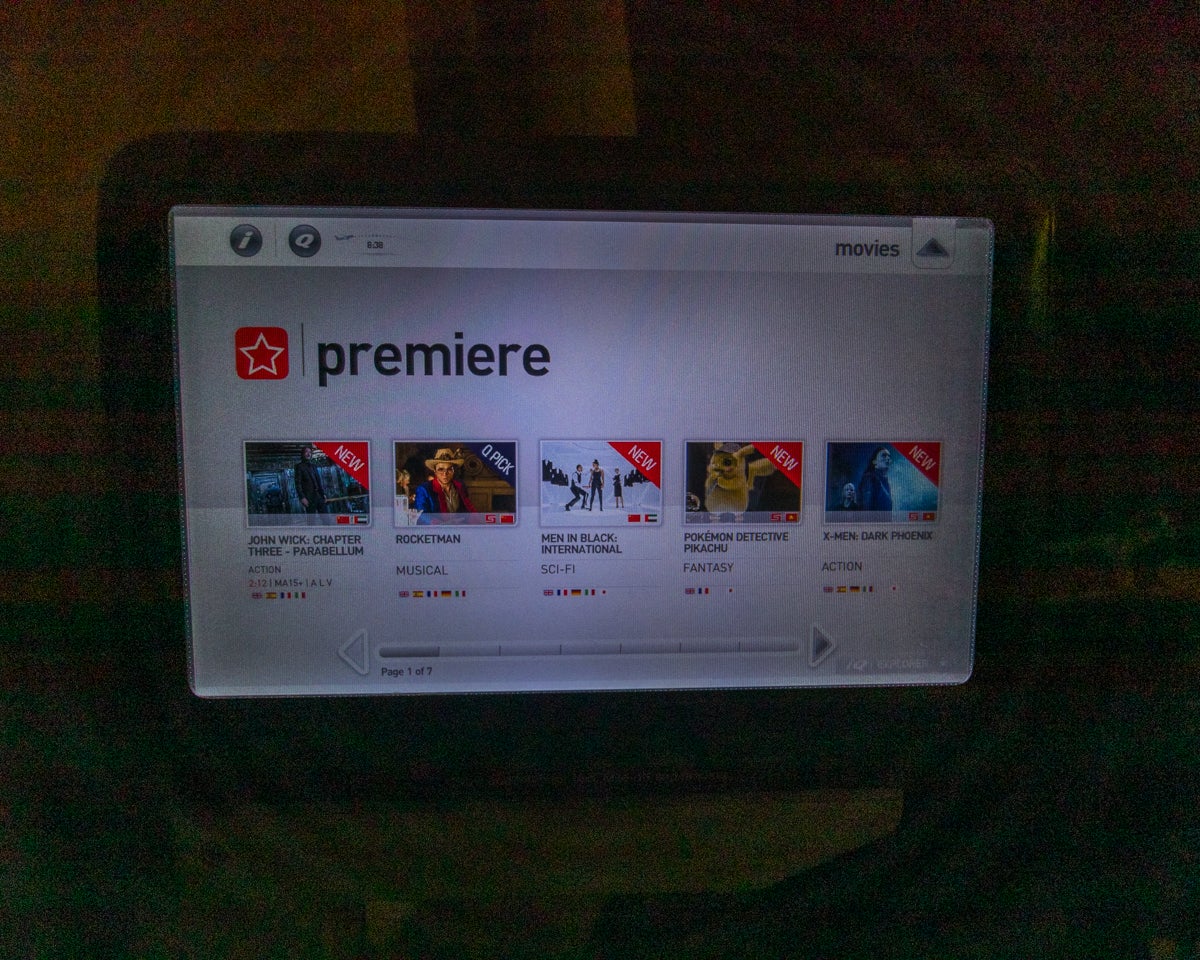 Noise-canceling headphones are provided and are decent quality for Premium Economy passengers but, surprisingly, these are the same ones provided to business class passengers – they aren't that great.
Hot Tip: Would you prefer to bring your own? Explore our list of recommended noise-canceling headphones.
Meal and Service
Upon boarding, I was greeted by Jasmine who offered me a glass of sparkling Katnook Founder's Block Chardonnay Pinot Noir ($13 a bottle), orange juice, or water. A bit later, Geoff Sanders, the customer service manager, also came to introduce himself to me and welcome me on board.
After take-off, bottles of water were distributed but no other beverages were available until the meal service. A supper service was provided on this evening flight and kicked off at 10:10 p.m. Sydney time, 1:20 into the flight.
I had 3 options. I selected the braised pork belly in a ginger and soy sauce with Koshihikari rice and shallots.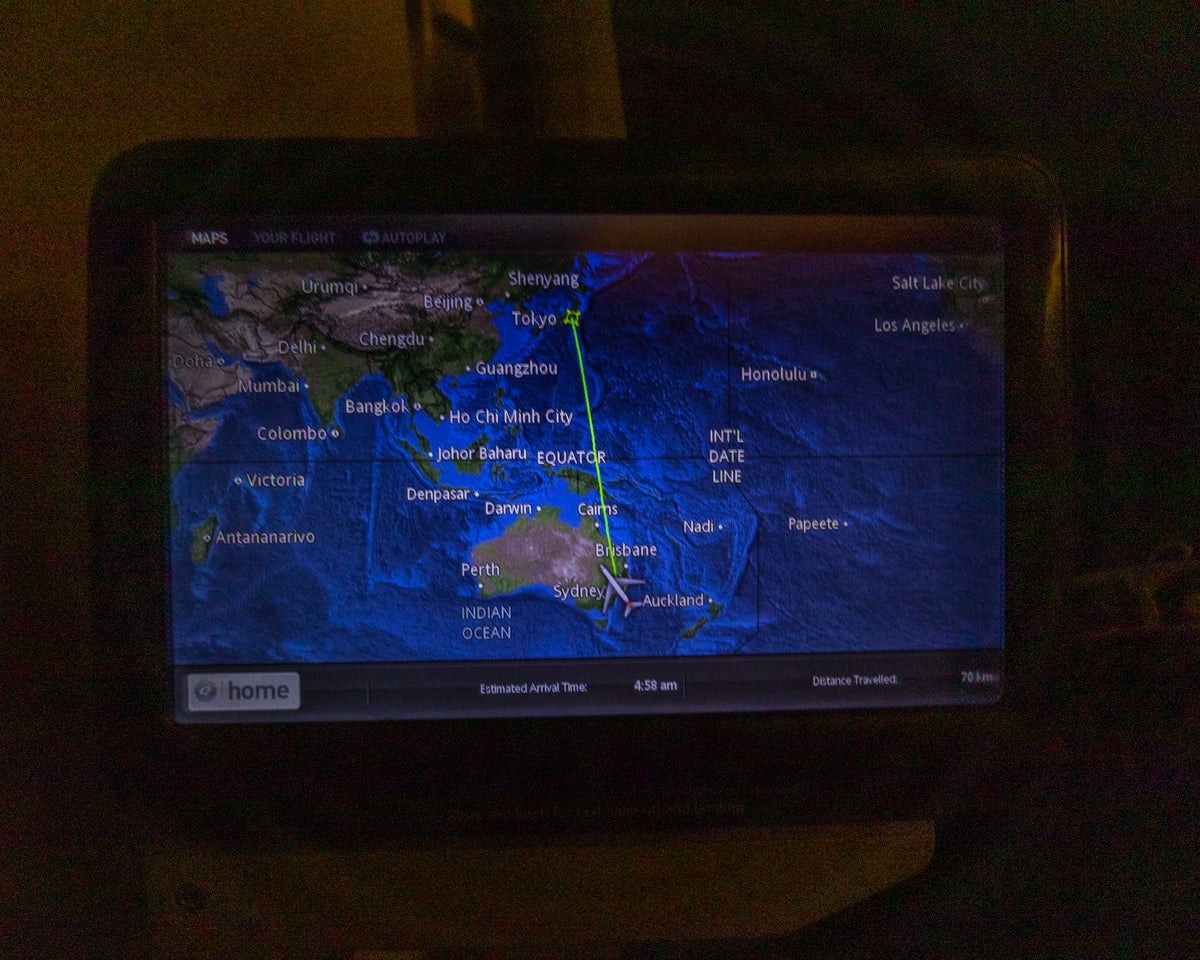 The pork was very tender, and I thought the sauce was delicious, too. I would have loved a bit more of the pork and a bit less rice. But overall, I was impressed.
It was served with a "salad of garden leaves with Neil's vinaigrette" which is referring to Neil Perry, the Australian chef and restauranteur who consults with Qantas on its premium cabin and lounge catering. Despite the fancy description, it is really just a small bowl of lettuce with dressing.
The other supper options were:
Spinach and feta agnolotti
Salad of salmon with black rice
A passionfruit and almond cake was included for dessert but was a little dry.
I enjoyed a glass of 2015 Shiraz from Buller Wines Balladeer ($17 a bottle) which came from the business class selection.
Supper wrapped up 30 minutes later. An hour later, the crew came through to offer fruit, lamingtons, or biscuits.
I grabbed one of the lamingtons as it had been many years since I have had one. For those who don't know, a lamington is an Australian sponge cake which is dipped in chocolate sauce and then rolled in coconut. It was deliciously moist and a nice way to wrap up the service.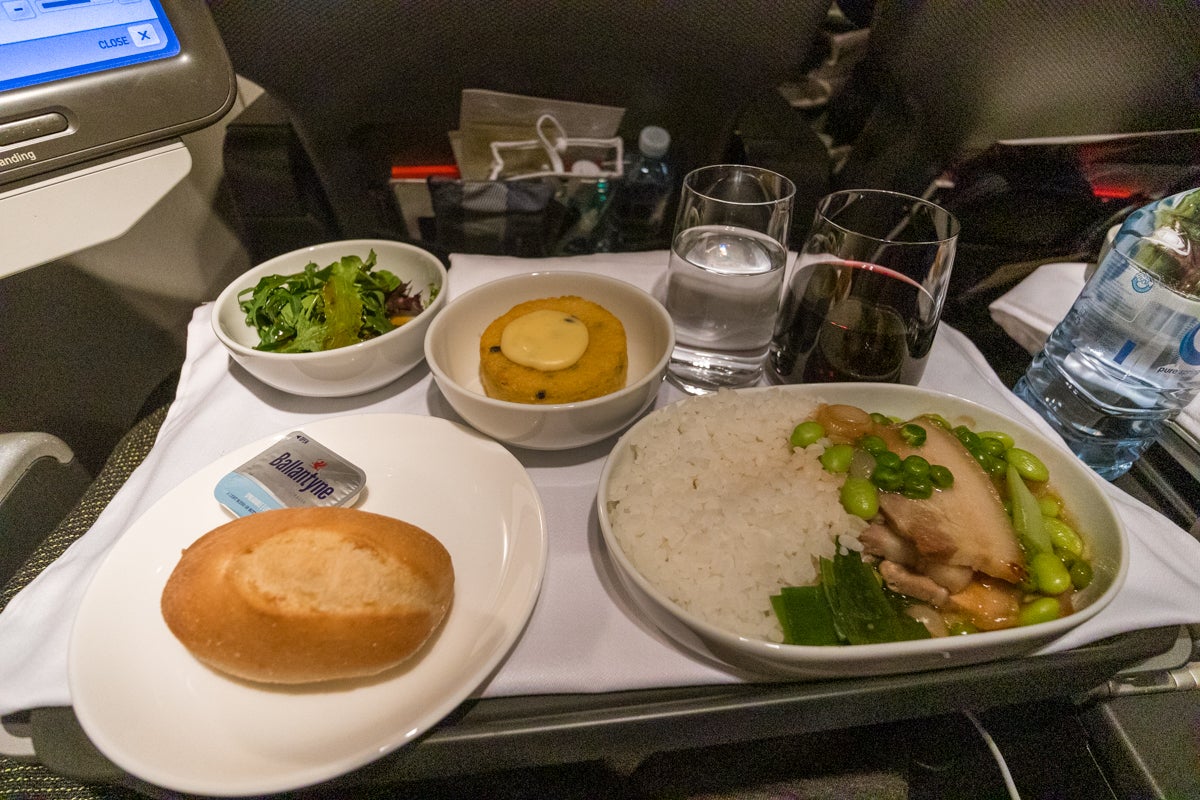 The crew came through the cabin for a few proactive wine refills before I tried to get some sleep. I was woken by the cabin lights turning on 1hr 45min before landing into Tokyo for either a continental, hot, or Japanese breakfast.
The Japanese breakfast was salmon shiitake glaze with soybeans, carrot, daikon, and steamed rice. The continental was just cereal. The hot breakfast included a zucchini frittata with braised beans, pork sausage, bacon and creamed spinach with coconut mini loaf and bowl of fruit.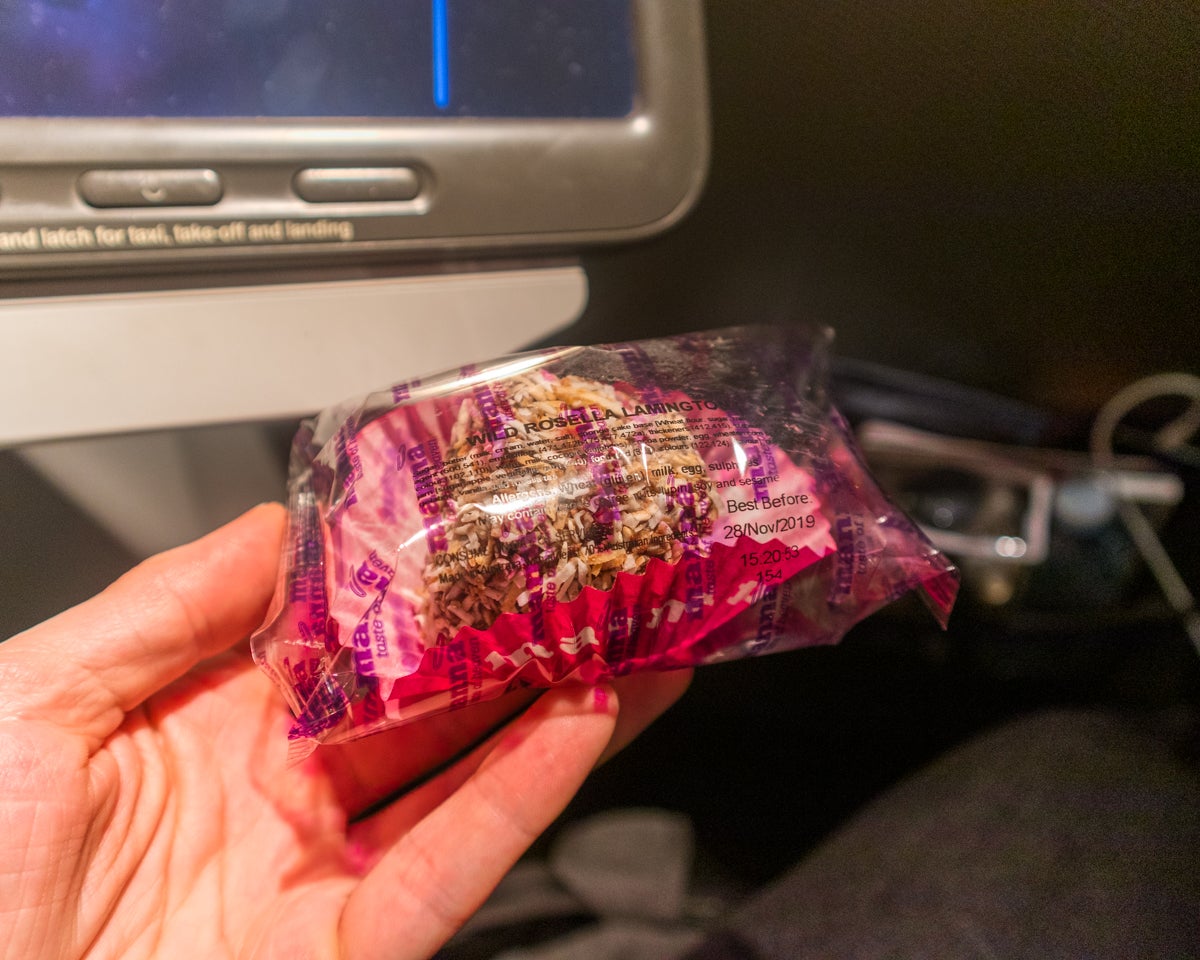 Final Thoughts
While there is more room than economy, I still didn't sleep great. Plus, the 5:20 a.m. arrival into Tokyo made for a long first day and I needed lots of caffeine to keep me going.
Overall there wasn't a huge amount of crew interaction during this evening flight, which is fine, but all interactions were pleasant.
Would I choose to fly Qantas Premium Economy again? Absolutely. It does exactly what it says on the box; it's a more premium way to fly than economy. I would just prefer a day flight instead.
There's also something very nostalgic about flying on the Queen of the Skies, but VH-OJU has seen better days and it was time for her to hang up her crown. This Premium Economy product is still flying in the last 6 747 aircraft and all of the non-refit Airbus A380s.
When the customer service manager, Geoff, asked me how my flight was going during a long wait for a bathroom, I asked if I could visit the cockpit after landing into Tokyo as I hadn't been in the cockpit of a 747 since my first international flight over 20 years ago.
Geoff received approval from the crew, and I had the honor of saying farewell to VH-OJU from the cockpit.
Another Qantas 747 will make her final journey from Sydney (SYD) to Los Angeles (LAX) on February 9 2020, which you can now book using Qantas points.