Duới đây là các thông tin và kiến thức về Giro axis goggles review hot nhất hiện nay được bình chọn bởi người dùng
Giro is a leader in the snow goggle market, and their Axis combines a medium fit with two high-quality lenses, a plush foam build, and a decent field of view considering the compact design. We tested the Axis in a range of conditions, from wet and windy backcountry tours in British Columbia to bluebird outings and deep powder days in Japan. Our take: Smith's I/O series wins out in visibility, and we prefer their ChromaPop lenses over Giro's Zeiss options, but the Axis nevertheless is a good all-around performer. Below we break down our full experience with the Axis. To see how it stacks up to the competition, see our article on the best ski goggles.
Table of Contents
Field of Vision
Clarity and Optical Quality
Lens-Change System
Ventilation and Fog Resistance
Fit and Comfort
Build Quality and Durability
What We Like/What We Don't
Comparison Table
The Competition
Performance
Field of Vision
With a medium fit and cylindrical lens, the Giro Axis isn't a standout in field of view, but it gets the job done. To help with visibility, Giro trimmed down the frame and incorporated frameless zones (they call this "Expansion View" technology). The result is minimal distortion and a more compact, face-hugging shape that never felt restrictive while skiing. In fact, I actually prefer the size of the Axis over larger models like the Oakley Flight Deck or Smith's I/O Mag XL, as it's more manageable for my head shape.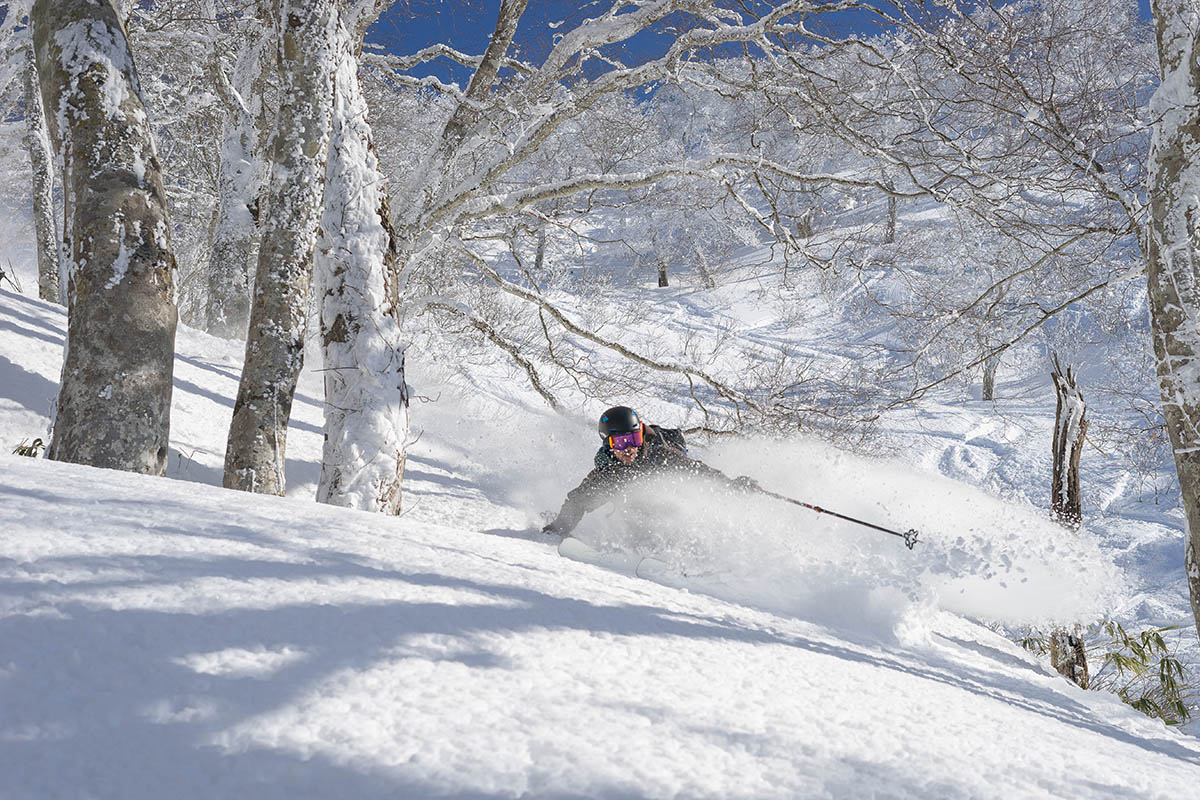 As with most medium-fit goggles, I have found that I'm able to see the frame and foam if I look straight down, but it hasn't been distracting or led to any issues on the slopes. Those who want to maximize field of view can step up to the aforementioned Oakley or Smith models or consider a design like Smith's innovative 4D Mag, which curves at the bottom of the lens to increase downward visibility. But the Axis offers good all-around views and avoids any feeling of tunnel vision despite its accommodating size.
Clarity and Optical Quality
One of the benefits of spending up into the $200 price range is that you typically get two lenses included with your purchase. In this case, the Axis comes with two quality Zeiss lenses: one "all-conditions" lens and one low-light alternative. Both utilize the brand's "Vivid" technology, which is designed to boost contrast and make small details stand out by allowing in more blue light while blocking harmful UV rays. In use, I found that both lenses provided excellent clarity and definition without ever making things appear overly artificial (an experience we had with some of Oakley's Prizm lenses, including their Torch and Sapphire tints).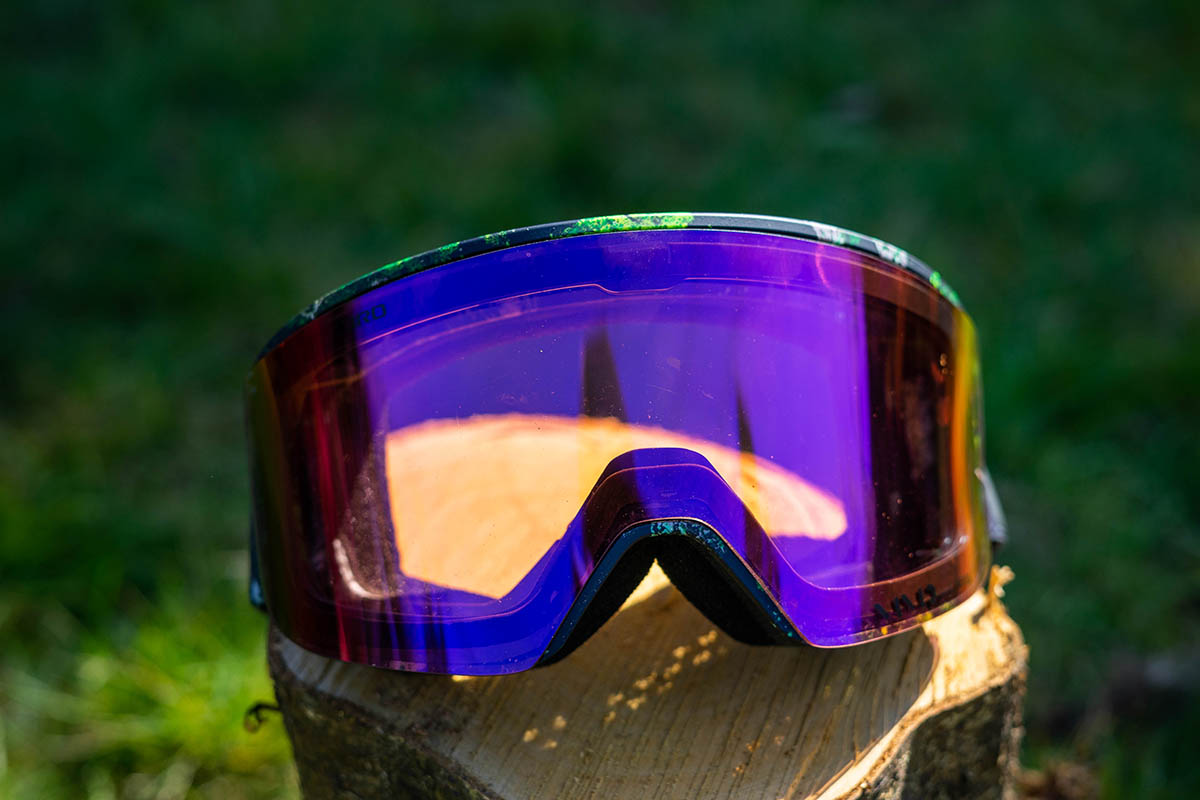 I should note that as someone who doesn't swap lenses often, I kept the low-light lens on around 95 percent of the time. In the end, it worked well in a range of conditions, from heavy snow days in Japan to bright sun in the Rocky Mountains, but those who want to maximize clarity and performance will likely want to pack the secondary lens and swap as the weather changes (it's fairly easy to do with Giro's lens-change system, which we detail below). And finally, it's worth noting that Smith's ChromaPop, which we've tested on a range of models from their mid-range Skyline to their premium 4D Mag, provides a bit better color rendition and is more HD-like, but the Axis' Zeiss lenses aren't too far behind.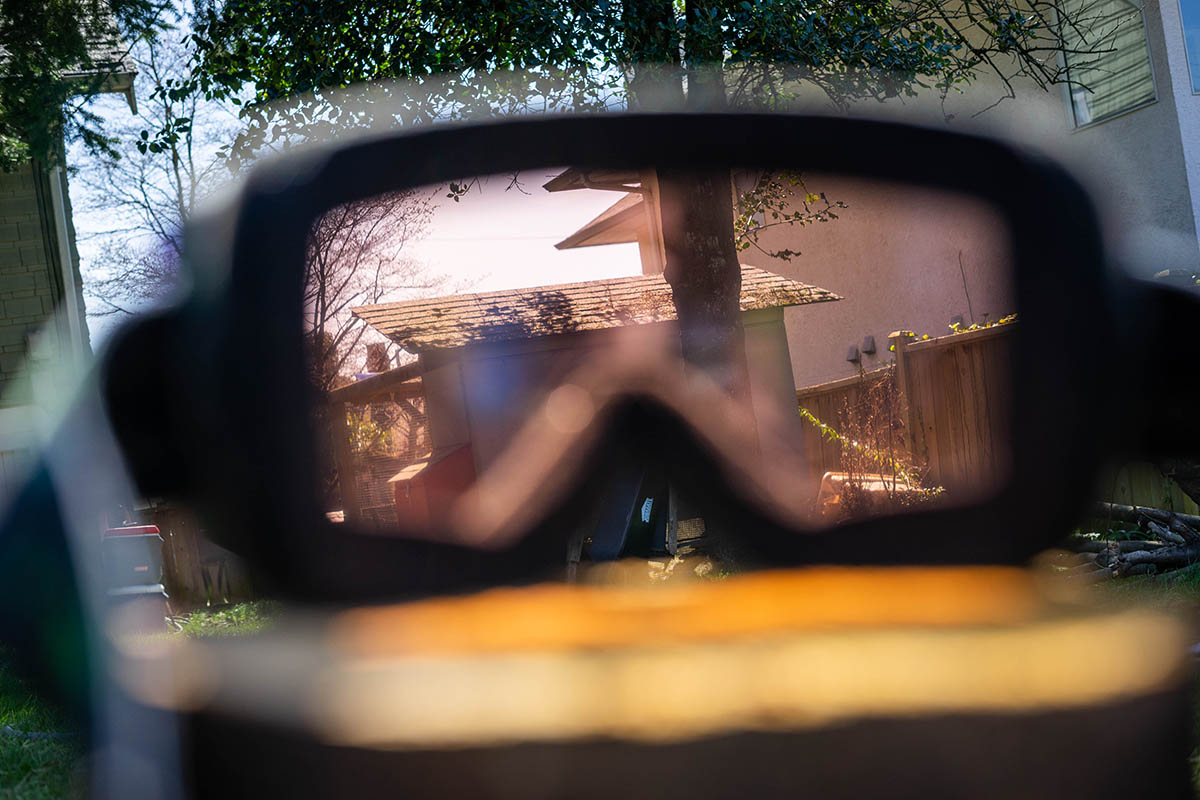 Lens-Change System
The Axis isn't a class leader in lens-changing technology—that title goes to Anon and their fully magnetic design—but the system is functional and easy to use. How it works: twist the goggle slightly, grab the edge of the lens, and pop the pins out of the corners. Reinserting is just as simple (and magnets help guide it into place), although you'll need to press down fairly hard on the outer edges of the lens to lock it in, which can leave smudges. Additionally, I found that removing the lens required a good amount of force at times, which led to concerns that I might snap the pins (without them, there's no way to secure the lens to the frame). But the design hasn't failed or caused any issues to date, and it's a notably strong and secure system when the lens is in place.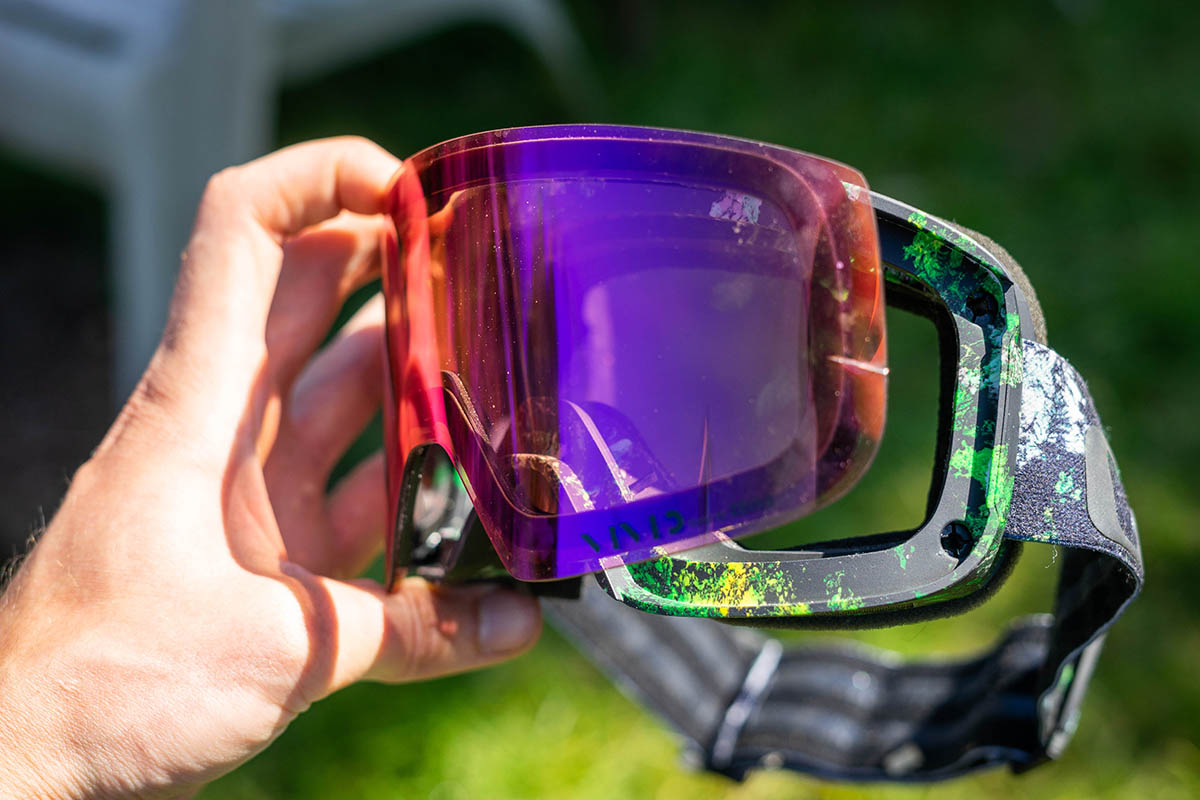 Ventilation and Fog Resistance
Some of our testers have had issues with the Giro Axis fogging up, but I found the new EVAK vent technology—essentially porous foam that's designed to expel rather than absorb moisture—to be very effective at releasing excess heat. Additionally, the anti-fog coating has held up well thus far and excelled in both warm and cool conditions at various elevations. For reference, my partner consistently struggled with the Smith Skyline fogging up between the lenses, but I had no issues with the Axis throughout the entire season. I did experience some minor buildup while exploring the sidecountry at my local resort, but it was likely due to overdressing. If you layer properly and take care of the goggles (including minimizing the amount of times you wipe the lens), the Axis should perform well whether you're staying inbounds or skinning deep into the backcountry.
Fit and Comfort
In short, I found the Axis' medium fit to be a great match for my face shape and size. As I touched on above, the low-profile design provided a good field of view and seamless integration with my Salomon MTN Lab helmet—there were no gaps between the bridge of the helmet and goggle frame—without ever feeling too bulky. Further, the triple-layer foam build is soft against the skin and sat well on my face with no pressure points or issues with chafing, even after long days of lift skiing or backcountry touring. And as an added bonus, the Axis can fit over a pair of prescription glasses, which isn't always the case with medium-sized goggles (although we always recommend trying before you buy to ensure your frames will work).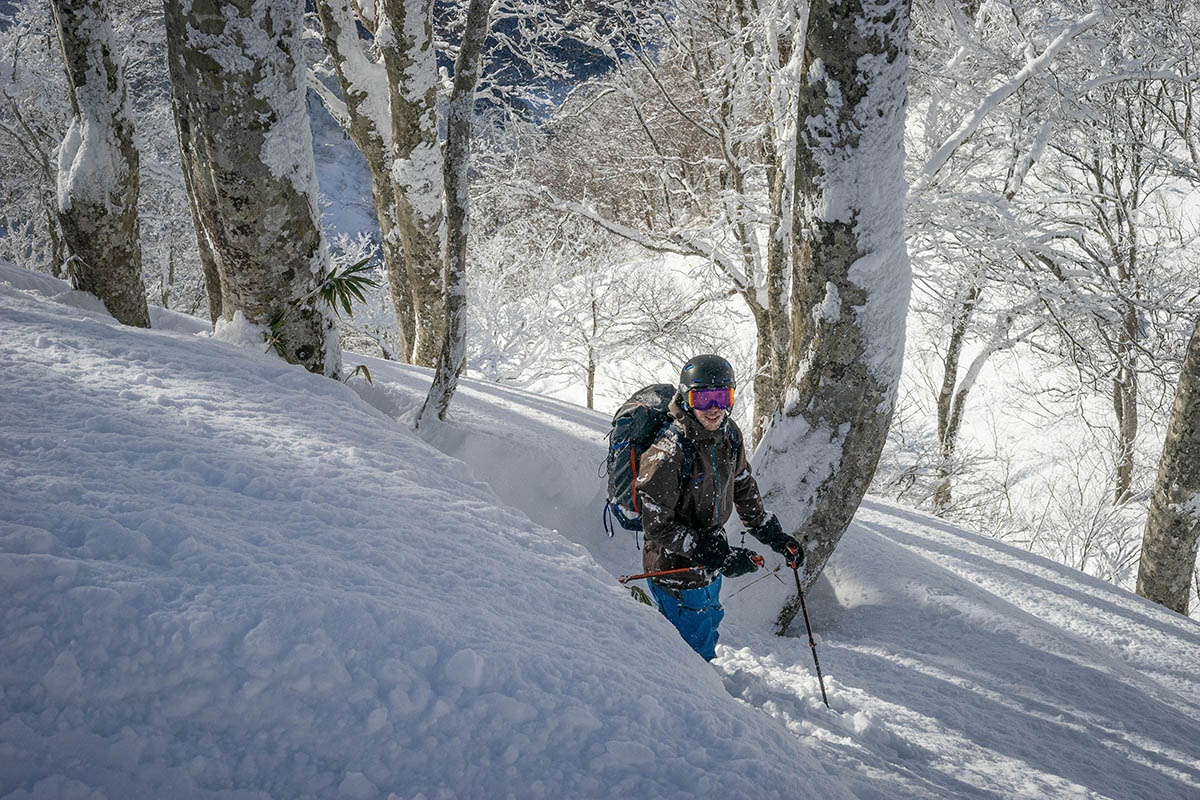 Build Quality and Durability
Giro is a leader in the snow goggle market, and as expected, their Axis is well-built and holding up very well after a full season of use. Despite skiing more than 50 days, including many road trips to B.C.'s interior and a month overseas in Japan, the foam has not packed out, the frame shows almost no signs of wear (minus a slight nick from a fairly violent encounter with my ski edge), and all features continue to operate flawlessly.
My only issues thus far have been with the lenses. On one occasion, while skiing at Whitewater Ski Resort over the holidays, the temperature dropped significantly and iced up the goggles. At the end of the day, I noticed that part of the film on the lens had chipped away after I had repeatedly wiped the moisture off with my ski gloves. To be fair, this was entirely my fault, and I should have instead used the included (and less abrasive) microfiber storage bag or allowed the lens to dry naturally, but it degraded quicker than expected. Finally, the lens doesn't sit entirely flush at the top left edge of the frame (likely a manufacturing defect), but it's barely noticeable and hasn't allowed any snow or moisture to creep in.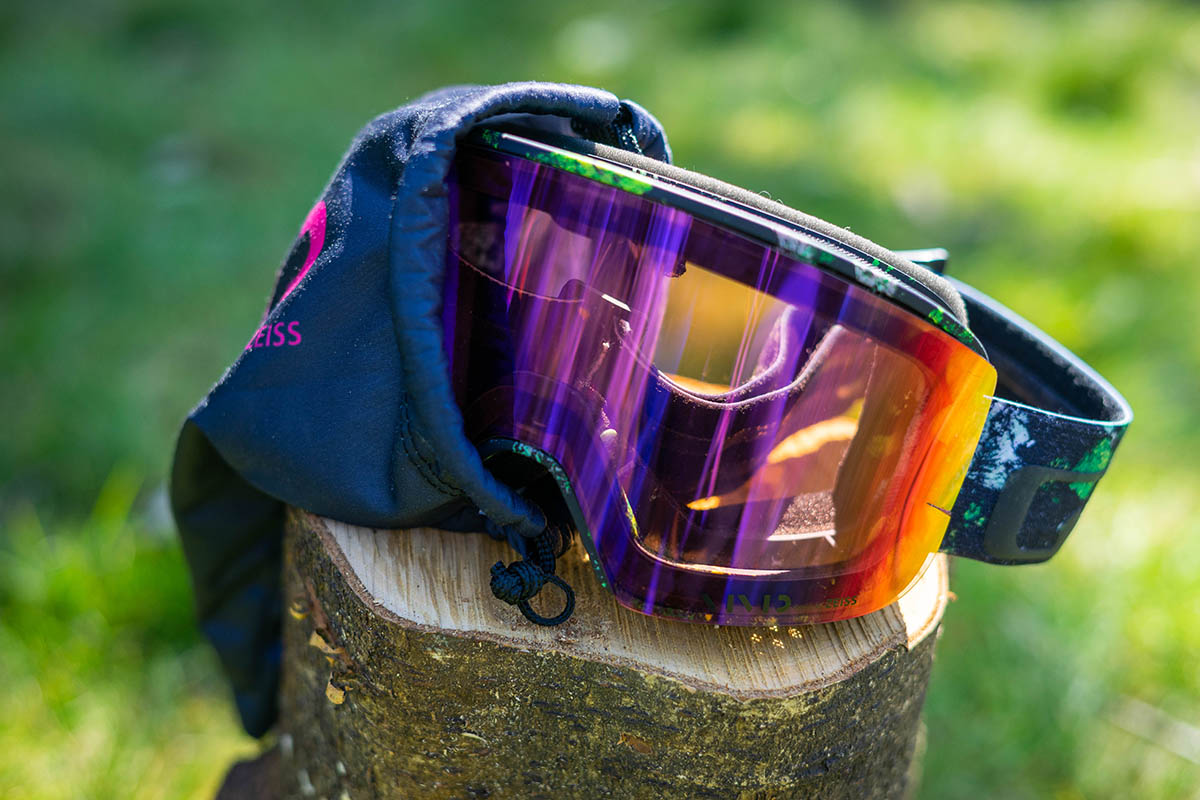 Women's Giro Ella and Low-Bridge Fit Versions
We tested the unisex Axis for this review, and Giro makes a women's-specific version called the Ella. Compared to the Axis, the Ella costs the same at $190, has an identical feature set, and also comes with two quality Zeiss lenses. Colorways vary between the men's and women's goggles, but you can expect very similar performance across the board. For those with smaller facial features, Giro also makes a low-bridge version of the Axis and Ella goggles (also referred to as an "Asian Fit"), which boasts a bit more padding around the bridge of the nose. All other features remain the same, including the triple-layer foam, EVAK venting system, two Zeiss lenses, and Expansion View technology. And like the version tested here, the low-bridge Axis retails for $190.
What We Like
The Axis' compact shape and comfortable all-around fit work very well with medium-size faces.
New EVAK venting system is effective at allowing airflow and releasing excess heat, and the anti-fog coating is holding up well after extensive use.
Quality optics with two included Zeiss lenses.
What We Don't
With a medium fit and cylindrical lens, the Axis isn't a standout in field of view.
Lens-change system requires pressing down fairly forcefully at the corners of the lens, which can leave smudges.
Lens doesn't sit entirely flush at the left edge of the frame, which seems to be a manufacturing defect with my particular pair.

Comparison Table
Goggle Price Size Lenses Shape Style OTG Giro Axis $190 Medium 2 Cylindrical Frameless Yes Smith I/O $210 Medium 2 Spherical Semi-frameless No Smith Skyline $180-$200 Medium 1 Spherical Frameless No Oakley Fall Line XM $166-$206 Medium 1 Cylindrical Frameless Yes Dragon NFX2 $190 Medium 2 Cylindrical Framed No Anon Sync $200 Medium/large 2 Cylindrical Frameless No
The Competition
Giro's Axis is a well-rounded design with quality optics, good all-around comfort, and a well-made build. Smith is another frontrunner in the ski goggle market, and their direct competitor to the Axis is the I/O. Like the Giro, the Smith I/O has a medium fit, includes two high-quality lenses, and sports a comfortable three-layer foam build. In parsing out the differences, the Giro's quick-change system is a little faster and simpler—the I/O requires unlocking levers at the top and aligning everything perfectly when reinserting—and it's also cheaper by $20. That said, we prefer the Smith's spherical shape for better maximizing visibility, and the included ChromaPop lenses are class leaders in terms of clarity and definition. And for a quicker lens-change design, our favorite model this year is the upgraded I/O Mag, which uses a simple and effective magnet and lever system to secure the lens in place but costs a much steeper $270-$300 depending on tint.
Another Smith option to consider is their Skyline goggle. Starting at $10 less than the Axis, the Skyline boasts a lot of similarities: both goggles have a medium fit with good all-around visibility, soft triple-layer foam build, and quality optics. Again, we prefer Smith's ChromaPop lenses over the Axis' Zeiss, but the difference isn't major. In separating the two, the Axis' quick-change system is more user-friendly—the Skyline's requires a good amount of force to pop the lens out of the frame—and the Giro also comes with two lenses versus the Smith's single lens. As such, we think the Giro is the better overall value.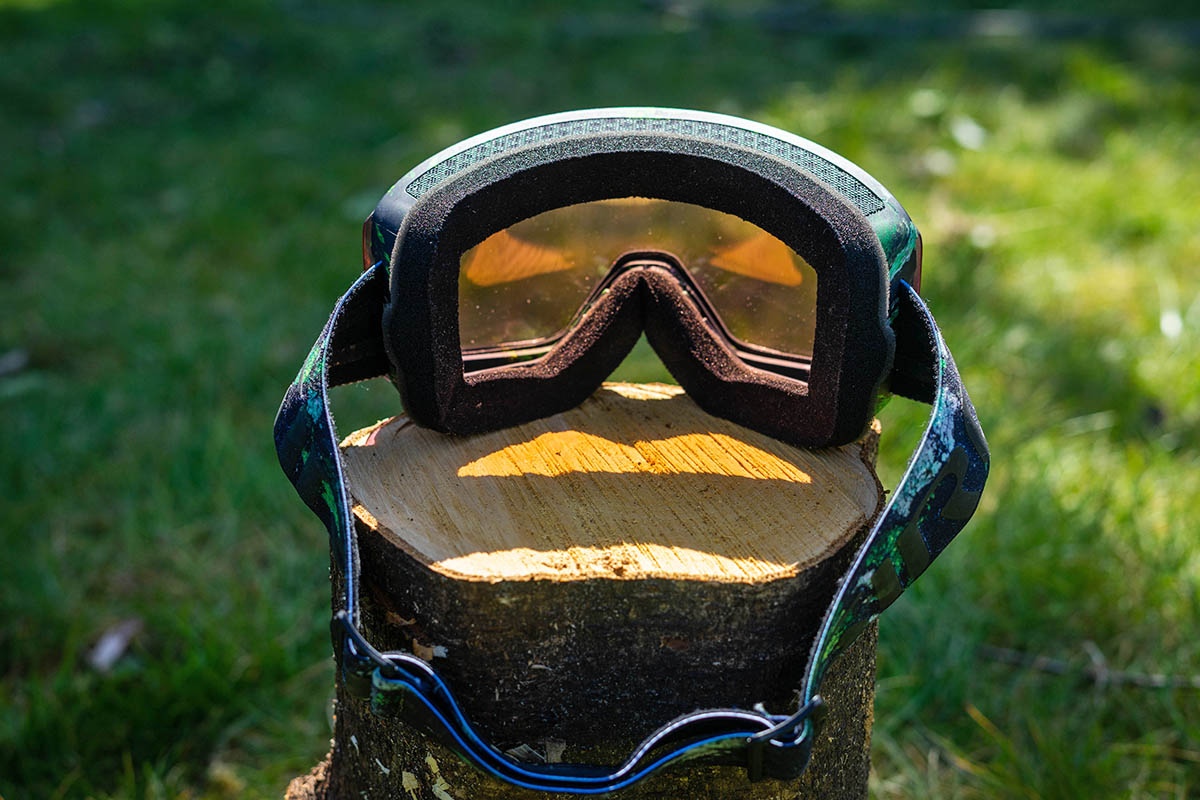 Outside of Smith's lineup, Oakley is another strong contender in the snow goggle market, and their Fall Line XM is an intriguing alternative to the Axis. Both goggles have medium fits, cylindrical lens shapes, and cost around the same. However, the similarities mostly end there. While the Axis comes with two quality lenses, the Fall Line only includes one, and Giro's lens-change system is also quicker and easier to use. We do like the sleek look of the Oakley, and its Prizm lens is a step up in clarity, but the Axis sits closer to the face, which results in a wider field of view (especially at the bottom corners). In the end, a final decision will come down to how you prioritize value (the Axis gets the edge) versus optical quality and styling (we prefer the Fall Line).
Dragon is a bit of an underdog in the goggle realm, but their NFX2 is another well-made option in this price range. Swapping lenses is much easier with the Dragon—just push a lever on each side of the frame to release the lens—and we also found the medium fit to be accommodating and snug against the face. That said, the Giro wins out in field of view (we experienced a tunnel-like effect when wearing the NFX2) and durability with a higher-quality and more robust feel. For these reasons, unless an easy-to-use quick-change system is at the top of your priority list, we'd go with the Axis.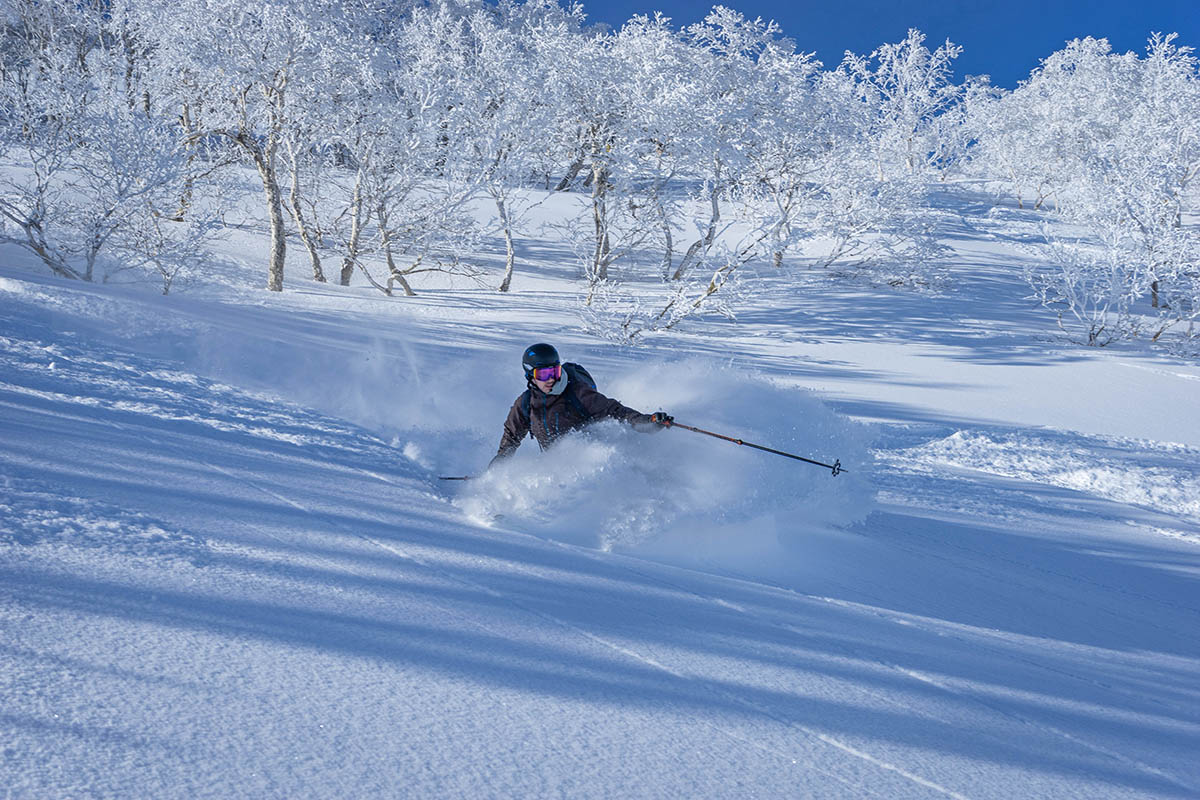 A final option to consider is Anon's Sync. As with the NFX2 above, a major reason to choose the Sync over the Axis is the quality of its lens-change design: the Sync utilizes Anon's M-Fusion technology, which uses a combination magnets and hinges to secure the lens in place. All in all, the process is quick and easy, and you don't make any major concessions in performance. Like the Axis, the Sync comes with two Zeiss lenses (also cylindrical), has good overall ventilation, and features a soft foam build. Given the similarities, a final choice will likely come down to fit and styling: the Sync has a slightly bigger medium/large fit with less of the frame visible at the top and bottom