Duới đây là các thông tin và kiến thức về Arai tour x4 review hay nhất và đầy đủ nhất
Hirotake Arai was a successful hat maker in Japan during the 1950s. He was also a keen motorcycle rider, although it wasn't the safest hobby to have at the time. With no legal standards for helmets, and no manufacturers producing helmets anyway, it was hard to keep yourself adequately protected when going out for a ride and even a minor spill could be a life-threatening affair.
Hirotake was a problem solver though, and he set about designing and constructing helmets for him and his riding mates with the sole intention of keeping their noggins safe. Fast forward 70 years and it's clear he succeeded in doing that, and then some.
The mark of true quality is when your name becomes a recognised description. When you set a benchmark that all others in your field strive to achieve. Think commentators describing a goal as "Messi-esque". And, in the motorcycling world, Arai is now synonymous with high standards of quality and attention to detail; the premium of motorcycle helmets.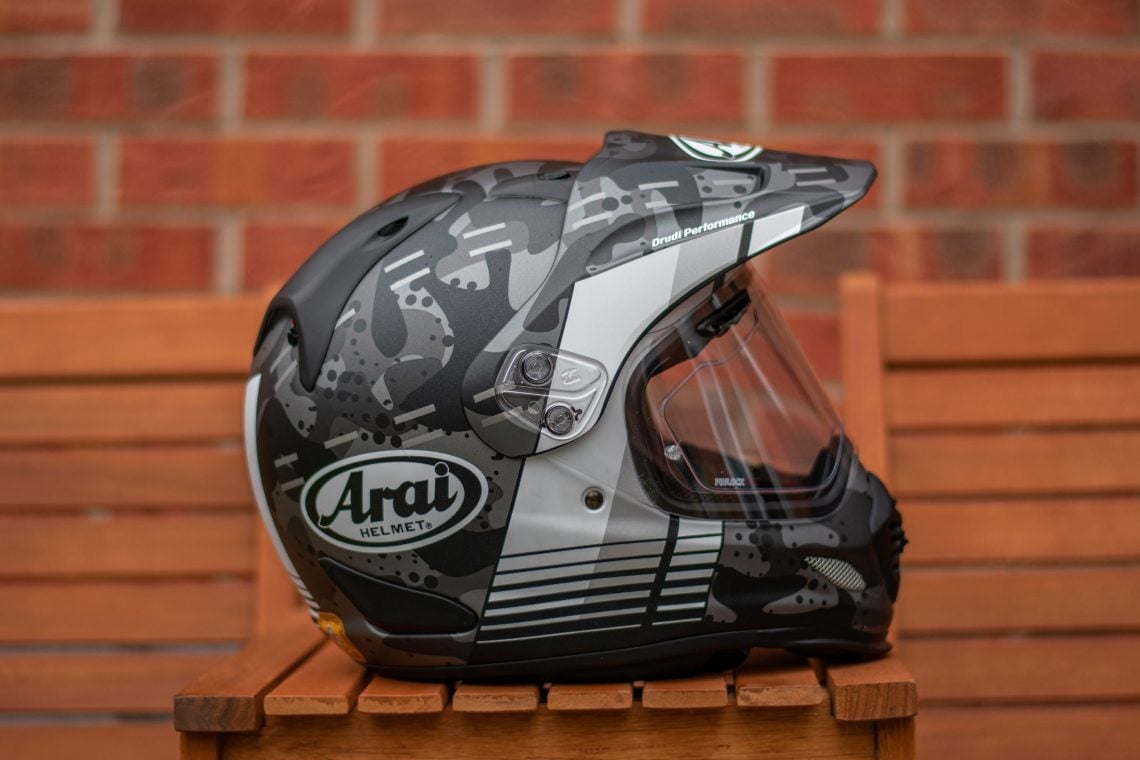 Which leads us on to the adventure-styled Arai Tour-X 4. Arai's range of adventure helmets have been firm favourites at ABR Towers, coming out top in the many helmet group tests we've conducted over the years and worn regularly by ABR staff at bike launches and on our ride outs since we first went to print. So, when the Tour-X 4 arrived on my desk in the new 'Cover – White' colourway, I was excited to see just what all the fuss was about.
Now, before we get started, it's impossible to write about the Tour-X 4 without mentioning the elephant in the room. It's an expensive lid. Arai have priced the colourway I'm reviewing at £579.99 and, while there are discounts to be found online, it's undoubtedly a hefty sum.
So much so that, taking into account the rock-bottom fuel prices at my local Sainsbury's, I could use the same amount to travel over 5,000 miles on a BMW R 1250 GS. The bottom line is, the Tour-X 4 needs to perform exceptionally well to justify that price and convince you to cough up your hard-earned cash.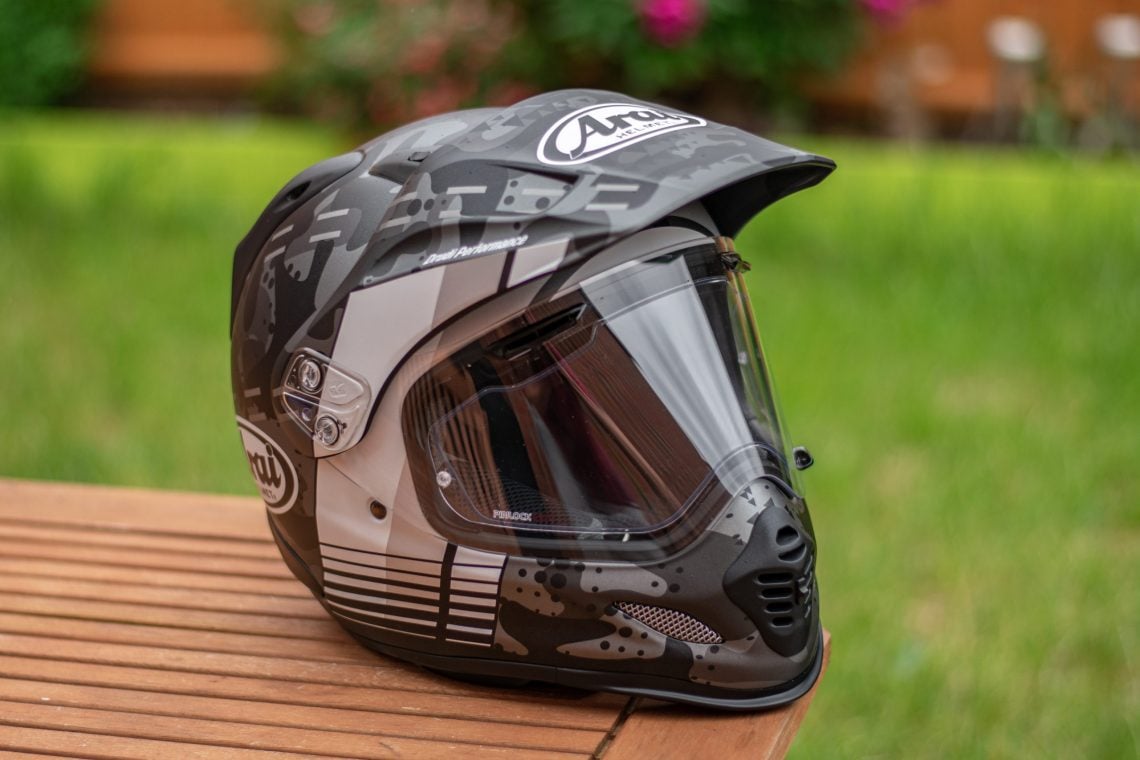 Arai Tour-X 4 – First Impressions
Immediately it's clear the Arai Tour-X 4 is a high-quality lid. It feels bulletproof and sturdy, there's no clunkiness or cheap-sounding creaking as you get to grips with the components, visor and peak.
A quick play with the various vents (more on them later) also gives the reassuring impression of premium quality. The visor offers a vast field of vision and closes securely with a satisfying snap. It also comes Pinlock-ready with a Pinlock insert in the box, a touch which is much appreciated.
The initial evident quality of the helmet is hardly surprisingly – Arai helmets are built almost entirely by hand. Each takes around 18 man hours and passes five separate inspections before being boxed up for shipping. An unparalleled commitment to maintaining those lofty standards.
On the slightly superficial front, it also looks fantastic. Arai have really nailed the subtle styling of an adventure helmet with the Tour-X 4. It steers clear of the sharper lines and aggressive chinbars of competitors that scream 'moto-cross hero', instead capturing the versatility of our adventure bikes by looking ready to take riders on and off the tarmac.
The 'Cover-White' colourway that I have (pictured) combines a black/grey digital camo pattern with attractive white stripes. The only complaint I have is that Arai use their more artistic colourways to stick a couple of larger logos on the sides of the helmet, alongside the standard one on the peak.
It's a minor grievance, I am splitting hairs, and dependent on what graphics you purchase (they're not present in the plain white or black helmets) but it seems like an uncharacteristic departure from Arai's usual subtle, premium styling.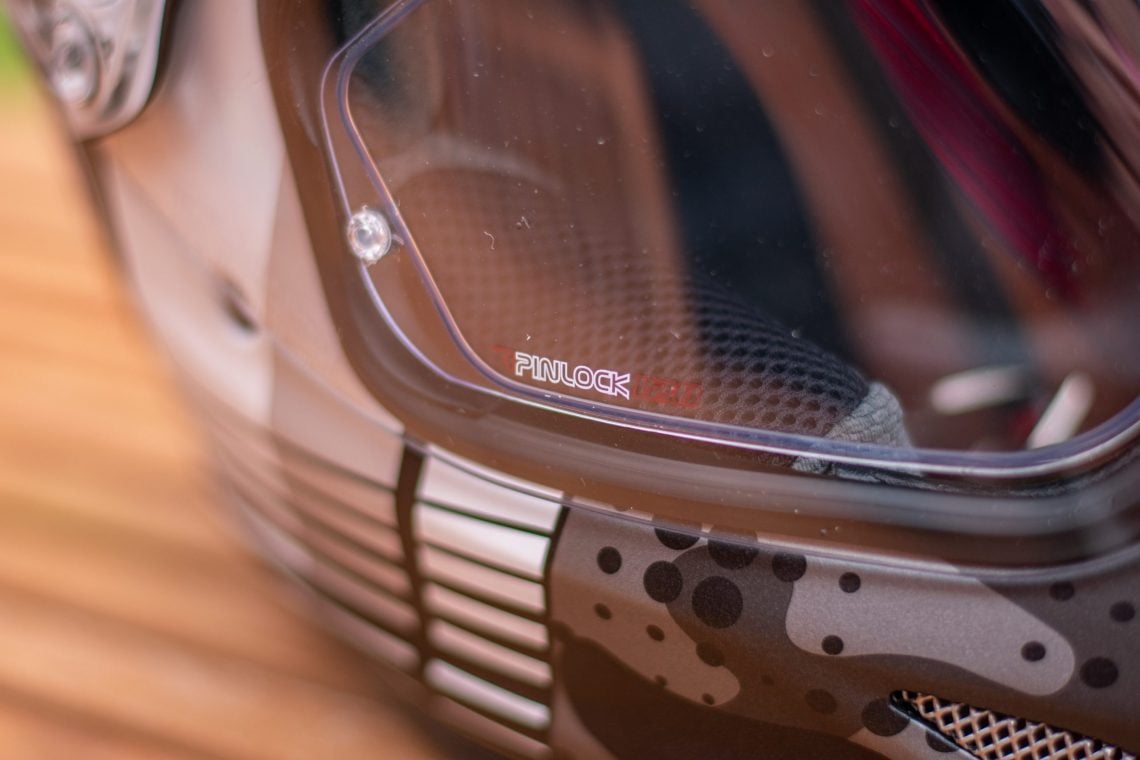 Comfort
Since slipping on the Arai Tour-X 4 for the first time I can confidently say, out of the many motorcycle helmets I've tested since starting at ABR, it's the most comfortable yet. Perhaps I'm lucky enough to have the perfect head for an Arai, but it fits like a dream.
The 1.65kg weight (size M) is average for an adventure helmet, but the weight is distributed evenly across the top of the head, while the cheek pads combine with the cushioning at the back of the helmet to ensure that the helmet fit is just right, snug without ever feeling tight or uncomfortable.
This snug fit, particularly around the lower part of your face, is provided by the Facial Contour System. In layman's terms this is a small foam spring support included in each cheek pad that compresses to shape around your face, providing just the right level of pressure to ensure safety and a comfortable fit.
It's a testament to this intricate balancing act that the helmet feels much lighter than others in class, despite being the same weight. Indeed, it's so comfortable and easy to wear that I popped it on as I began writing this review, and only took it off an hour later when I couldn't find a straw to drink my tea. And, while riding, it's easy to almost forget you're wearing a helmet at all.
If the Tour-X 4 doesn't fit perfectly out of the box straight away, Arai provides a number of options to tailor the fit to you. The cheek and temple crown pads feature a 5mm 'peel-away' layer to give you more width to work with, while all the interior parts are removable and can be replaced with alternative sizes depending on your head shape.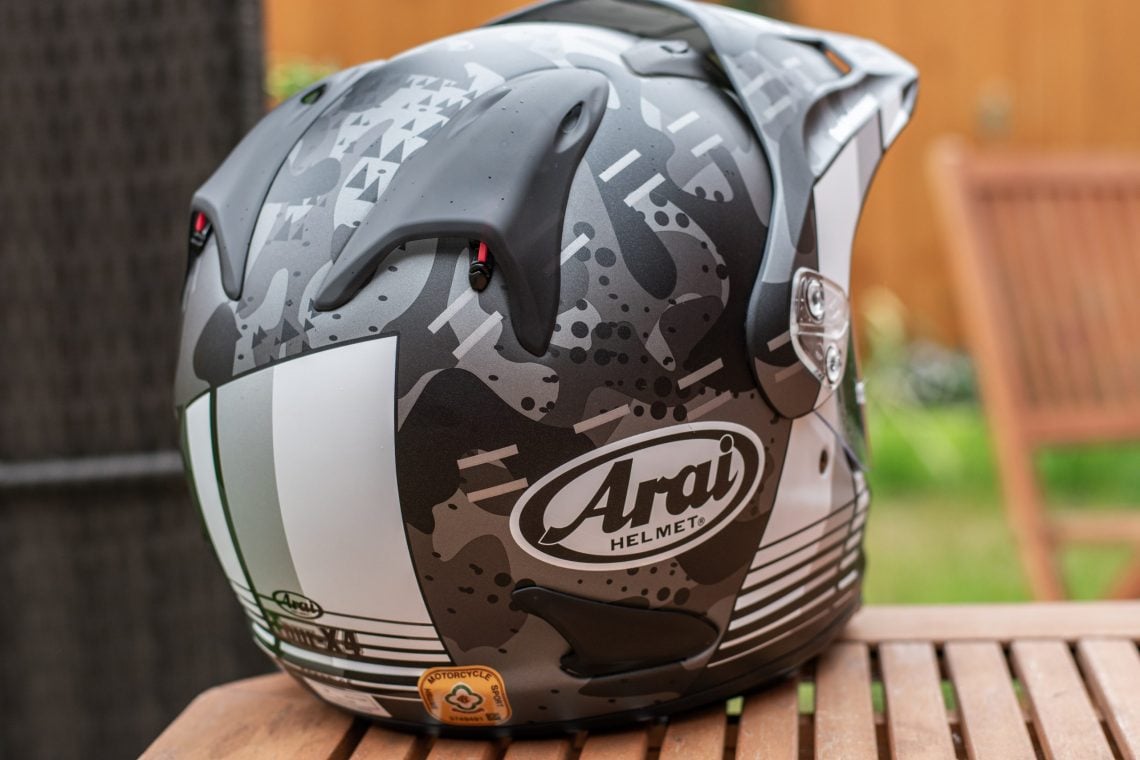 Performance from the saddle
Comfort doesn't just come from the fit of a helmet though. When you're in the saddle ventilation, noise and aerodynamic stability can turn an otherwise comfortable helmet into an unbearable one.
Once again, the Arai Tour-X 4 excels in these areas. It boasts more ventilation than a chemistry lab, seven drawing air in at the front and six exhaust vents enabling a delightful breeze to run through the helmet on hotter days. The brow vents, located at the top of the visor, are particular favourites, helping to avoid the soggy fringe that usually accompanies a day riding in the sun.
The main chin vent, and two smaller ones on either side, also help to compensate for the chin bar, which is less aggressive and doesn't come out as far as those on other adventure helmets, by keeping your lower face cool. Every vent is closeable should the temperature drop, while an extendable chin spoiler directs wind away from your neck. And, if you're getting into some gnarly trails, there is the option to lift up the visor and slap on some goggles.
For an adventure-style helmet it's also pretty quiet, even with the vents open. I still wear earplugs when I ride (I do with all my helmets) but the usual rushing wind at motorway speeds is muted enough for me to comfortably listen to a podcast or music over my intercom system.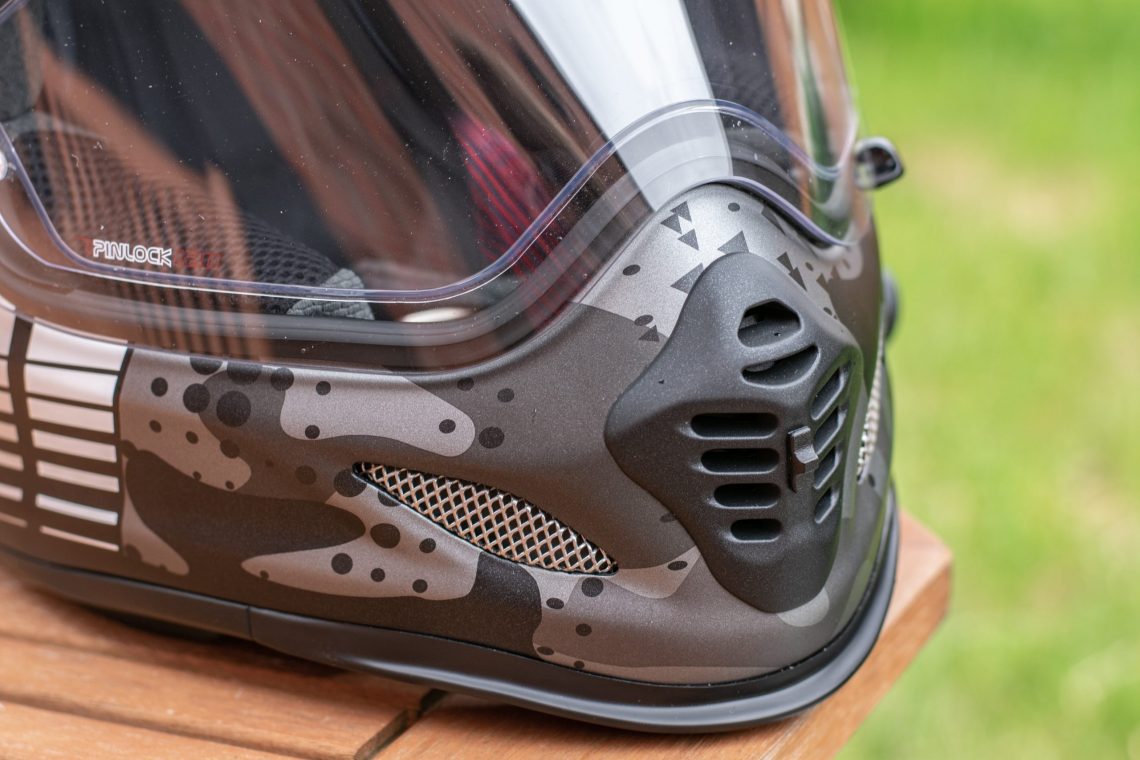 High-speed performance
Speaking of motorway riding, aerodynamically the helmet is stable and comfortable up to, and even beyond, legal speeds. The peak is barely noticeable, even during shoulder checks, and certainly one of the best I've ridden with. ABR editor Bryn reckons that the peak on the Arai Tour-X 4 is the best on the market (over the years he's tested every adventure helmet going) when it comes to aerodynamics, and I'm inclined to agree with him.
I'm yet to hear the whistle that some users complain of, but there's always the option to entirely remove the peak should you wish on those longer runs, transforming it into a mean looking streetfighter helmet.
You may want to keep it on though, as the peak is the only form of sun protection offered for riders, which is a slight disappointment. Unlike many competitors, Arai refuses to include an internal sun-visor. For them it represents an unacceptable compromise on safety.
To make life easier, the inner lining features neat cut outs that make it more comfortable to wear sunglasses all day while riding, but this could be a slight problem if you're diving in and out of Alpine tunnels while touring. Still, above all Hirotake Arai emphasised the safety of the rider and if Arai says it's better to not feature an internal sun-visor, I'm not going to argue.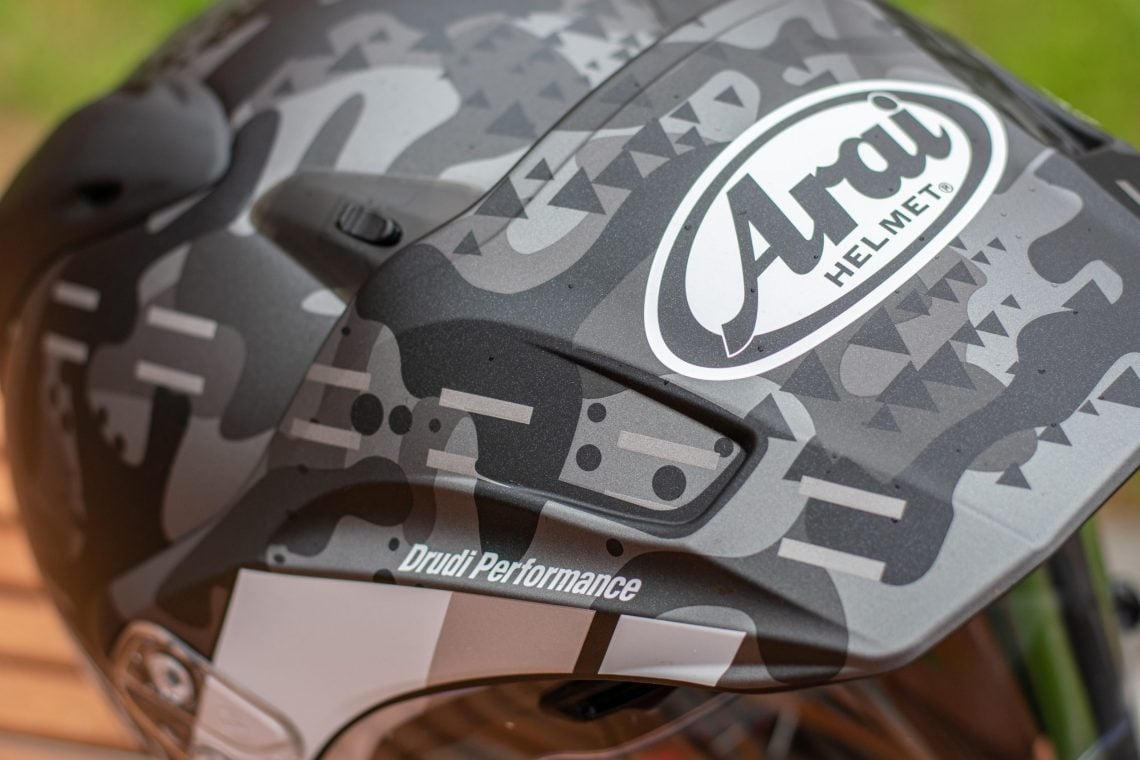 Safety and protection
Rider safety has always been a hallmark of Arai helmets, and the Tour-X 4 is no exception.
The outer shell is formed of a Special Fibre Laminate (SFL) which is designed to disperse any impact energy over the widest area of the shell, while the softer inner shell combines three to five layers of EPS foam to then absorb the rest of the energy from an impact. There's one shell size for each two sizes of helmet, so if you wear a small or a medium you won't look like a bobblehead with a 'large' outer shell.
The core philosophy of all Arai helmets is evident in the clean, smooth lines of the helmet too. These are designed to encourage 'glancing off', meaning that the helmet will decelerate as little as possible upon impact with the road or an object.
Should a slide occur, the vent covers and external fittings will rip off with ease while the shell remains un-compromised. This helps to stop the rotational forces these could generate if they were fixed from being transferred to your neck. Finishing off this ensemble is a bulletproof D-ring clasp and an emergency release system.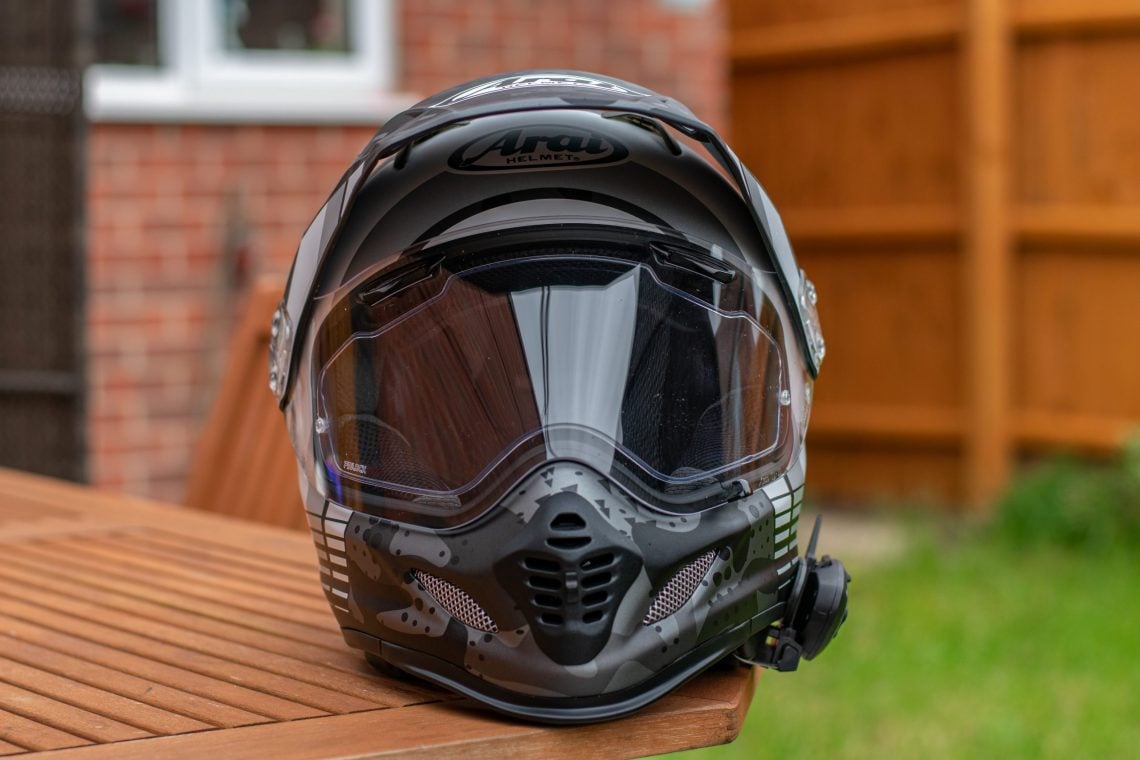 Arai's commitment to the safety of the rider extends to ensuring their helmets pass their own penetration testing, which involves dropping a 3kg test cone from a height of three metres (even though it's not required for European safety standards).
The safety features included in all their helmets are the same as those worn by professional riders on the racing circuit, as President Mitch Arai says, "How can you say one person's head is worth more than another's?"
The fastening system for visor and peak is another area where the Arai Tour-X 4 has come under some criticism, but where the recurring theme of prioritising rider safety is evident. It's fair to say it's anything but 'quick-release'; you need a screwdriver or coin to loosen the screws at either side, but after practice it's easy to do.
Loosening the screws allows you to adjust the angle of the peak, or you can remove it altogether as mentioned earlier. There's no quick release system, as seen in other helmets, as any recesses in the outer shell naturally require a compromise in shell thickness or foam density, something which Arai were not prepared to do.
ABR Verdict – Arai Tour-X 4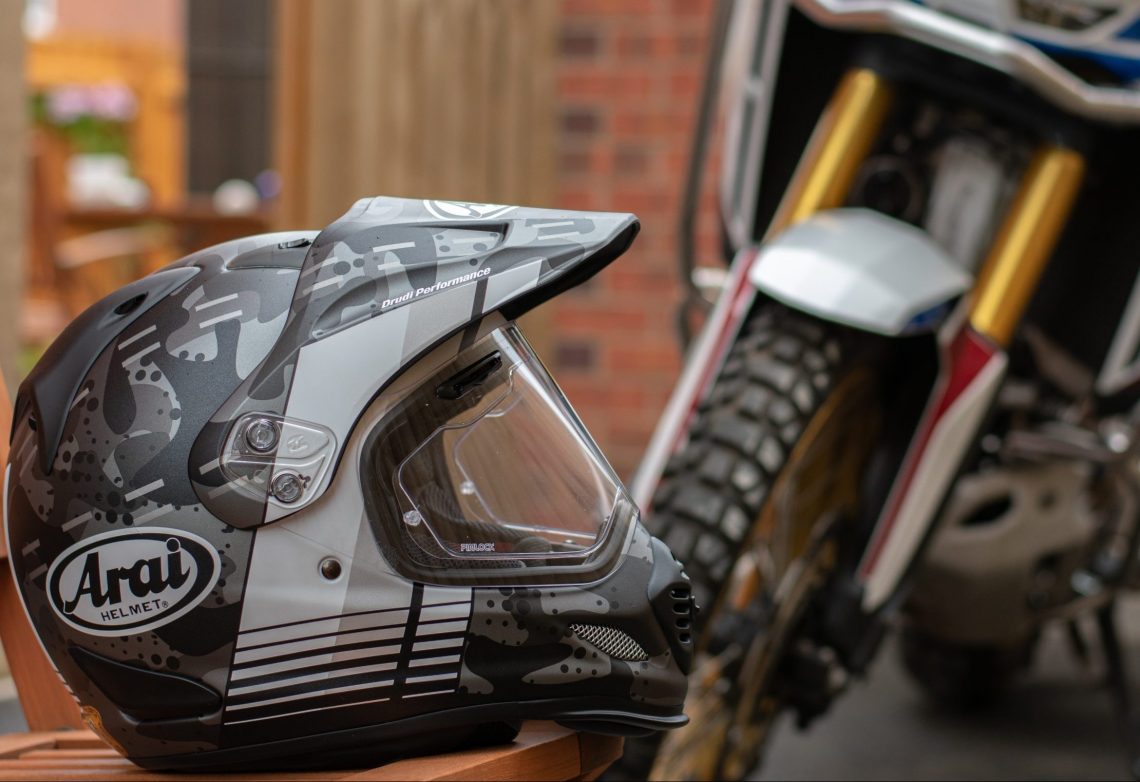 If you were a fly on the wall in the ABR office on any given day you'd witness a phenomenon that I like to call 'the grab test'. It's the kit each rider instinctively, and subconsciously, grabs when they head off on a quick blast, perhaps to grab some lunch or even for a quick photo run. In the evenings we may deliberate for longer on what we'll ride home in to assess and review, but for those quick jaunts we'll naturally grab what we favour and what's most comfortable to us.
With my riding time agonisingly reduced recently, us British riders have spent the majority of the last three months under varying forms of lockdown, most of my rides have fallen into this quick jaunt category. And, for every single one of them, I've instinctively grabbed the Arai Tour-X 4. It's been my go-to for everything: shopping trips, supply runs and longer blasts down to south London to have a socially distanced chat with friends and family.
Ultimately, it performs excellently in a number of key areas. It's the most comfortable helmet I've worn, the ventilation is fantastic and well-appreciated during the recent heat wave and Arai's commitment to rider safety and confidence in their approach is reassuring.
Sure, it's not perfect, but boy does it come close. For the very few downsides, there are clear explanations and workarounds. The fiddly peak and visor system undoubtedly helps it stay stable and perform well at speed and the ease of slotting in a pair of sunglasses partly makes up for a lack of internal sun visor. Yes, it's expensive but as ABR Editor Bryn once wrote during a group test of adventure helmets:
"Put simply, if money is no barrier, the Tour-X 4 is a helmet that you'll be proud to own and happy to wear. If money is tight, then get yourself a piggy bank and save up, you won't be disappointed."
For more information about Arai helmets and their commitment to higher standards of rider safety, check out the video below: