Dưới đây là danh sách Merrell moab 2 gore tex mid review top hay nhất được tổng hợp bởi chúng tôi
Merrell's Moab is about as classic as hiking boots come and an extremely popular first pair of hiking footwear for many (including for multiple editors on our staff). We tested one of the best-selling variations—the mid-height waterproof model—which checks in at a reasonable $145 and offers a great fit and high levels of comfort for day hikes and light backpacking. It's not a technical standout, and the cheaper build does come with some compromises in traction and durability, but it's nevertheless a proven design at a great price point. Below we outline our experiences with the Moab 2 Mid. To see how it stacks up to the competition, see our article on the best hiking boots.
Table of Contents
Comfort
Weight
Stability and Support
Traction
Waterproofing
Build Quality and Durability
Fit and Sizing
What We Like/What We Don't
Comparison Table
The Competition
Performance
Comfort
As expected from the popular design, out-of-the-box comfort is a real strong suit of the Merrell Moab 2 Mid. The padding around the collar and on the tongue is impressively thick, soft, and feels great even when cinched tightly. Additionally, the boot is flexible enough that it requires nearly zero break-in, and the sculpted insole cups your heel nicely and offers surprisingly good arch support considering the budget price. I hit the ground running with the Moab, taking it on a late-season hike that required significant snow and ice travel (I wore micro spikes for a good portion of it) and dealt with no comfort-related issues. Another key to the Moab's well-regarded comfort is its excellent fit, which includes a locked-in heel, reliable lacing system, and enough room in the toes for average-width feet to swell. This snug and secure fit was especially noticeable when climbing steep trails—I experienced no heel slippage or rubbing despite the unrelenting grade.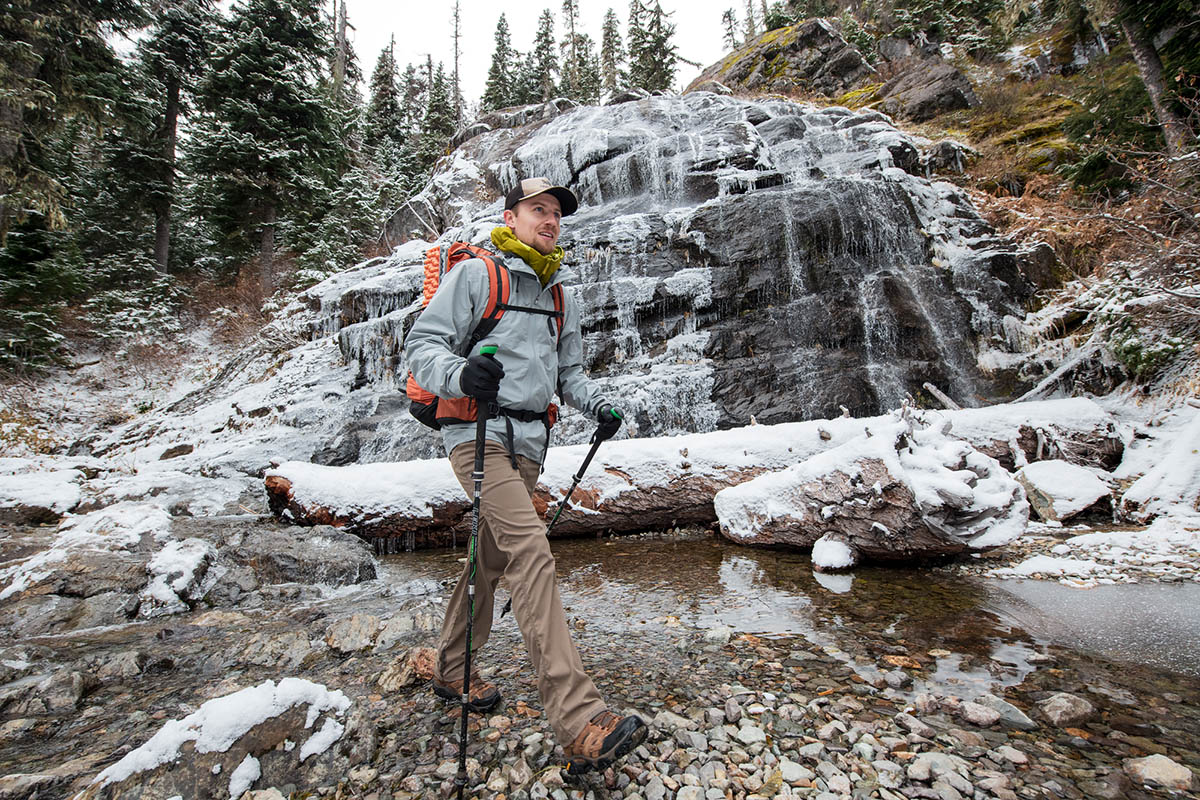 My main knock against the Moab is that it lacks the modern and sporty feel of lighter and nimbler competitors like the Salomon X Ultra 4 Mid. It's moderately heavy considering the collar just covers the ankle (more on this below), and it feels more like a throwback design than the running shoe-inspired models that dominate the market. In addition, while the cushioning under the heel is excellent for taking the sting out of harsh impacts on rocky and rough trails, there's noticeably less protection under the ball of the foot. This led to some foot soreness on higher-mileage days and when hauling a heavier load on particularly rough terrain.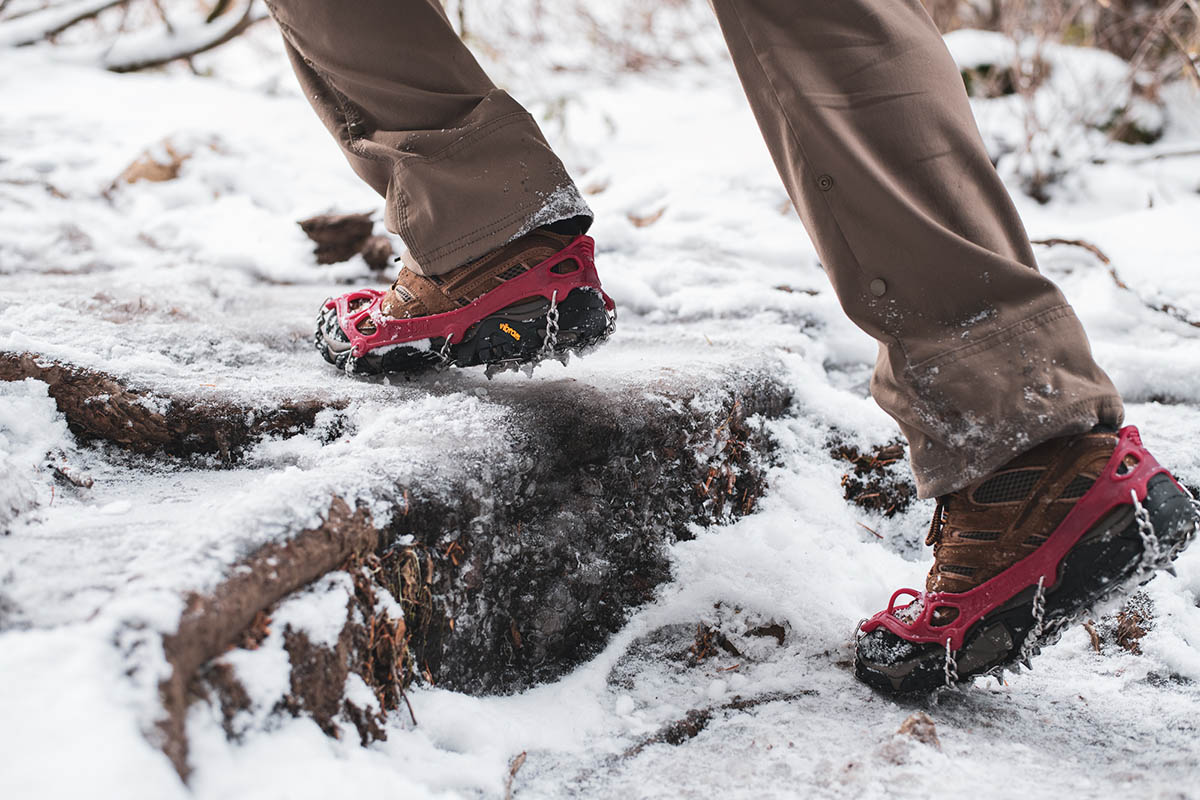 Weight
My pair of Moabs in a men's size 9 clocks in at 2 pounds 4 ounces on my scale, which is identical to Merrell's listed weight. As I mentioned, it's a fairly high number considering the boot's height, which comes just over the ankle, but the generous cushioning and thicker upper material certainly are contributing factors. For reference, the Moab is fairly similar to direct competitors like the KEEN Targhee III WP Mid (2 lbs. 2.8 oz.) and Oboz Sawtooth II Mid WP (2 lbs. 6 oz.), but it's considerably heavier than more performance-oriented designs like Salomon's X Ultra 4 Mid GTX (1 lb. 14 oz.). And for just a couple ounces more, you can get a big jump in stability and grip with the Lowa Renegade (2 lbs. 7 oz.), but that boot is nearly double the price. In the end, the extra weight is undeniably noticeable, but it's realistically only a downside if you want to cover longer distances and prioritize traveling fast and light. If that's the case, you'll either need to up your budget or be willing to make compromises in cushioning and comfort.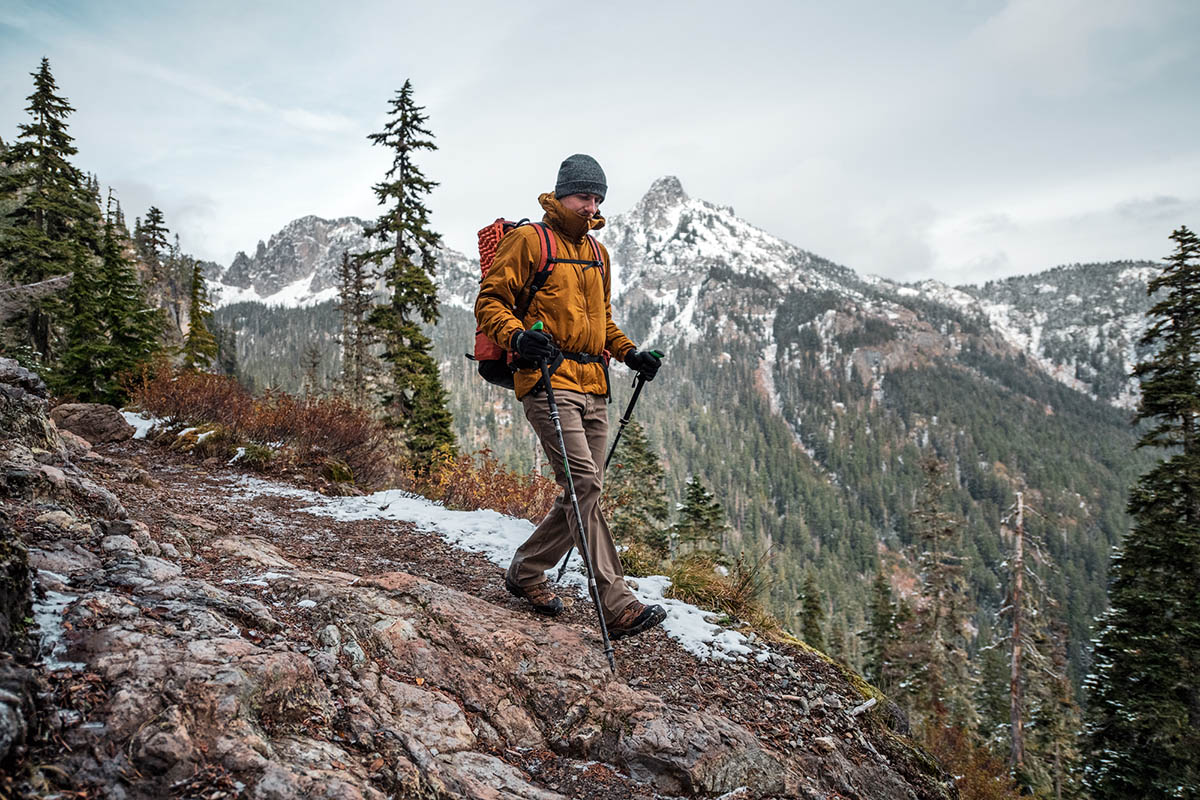 Stability and Support
The Merrell Moab's level of stability matches its intended uses: The boot has a fairly wide and solid base with enough structure in the heel to offer decent lateral stability, but the shorter height and fairly flexible build in the forefoot means it's far from a technical standout. This shorter construction was particularly noticeable when traversing a steep slope, where the boot flexed relatively aggressively downhill, leaving me wanting more support. But this was a pretty isolated case, and most of the time, the flexibility was a positive for hiking comfort. In the end, those with ambitious plans that involve rougher terrain or hauling a heavy pack will want to upgrade to a sturdier and more confidence-inspiring boot like the Salomon Quest 4 or Lowa Renegade. But for sticking to well-established trails, the Moab 2 Mid is a nice match.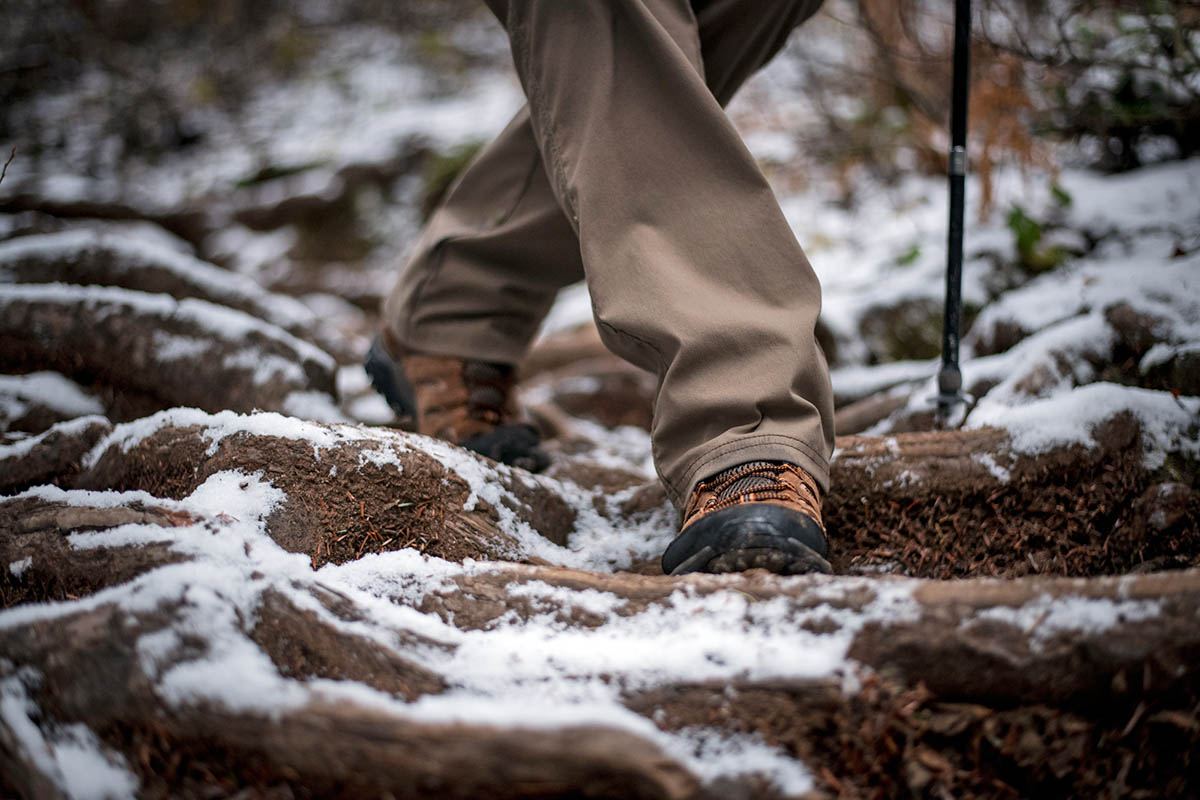 Traction
In testing, I found the Merrell Moab 2 Mid's traction to be decidedly average: It doesn't excel in any particular category, nor does it have any significant weakness. In other words, similar to stability, the Moab's design matches what the boot is meant to do: grip well on maintained trails. The fairly modest and busy lug layout doesn't bite all that well in mud, nor is it tacky and reliable on steep rock, but the firm tread holds up over time and provides enough grip to rely on in most non-technical situations. And I did find that heel braking was pretty good thanks to the chunky rubber right under the front of the heel. Even in dusty and loose conditions, it was a trusty performer.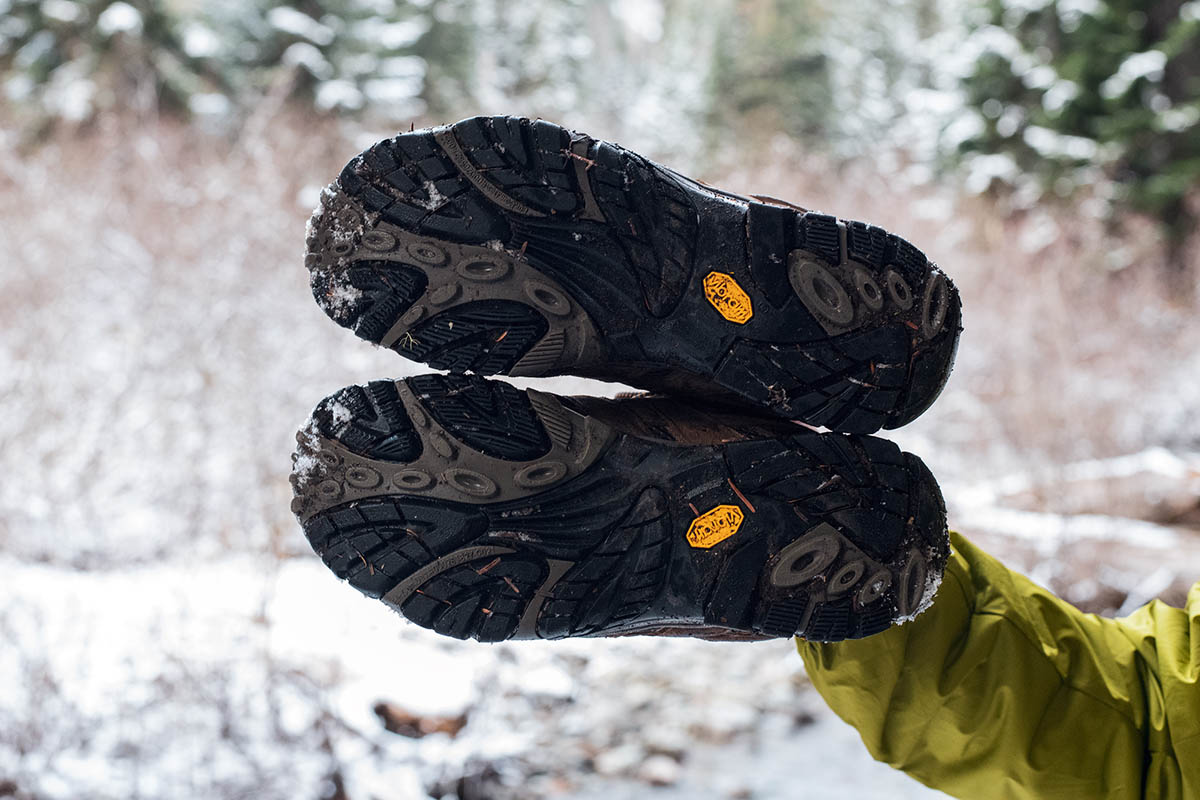 Waterproofing
Like many entry-level hiking boots, the Merrell uses in-house waterproofing rather than the ubiquitous Gore-Tex liner found in most mid-range and high-end models (they do offer a more premium GTX model for $165). The good news is that the Moab's thick upper material and waterproof layer offer sufficient protection for creek crossings (up to about the bottom of your ankle in depth), light snow travel, and occasional rain. The upper does have a durable water repellent (DWR) coating for shedding water, but I found that the large portions of mesh were pretty quick to absorb moisture. And when the upper material did get soaked—especially the leather—it took a long time for it to dry.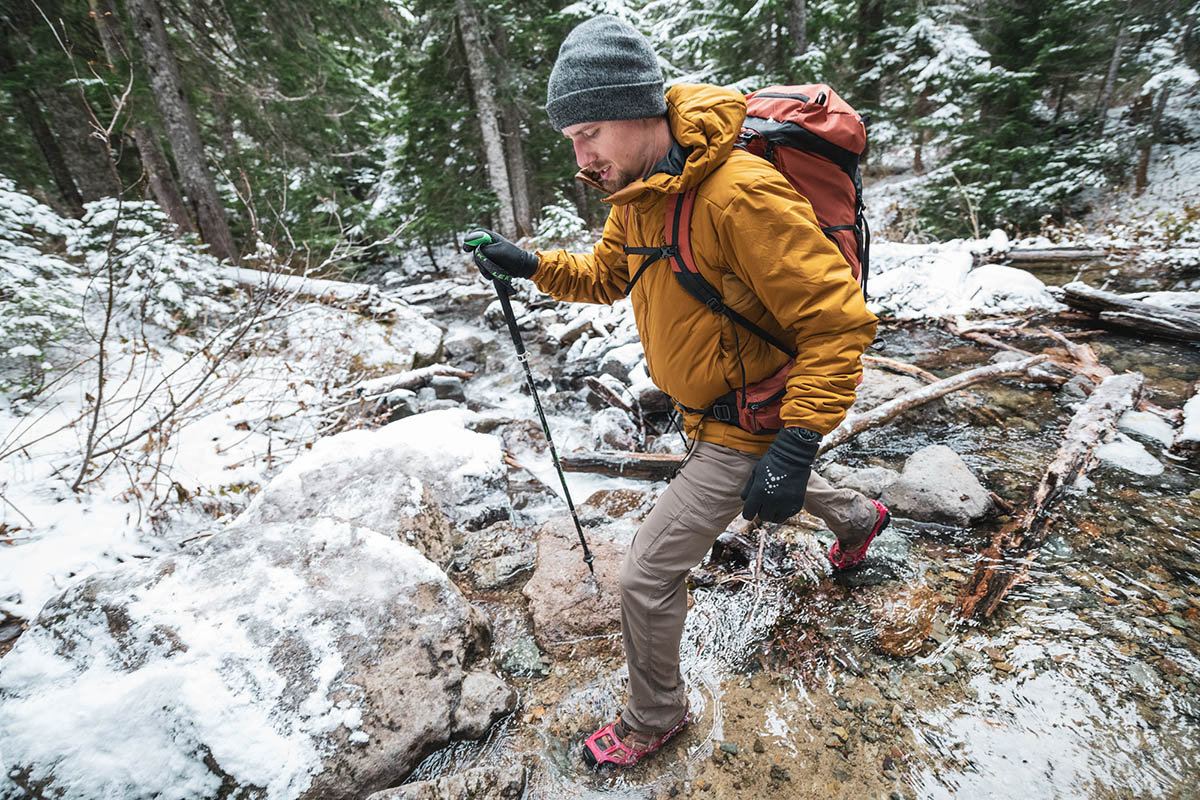 Breathability
As expected with the thick construction and budget-oriented liner, the Moab 2 Mid runs warm. This was a positive during early winter testing, but as hiking season really kicked off in spring, I had sweaty feet after just about every outing. Even on days in the mid 60s to low 70s Fahrenheit and when paired thin merino wool hiking socks, the shoe's lack of airflow was apparent. The good news is that Merrell offers a "Ventilator" model of the Moab ($120), which features generous amounts of mesh and no waterproof layer in the way to maximize breathability in true summertime temperatures.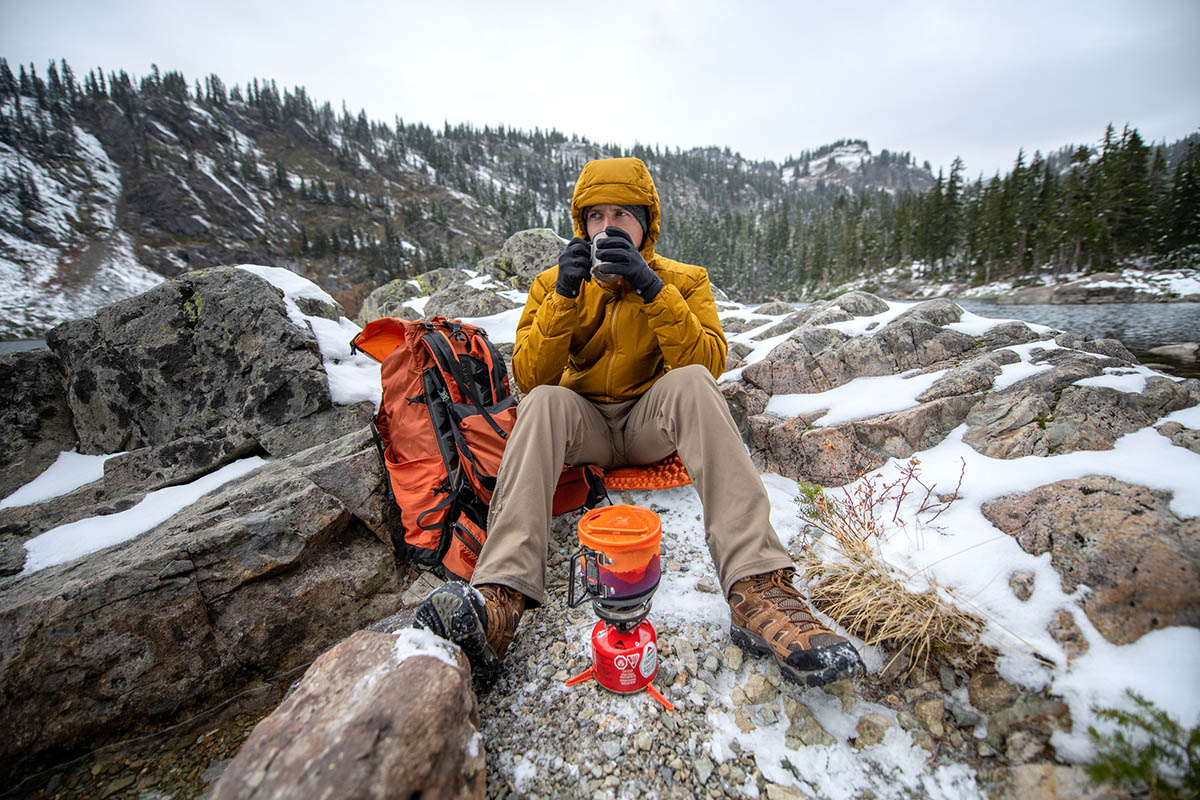 Build Quality and Durability
For the price, the Merrell Moab 2 Mid is impressively well made: Comfort is excellent, the lacing system is well sorted and includes a metal eyelet at the top for good security, and there's decent protection at the toes and heel (although a direct hit to the toes still stings more than I'd like). From a durability standpoint, the extensive use of mesh is a concern for those that put on a lot of trail miles, and it's a common weak point for tears over time, especially if you need to jam your feet into cracks between rocks or do a fair amount of scrambling. Additionally, while this has never happened in our testing of various Moab models, there are occasional reports of the outsole separating from the boot (likely a glue failure). That said, no piece of footwear has a perfect track record, and we think Merrell pulled off a nice combination of price and performance with the design.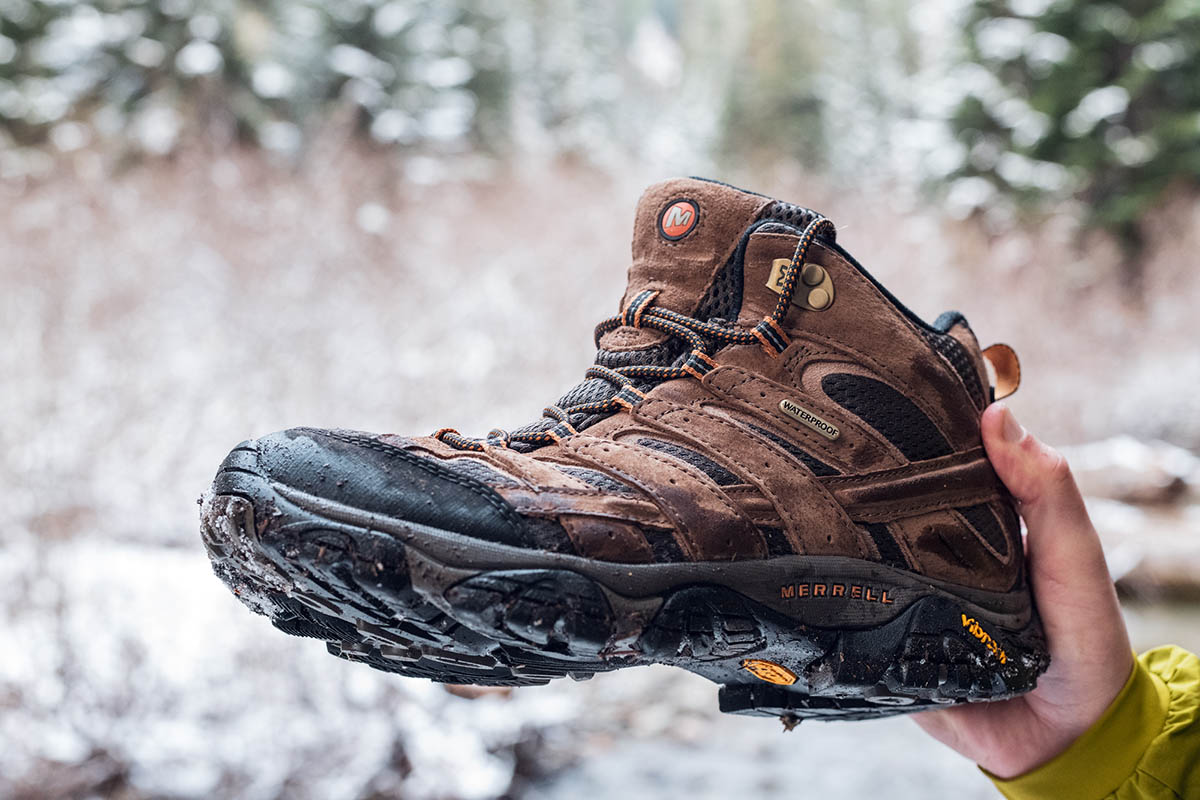 Fit and Sizing
Similar to my experience with the low-top Moab, I found the mid-height boot has an excellent fit that's true to size. It was an ideal length to avoid toe bang on descents, and the sculpted insole and good lacing system kept me from dealing with any heel slippage (a good thing, as I have fairly narrow heels). In addition, there's sufficient room in the toe box, and the boot never felt sloppy or uncomfortable. It's the kind of fit that works well with a wide variety of foot shapes, which has been a key to the Moab's success over the years. And for those with particularly high-volume feet, Merrell also offers the design in dedicated wide sizes.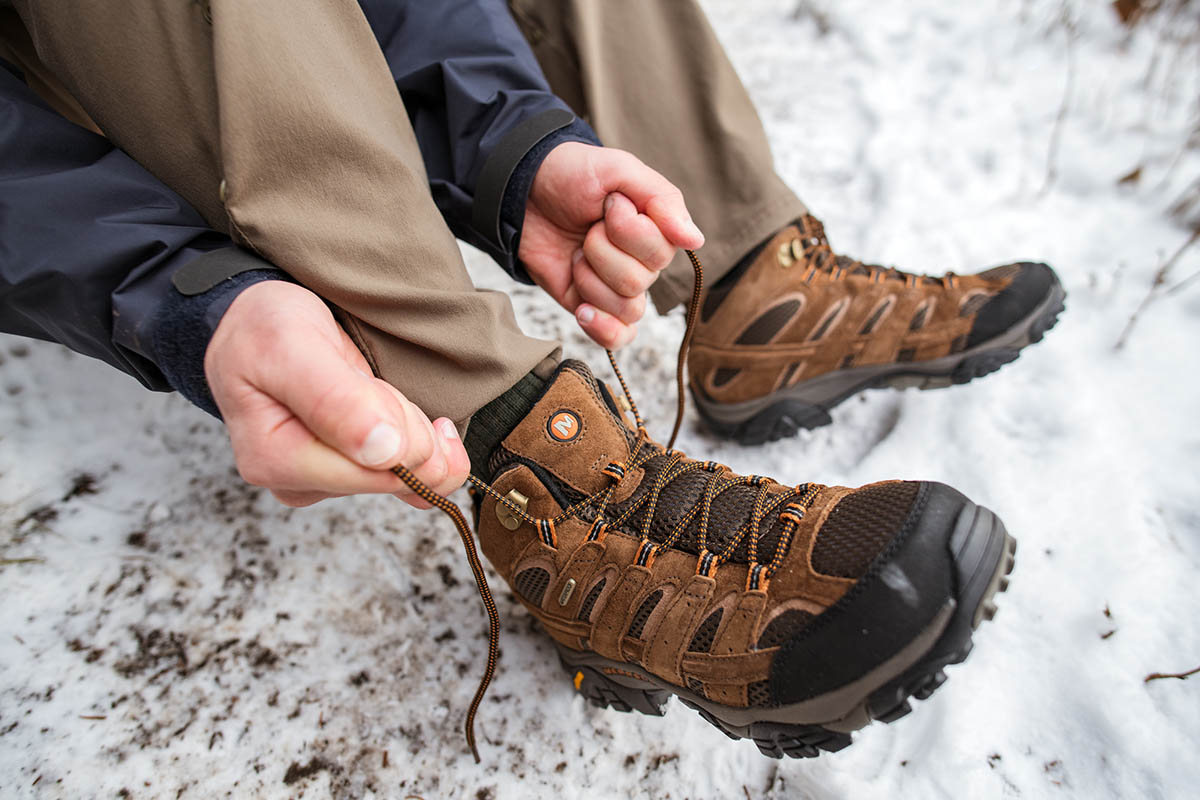 Other Versions of the Merrell Moab 2
We brought the men's waterproof Moab 2 Mid along for testing, and Merrell sells the same design in a women's model. The women's Moab 2 Mid costs the same at $145 and retains an identical feature set and overall construction but comes in different colorways and checks in slightly lighter at 2 pounds even per pair. Rounding out the mid-height models, the Moab 2 is also offered with a more premium Gore-Tex membrane for $165, and the Moab 2 Prime Mid ($160) boasts an all-leather upper for added durability. Finally, for those who don't need the ankle-height coverage, the low-top Moab 2 comes in waterproof (either Gore-Tex or M Select) and non-waterproof variations for both men and women.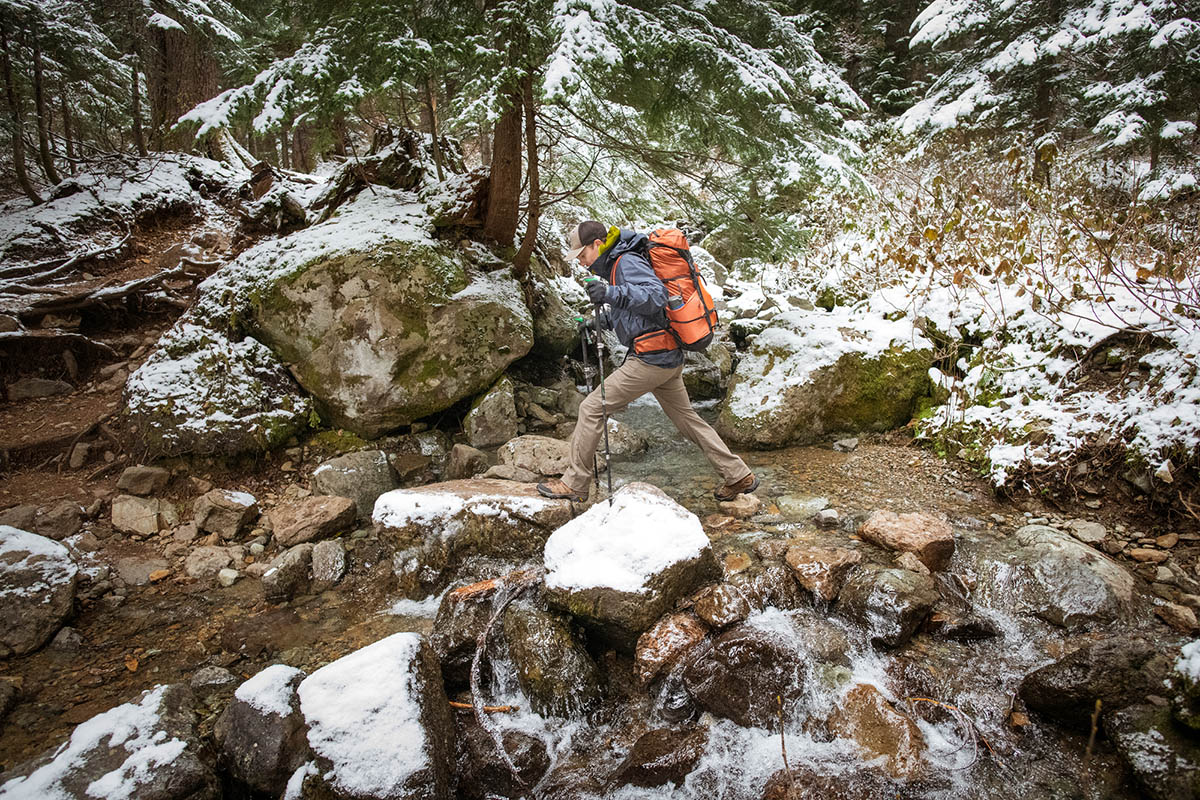 What We Like
At $145, the Moab 2 Mid is a great value considering its proven and well-built design.
Excellent out-of-the-box comfort with generous padding, good flexibility, and a snug and locked-in fit with a reliable lacing design.
Impressively well made for the price, including a well-sorted lacing system, decent toe and heel protection, and a reasonably hardwearing build.
Accommodating fit with enough length to avoid toe bang, sufficient room in the toe box, and sculped insole to prevent heel slippage.
What We Don't
Shorter height and fairly flexile build at the forefoot detract from overall stability on technical terrain and when carrying a heavy pack.
The Moab grips well on maintained trails, but it's not a standout in mud or on steep rock.
On the heavier end of the spectrum at 2 pounds 4 ounces and feels a little more dated than most modern, running shoe-inspired models.
Thick construction and budget-oriented liner translate to below-average breathability, even in moderate temperatures (Merrell does offer the boot in a non-waterproof model).

Comparison Table
Boot Price Category Weight Waterproof Upper Merrell Moab 2 Mid WP $145 Lightweight 2 lb. 4 oz. Yes (M Select) Leather / mesh Oboz Sawtooth II Mid $155 Light/midweight 2 lb. 6 oz. Yes (BDry) Nubuck leather / mesh KEEN Targhee III Mid $175 Lightweight 2 lb. 2.8 oz. Yes (KEEN.Dry) Nubuck leather / textile Salomon X Ultra 4 Mid GTX $165 Lightweight 1 lb. 14 oz. Yes (Gore-Tex) Leather / textile REI Co-op Flash $150 Lightweight 2 lb. 2 oz. Yes (HydroWall) Knit La Sportiva Pyramid GTX $189 Lightweight 2 lb. 1.6 oz. Yes (Gore-Tex) Nubuck leather / mesh
The Competition
Merrell's Moab 2 Mid remains one of the most popular hiking boots on the market for its combination of price and performance. For $10 more, Oboz's Sawtooth II Mid is another well-regarded design. The Sawtooth comes in a couple ounces heavier than the Moab at 2 pounds 6 ounces per pair and uses Oboz's in-house BDry membrane for waterproofing (which was similarly lacking in breathability), but it does pull ahead in a couple key areas. Namely, the Oboz offers better bite on rock and in mud, and it's the stiffer and more supportive option for shuttling heavier loads over rough terrain. We did find that the Sawtooth felt pretty clunky and cumbersome on the trail, but it's nevertheless the more capable option for backpacking. For day hikes and carrying lighter loads, however, we'd save with the Moab.
KEEN's Targhee III Mid is another standout in the hiking boot market and shares similar intentions to the Moab 2. Like the Merrell, the KEEN offers great out-of-the-box comfort, uses in-house waterproofing tech, and checks in at a reasonably light 2 pounds 2.8 ounces per pair. In parsing out the differences, the Moab 2 costs $30 less but provides more in the way of stability, although the mesh-heavy build isn't as durable or long-lasting as the Targhee's mostly leather construction. In the end, both are great options for everything from easy day hikes to moderate backpacking trips, but we give the slight nod to the Moab for its similar overall performance at a lower price point.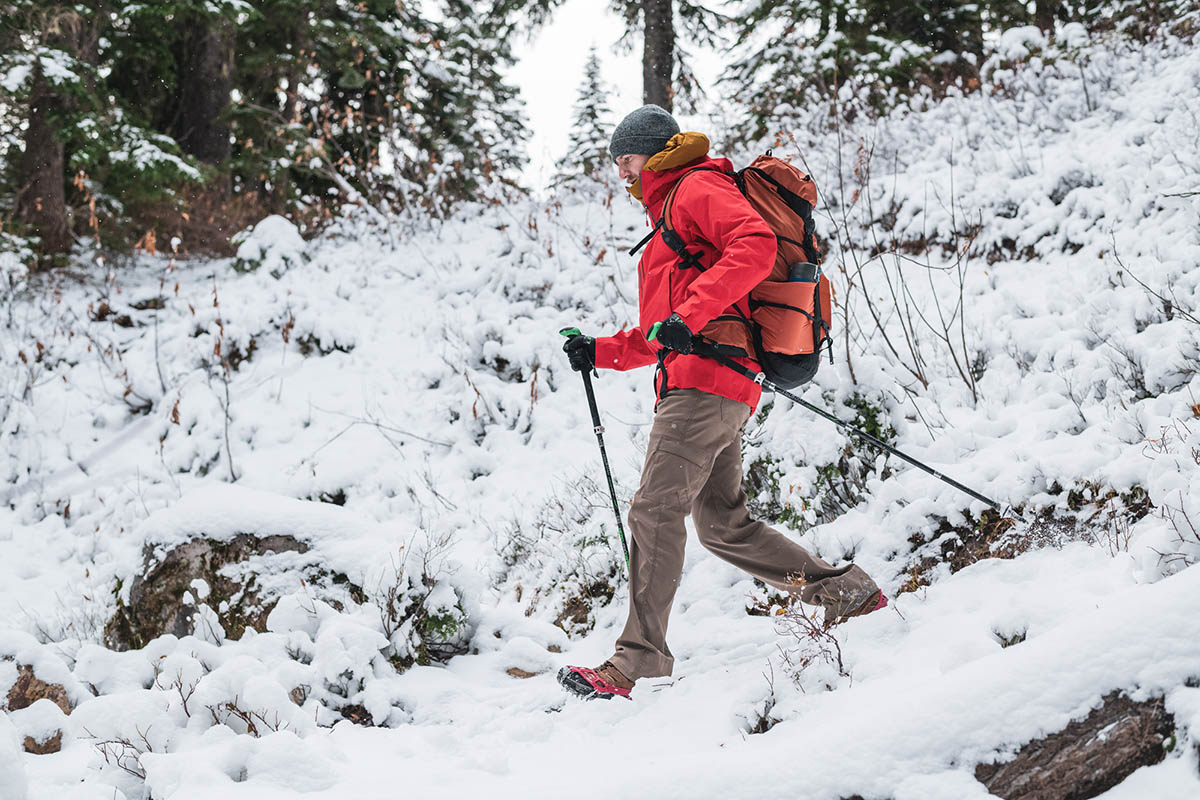 One of our top-rated hiking boots this year is Salomon's legendary X Ultra 4 Mid GTX, which has a very different feel than the Moab 2 Mid. More specifically, the X Ultra weighs less (1 lb. 14 oz.) and has a noticeably more agile, running shoe-like personality on the trail. We also love the excellent balance of comfort, protection, and stability, and the X Ultra's outsole performs better over a wider variety of terrain, including sloppy and wet conditions typical of the Pacific Northwest. The Moab does win out in cushioning with a more well-padded build (especially underfoot), and it's the cheaper option by $20. But we consider the Salomon to be one of the most well-rounded hiking boots currently on the market and worth the added investment for committed hikers and backpackers.
Next up is a newer addition to the market: REI Co-op's budget-friendly Flash. At $150, the Flash is one of only a few hiking boot designs that can compete with the Moab in price. It's also the lighter option by around 2 ounces per pair, has a more aggressive outsole, and its knit upper is a nice touch for flexibility and overall comfort. That said, the REI is the less proven design and has a long way to go in matching the track record of the Moab, and the fit is known to be pretty finicky (it's best to try the Flash on before buying if possible). Given that the Merrell will save you $5 and has been around for years, we think it's the more dependable and reliable option.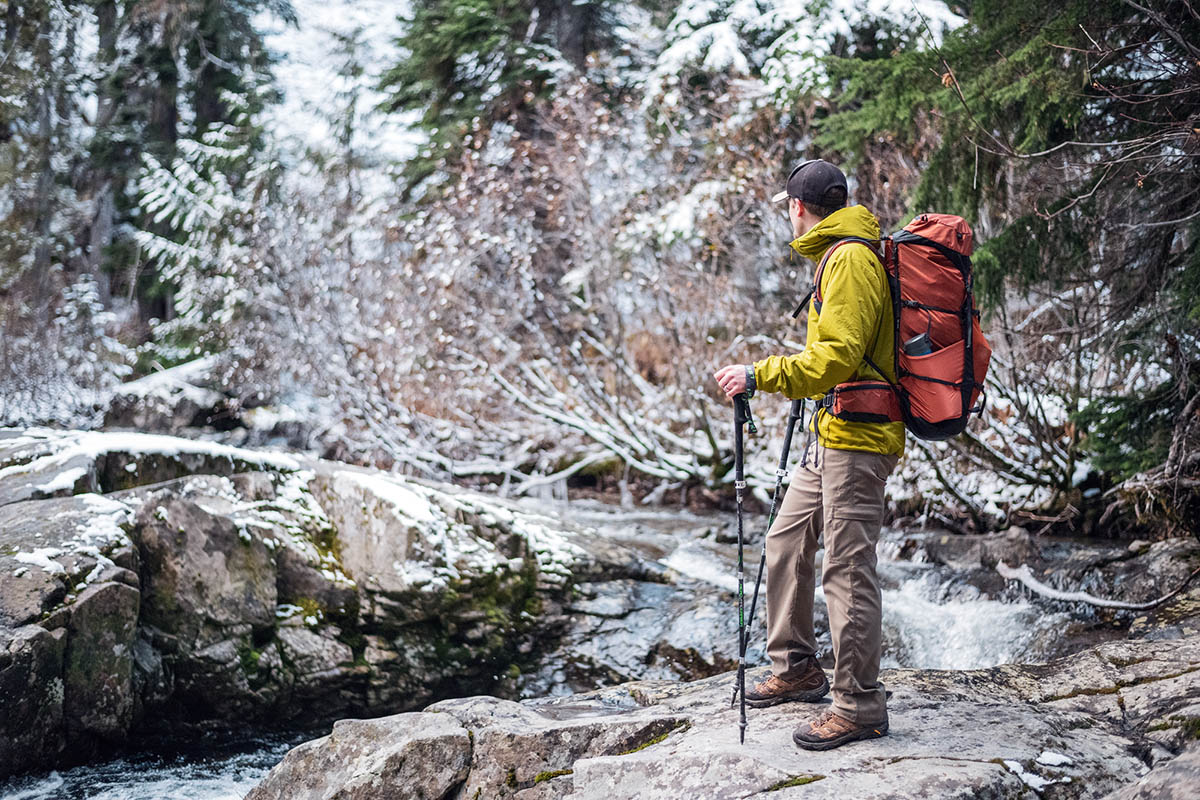 Last but not least is La Sportiva's Pyramid GTX, which is the most premium option of the bunch. Right off the bat, we'll note that the Pyramid is a considerable investment at $189, but it's an upgrade from the Moab is most ways, including noticeably better stability, traction, breathability, and toughness. The Pyramid is also lighter at 2 pounds 1.6 ounces but punches well above its weight in terms of performance. The only notable drawback is that the Pyramid runs narrow, which can be a problem for some (there are no wide sizes available). But if it fits, we think the Pyramid is far and away the more capable boot for those that plan to backpack more than they hike or add off-trail adventures into the mix.