Dưới đây là danh sách Bushnell ar optics 1-6×25 review hay nhất và đầy đủ nhất
Bushnell's tidy little low power variable optic hits all the right notes for a price-value and diverse AR sighting system
by Rob Reaser
In case you haven't noticed, LPVOs (low-power variable optics) have pretty much settled into the mainstream of AR sighting systems (at least for those folks who demand an optic on their ARs). Unless long-distance pokes at steel or varmints is your game, high-magnification glass is really an ill-fit for the MSR—especially if personal defense work is part of your rifle's mission. In other words, big glass is an obstacle for close-quarter engagements and simply isn't necessary or desirable for a defensive AR.
Yet because people want to reach out on targets and still maintain the "defensive option" for their ARs, the LPVOs have stepped in. Rotated to 1X magnification, the LPVO provides a sight picture similar to that of a red dot, meaning you can quickly shoulder the rifle and acquire a sight picture for short-range engagement—a MUST for a defensive firearm. When you need to put small holes in targets at distance, simply bump up the magnification to 4X, 6X, 8X, or whatever X factor your optic allows and you're in business.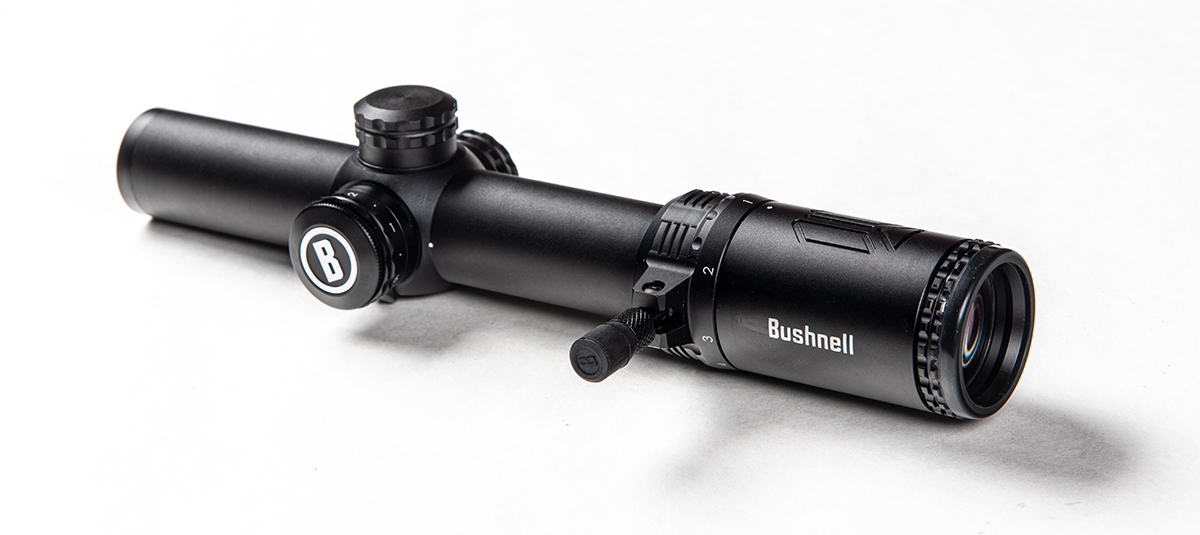 A short time ago, Bushnell squeezed in a 1-6x24mm LPVO into its AR Optics line of riflescopes. Sitting squarely between the previously released 1-4x and 1-8x models, the new 1-6x24mm delivers the best of both worlds—ample magnification for deliberate longer-range shots but not so over-glassed as to make for an awkward 1X experience at close ranges.
Let's take a tour…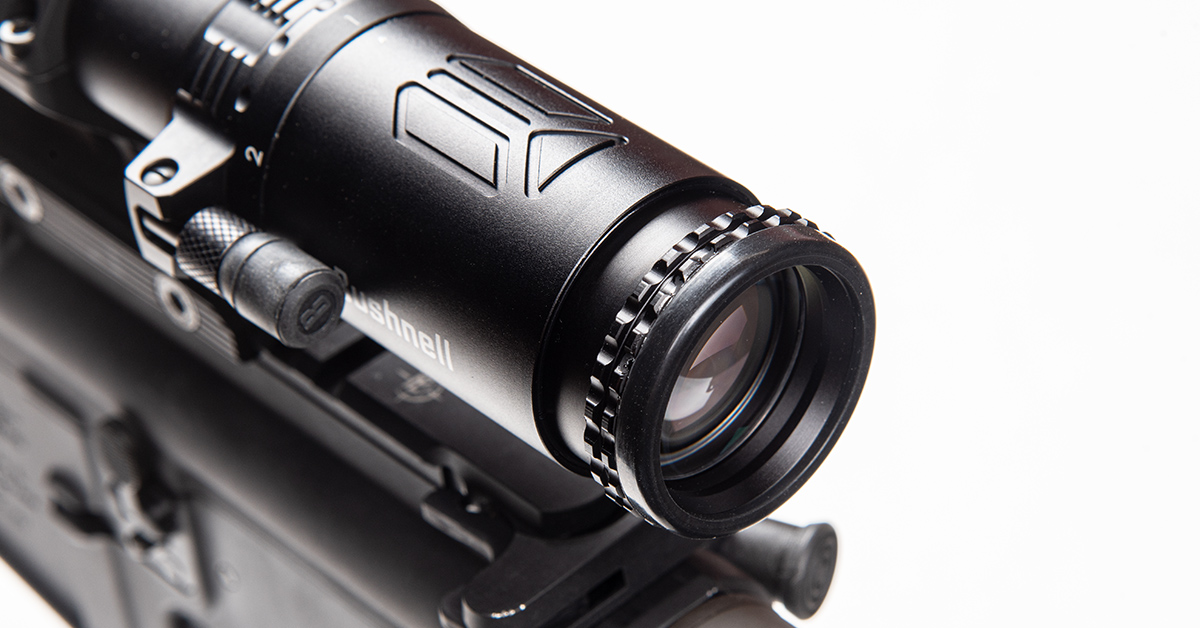 All glass on the AR Optics 1-6×24 is fully multi-coated to provide maximum light transmission and to minimize color distortion. It seems to work, as I detected no color aberrations when working in either bright sunlight or in heavy overcast. As for edge distortion, yeah, it is noticeable, more so on the extreme ends of the magnification range, but nothing to be problematic or irritating. The focus ring turns easily enough and has generous knurling for a no-slip grip.
The magnification adjustment ring has a stiff quality to it, no doubt, but it's also a moot point because the ring features an integrated throw lever. Bushnell calls it a Throw Down Power Change Lever—a big name for simple device that is most welcome on any LPVO because it allows you to quickly transition from high power to low in a blink. It is a sturdy unit with a combination knurled and rubber grip that folds down and out of the way. Bushnell includes a standard-length lever (shown here) and a longer lever that can be easily swapped, depending on your need. I found the standard lever to be sufficient and the folding action absolutely welcome in preventing snags.
As with the 1-4x and 1-8x AR Optics, the 1-6x model comes with an illuminated reticle. There are six brightness settings that illuminate the entire reticle, not just the large centering ring and small center dot. The entire elevation tree also lights up.
There were two standout features for me regarding the illumination dial. First, it is STIFF. You must want to turn it to turn it. I'll call it "too stiff." On the flip side, there's no chance you will accidently bump it into the "on" position and drain your battery. Second, the reticle turns off as you rotate the dial between illumination settings. This is another welcome feature because you don't have to spin the dial around to return to an "off" starting point like so many illuminated scopes. Just move the dial forward or backward one click from the illumination you are on and the reticle shuts off. A standard CR 2032 battery powers the unit.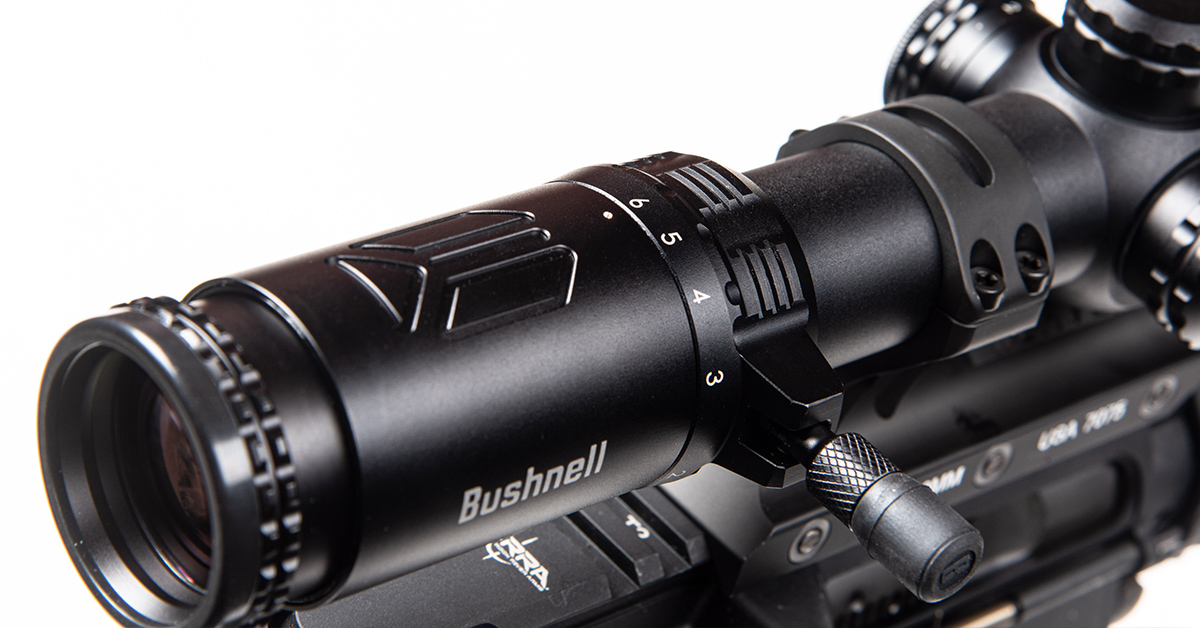 The magnification settings are easily visible atop the ocular lens housing. Being a second focal plane scope, the reticle remains the same size as you shift between high and low magnification. Field of view is 100 feet at low power and narrows to 16 feet at 6X magnification. There is no parallax adjustment, so it is set at 100 yards.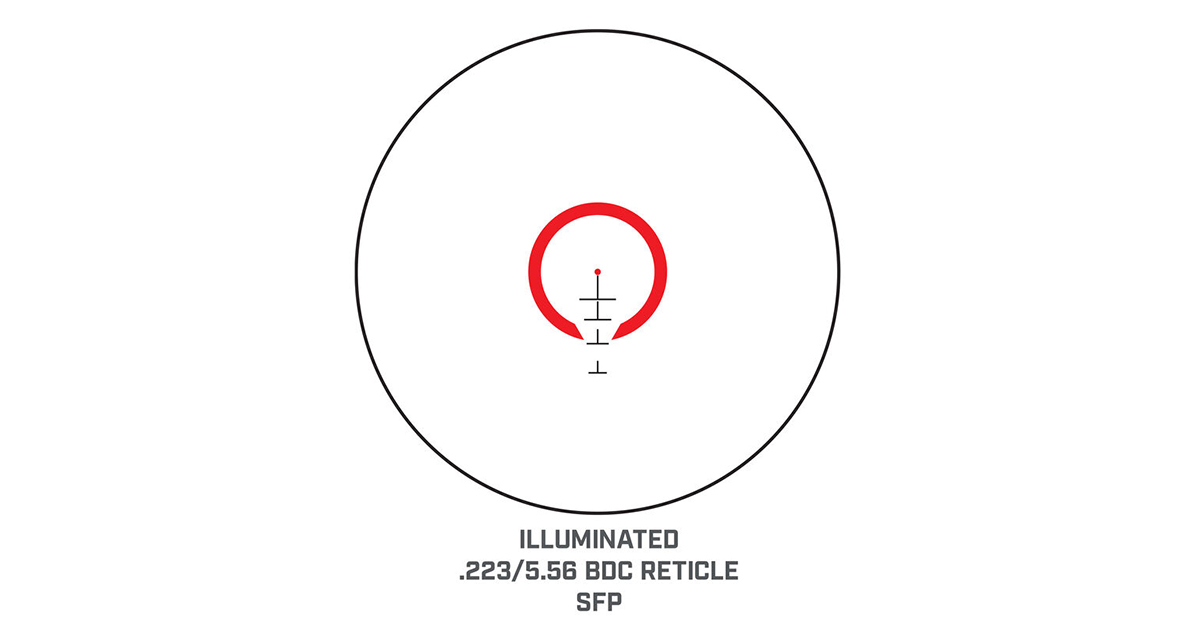 The AR Optic 1-6×24 comes with the .223/5.56 BTR-1 BDC Tactical Reticle designed to be zeroed at 100 yards. So zeroed, the reticle is calibrated to provide "in there" bullet drop compensation out to 600 yards with .223/5.56 ammo sporting 55- to 62-grain bullets. The first line is calibrated for 300 yards (there is no 200-yard reticle), then 400, 500, and 600 yards.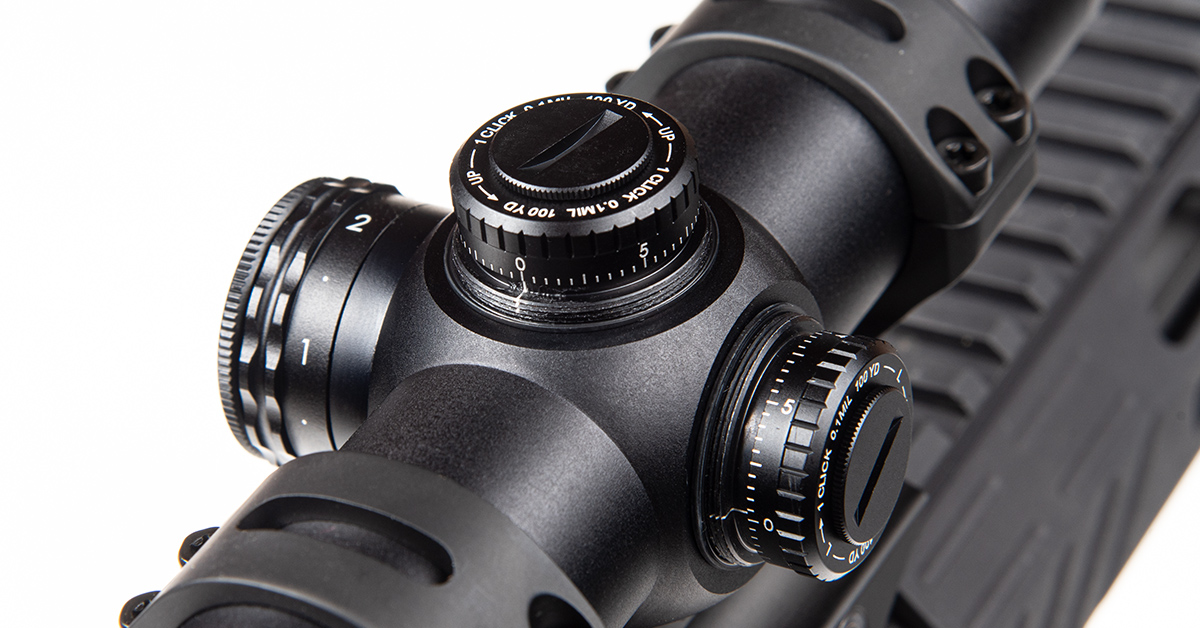 Adjustment for windage and elevation is 0.1 MIL per click. The turrets offer precise, positive clicks to help keep track of your adjustments. Once zeroed, use a quarter to remove the turret dials and reset them to zero for manual compensation adjustment. Note, though, that this riflescope does not come with a zero stop, so be aware of how many times you turn the dial and in which direction.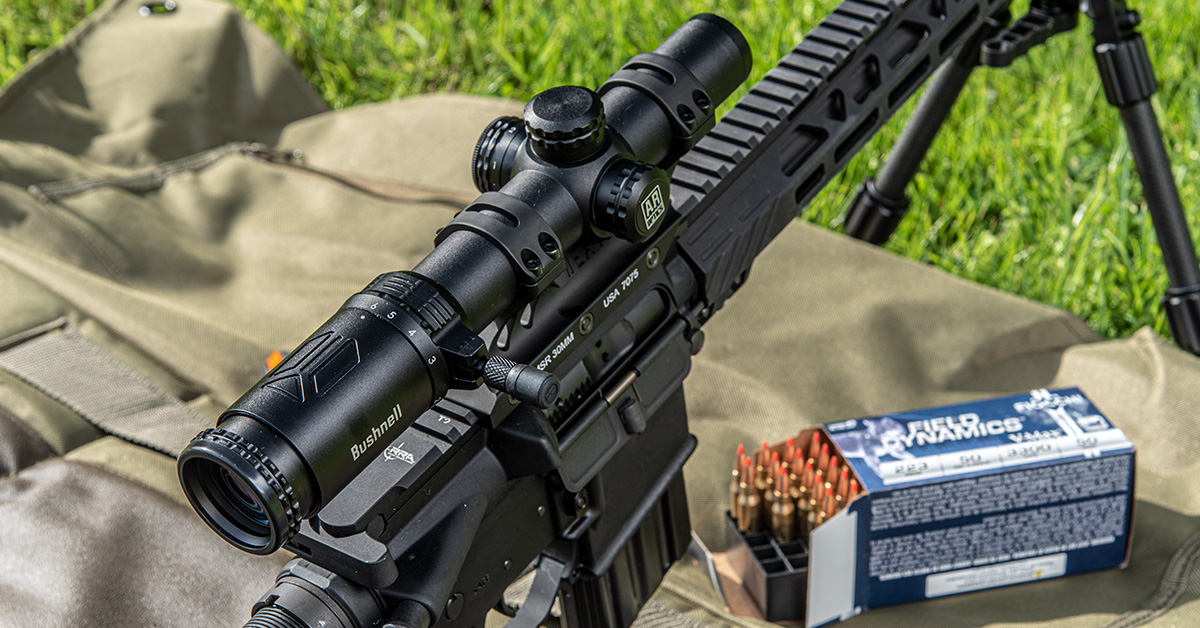 I enjoyed time behind Bushnell's AR Optics 1-6×24. From a function, features, and performance perspective, this scope checks all the boxes for those looking for a cost-efficient optic that will serve on a multi-purpose home defender/varmint/steel plinking rifle. Yes, there are similar-class optics out there with better glass, but you're going to pay steeply for them. Unless your game is long-range precision shooting, such glass is lost on a LPVO, in our opinion.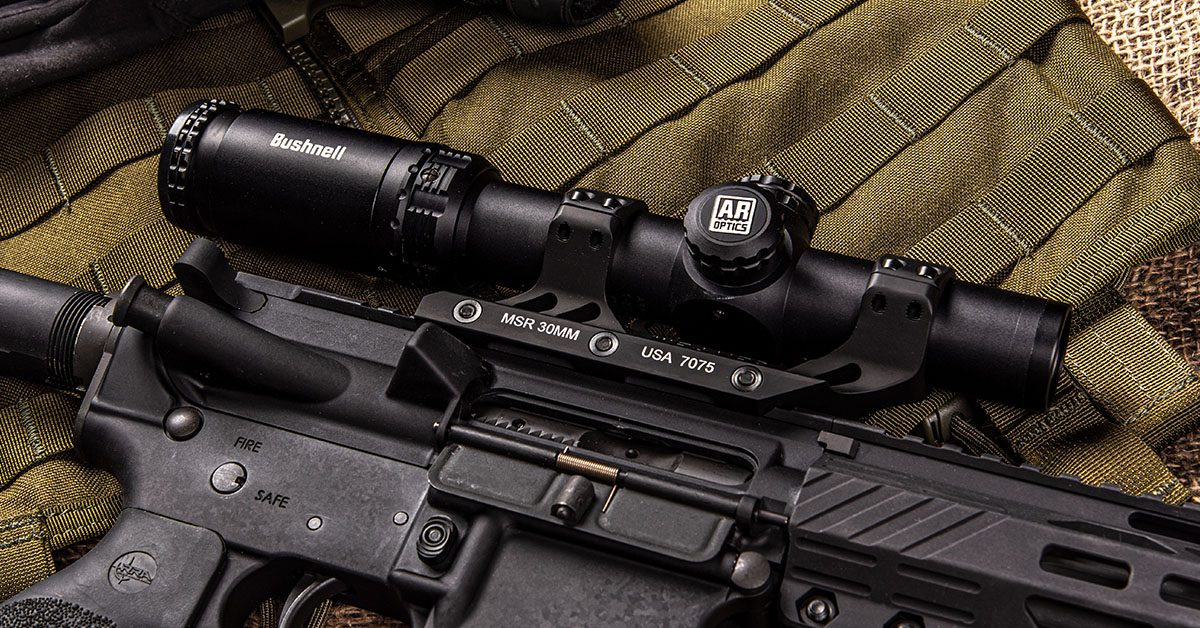 Bushnell AR Optics 1-6×24 Specifications
Magnification: 1-6X
Objective Lens: 24mm
Reticle: .223/5.56 BTR-1 BDC
Illuminated: yes
Weight: 5 oz.
Eye Relief: 6 in.
Focal Plane: second
Parallax Type: fixed
Minimum Parallax Distance: 100 yds.
Field of View: 100 ft. @ 1X to 16 ft. @ 6X
Lens Coating: fully multi-coated
Ultra-Wide Band Coating: yes
Tube Diameter: 30mm
Elevation Adjustment: 50 MOA
Elevation Turret: MIL-based, capped, non-locking
Windage Adjustment: 50 MOA
Windage Turret: MIL-based, capped, non-locking
Waterproofing: IPX7
Zero Stop: no
MSRP: $279.99
Weaver Premium MSR Optics Mount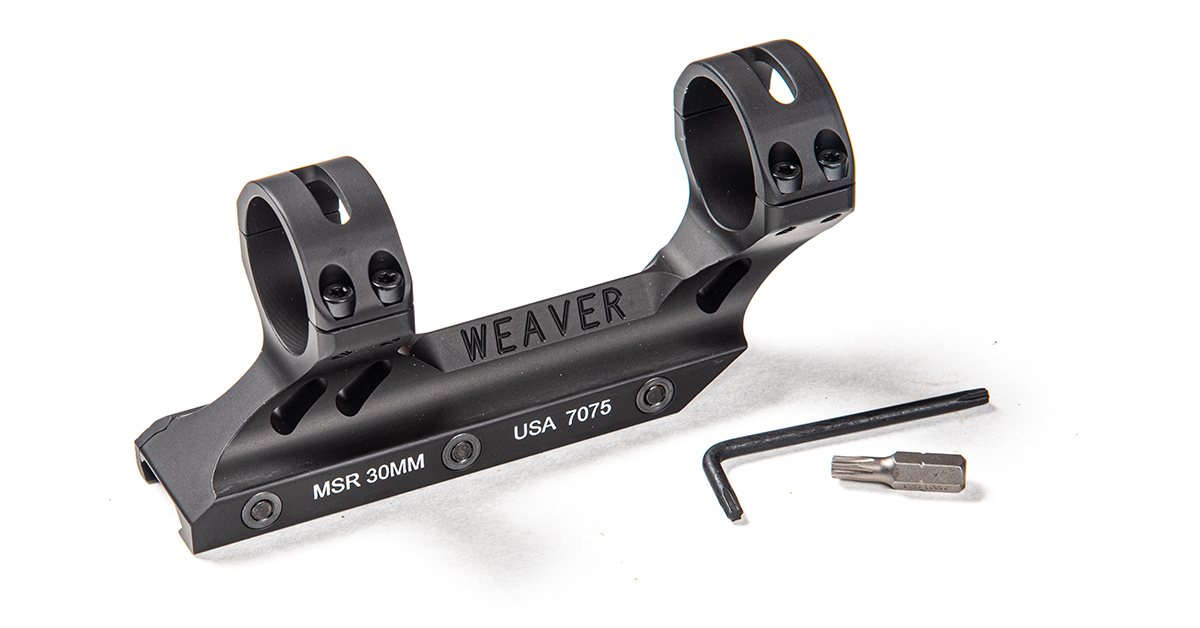 To mount our AR Optics 1-6×24 scope, we chose Weaver's Premium MSR Optics Mount. We've used cantilever mounts from numerous manufacturers in the past, but never installed a Weaver unit on any of our guns. And that is kind of odd given that Weaver has held a leading (if not the leading) position in optic mounting solutions since…just about forever.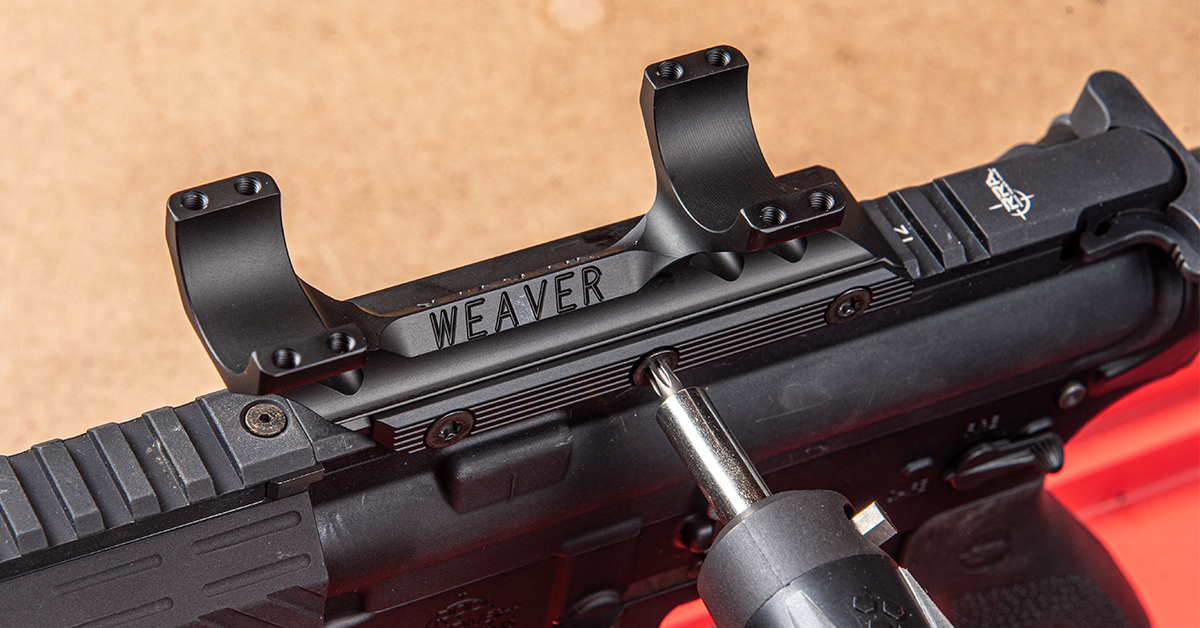 This Weaver mount was developed specifically for AR-15 applications. As such, it features one-piece construction with a cantilever design and Picatinny rail compatibility. It is machined from a single aluminum extrusion with what Weaver calls a "match bore saddle"—meaning the scope tube bore, comprised of the joined base and rings, delivers optimal barrel bore-to-scope alignment (assuming the rifle's barrel and Picatinny rail section are also perfectly aligned).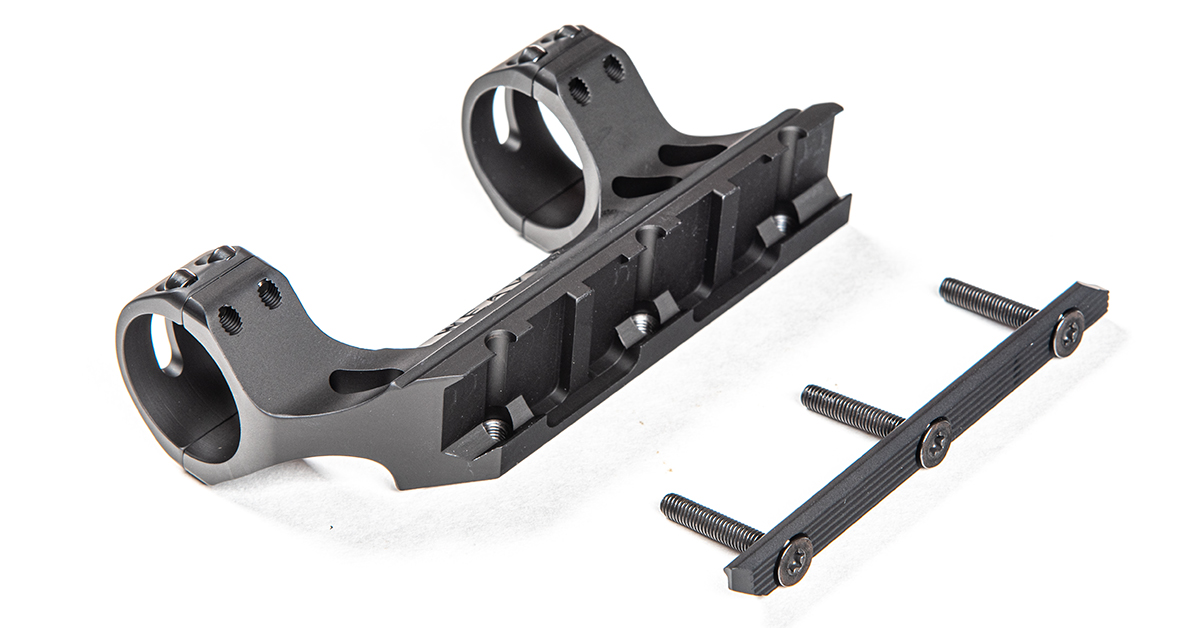 As Picatinny-based mounts go, the Premium MSR Optics Mount is about as solid as it gets. The underside of the base has two machined recoil lugs that, combined with the three-screw rail clamp, ensures this mount locks solidly to the upper receiver. Together, the clamping bar and Torx-head screws allow for up to 3,600 lbs. of total clamping force.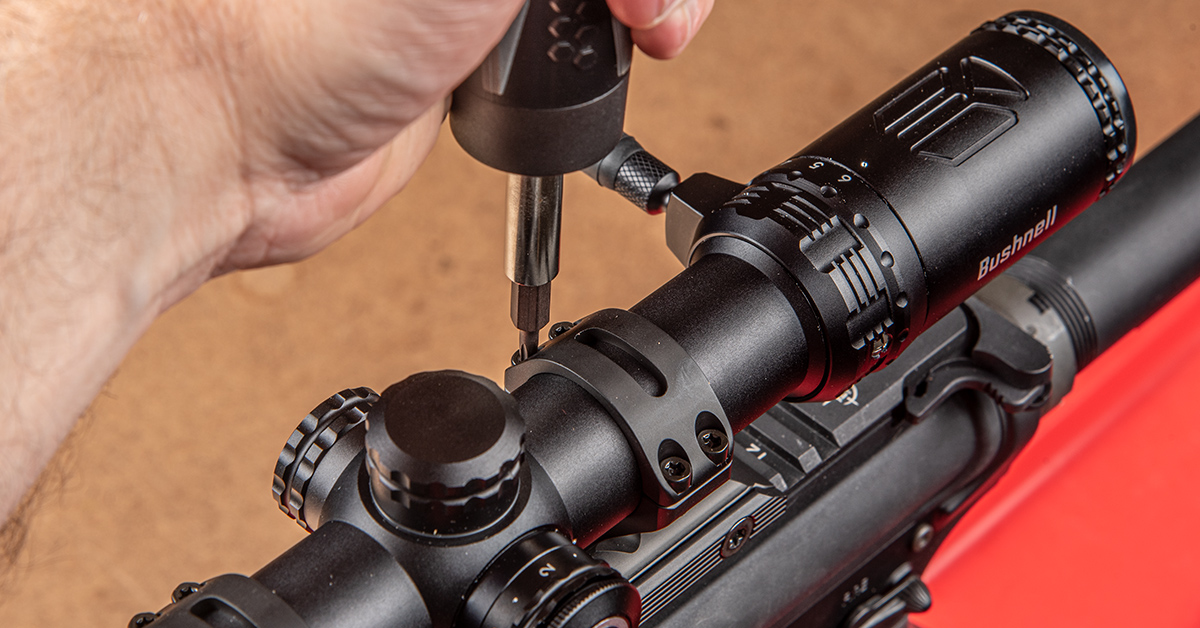 This Weaver mount exudes quality not only through its precision machining but also its finish. The Type III hard coat anodizing is tough while the matte black keeps down glare. The ring screws also feature Torx heads, so your bit has a solid, no-slip bite when torquing to the final 25 in/lbs.
Oh, and did we mention that this mount is made in the USA?