Qua bài viết này edaily.vn xin chia sẻ với các bạn thông tin và kiến thức về Acer aspire 7 a715-72g-50na review hay nhất được tổng hợp bởi edaily.vn
Acer recently renewed their line of Aspire mainstream laptops, upgrading them in terms of hardware and slightly revamping their design lines.
This article is about the 15-inch version of the Aspire 7 (code name A715-71G), the top tier offer in this mid-range segment, starting at around $800/900 EUR. It's built on Intel Core HQ processors with Nvidia 1050 and 1050 Ti graphics, DDR4 RAM and dual storage, it gets a matte IPS screen and a mid-sized battery, as well as a backlit keyboard and a brushed aluminum shell, all in a properly priced bundle.
In fact, hardware wise this laptop is in many ways similar to the Predator Helios 300 15 and the Aspire VX15 we tested in the past, but with different aesthetics and a different keyboard. But while those two are marketed as gaming machines and get gaming oriented design lines, the Aspire 7 gets a simpler, more tamed down look. On top of that, the Aspire 7 should be a little more affordable then those two, especially down the line as it ages.
The article below takes you through all the important aspects of the Acer Aspire 7 multimedia laptop, with its strong points and its quirks, so you'll know exactly what to expect before you decide if this is the right device for you or not.
Specs as reviewed
Acer Aspire 7 A715-71G-79D2 Screen 15.6 inch, 1920 x 1080 px, IPS, non-touch, matte Processor Intel Kaby Lake Core i7-7700HQ CPU Video Intel HD 630 + Nvidia GT 1050 Ti 4GB Memory 24 GB DDR4 (2 x DIMMs, up to 32 GB) Storage 512 GB SSD (M.2 SATA) + 2 TB 5400 rpm HDD (2.5″) Connectivity Gigabit LAN, Intel AC 7265 Wireless AC , Bluetooth 4.1 Ports 1x USB 3.0, 2x USB 2.0, 1x USB 3.1 gen 1, HDMI, mic/earphone, SD card reader, LAN, Kensington Lock Battery 48 Wh, 135 Wh charger Operating system Windows 10 Size 381 mm or 15.00" (w) x 263 mm or 10.35" (d) x 30 mm or 1.18" (h) Weight 5.25 lbs (2.38 kg) Extras white backlit keyboard, webcam
Design and first look
The new Aspire 7 is a completely redesigned product and borrows little from the previous Aspire E and F lines.
For starters, this laptop is fairly compact for its class and about half a pound lighter than the Helios 300 and the VX15, which matters if you plan to carry it around often. Then, its outer case is made from black brushed aluminum, used for the lid-cover and the interior, and hard black plastic, used for the sides and the underbelly. That gives it rather sober looks, which is up to you if you like or not. What you should keep in mind is that these aesthetics choices make the Aspire 7 suitable for strict school and work environments where laptops with obvious color accents and bright LEDs won't be accepted. In other words, the Aspire 7 can fly under the radar, despite the fact that it hides powerful hardware beneath its humble skin.
Now, the dark brushed metal surfaces means fingerprints and smudges are easily visible all over the place, so you'll need a cloth in your backpack and some cleaning wipes. From what I can tell right now there's no silver version of this laptop, but if Acer decide to launch one, I'd get that one instead.
I also have a practical nit with the metallic surfaces used for the interior. As you can see in the pictures, the edges of the palm-rest and the entire interior area are machined milled. Those contrast nicely with all the surrounding blackness, but at the same time they are really sharp and your wrists will resent them badly. Luckily, this laptop gets a low front profile and a large enough palm-rest, which meant that I was able to keep my wrists away from the sharp bits most of the time, but those of you with larger hands won't get away as easily.
This aspect aside though, the Aspire 7 is comfortable to use. The screen is matte and hold in place by a fairly good hinge mechanism which allows the display to be lifted up with a single hand and then go all the way back to 180 degrees. That for me is a huge selling point, as I tend to use the laptop leaned on my thighs while lying in bed or on the sofa. There are also no annoying lights to be found anywhere, except for the status LEDs, which are at least discrete and placed on the sides. In fact, this laptop is entirely black, except for the shinny edging of the interior and the silver plastic part between the screen's hinges, which gets and ASPIRE engraving on it, an element borrowed from the Nitro V lines that Acer seems to implement on all their new laptops these days.
This Aspire 7 is also fairly well built, with a sturdy inner chassis and a fairly strong screen frame. There is however a fair amount of flex in the thin outer sheet of metal that covers the screen, but even pressing it harder doesn't have an impact on the actual panel, so I don't think there's any reason to worry about this.
When it comes to the IO, there's mostly everything you'd expect from a mid-range multimedia computer here: 3 USB Type A and 1 USB type C ports, HDMI output, LAN, card-reader, Kensington Lock. Only one of those USB ports support USB 3.0 speeds though, and that USB 3.1 Type C port is limited to gen 1 5 Gbps speeds (thus no Thunderbolt 3), but these traits are common in this segment. As a side note, most ports are placed on the left side of the laptop, which right hand users will appreciate, but the PSU is still on the right edge.
As for the bottom of this notebook, flipping it upside down you'll notice down here the large and grippy rubber feet, the speakers in the lower corners, two bays that allow quick access to the RAM and HDD and plenty of air-intake cuts. Fresh air is sucked through these, so make sure not to cover them in daily use, while the exhaust grills are placed on the notebook's back edge.
Keyboard and trackpad
The keyboard on the Aspire 7 is much similar to the keyboards on the older Aspire E15 and F15 laptops, which means it's decent, but not great.
The layout is mostly alright, with well spaced 15 x 15 mm main keys, but a more cramped NumPad section, small directional keys (especially Up and Down) and the Power button integrated as the top-right key.
The keys are smoothly finished and feel nice to the touch, but they have a short stroke on this laptop and rather mushy feedback, even for someone like me who's used and normally enjoys short travel keys. As a result, I was able to type fast on this keyboard and appreciated its overall quietness, but my error rate ended up being a little higher than normal, even after typing thousands of words on it. A slightly increased stroke resistance would have made a big difference here and improved the overall experience. As it is, the keyboard on this Aspire 7 will probably satisfy most most potential buyers, but is not as good as what Acer offers on the Nitro Vs or the Aspire VX models.
I have to add that this keyboard is backlit, with white LEDs that are bright enough for most use cases, which is important as there are no multiple brightness levels to choose from. The illumination is however not activated by swiping fingers over the trackpad, but only by pressing a key, which I find rather annoying.
As for the trackpad, it's placed beneath the keyboard, it's big enough, gets a beveled framing that makes it easy to find in the dark, is made out of plastic and it integrates a fingerprint reader useful for quickly logging into Windows.
Its performance was pretty good. This is a Elan trackpad and it worked fine most of the time, with occasional struggles when it came to very precise swipes, but overall this will should satisfy most casual users. It does rattles when tapped though, as all other plastic trackpads do, and the click areas are a little squeaky on this test unit. They might feel nicer on retail versions though, since I'm also testing the Aspire 5 these days whose similar trackpad feels smoother.
Screen
Acer puts a 15.6-inch matte IPS panel on this laptop, which is again common for the class.
It's a decent option that will do for most users, the same one that's available on the Aspire VX15, Aspire 5 or the Lenovo IdeaPad 510. Personally, I don't mind having this on the Aspire 5 models, but I would have expected something a little better in terms of brightness and gamut coverage on the top-tier Aspire line.
Check out our results below, taken with a Spyder4 sensor:
Panel HardwareID: BOE BOE06c6 (NV156FHM-N42);
Coverage: 66% sRGB, 49% NTSC, 51% AdobeRGB;
Measured gamma: 2.3;
Max brightness in the middle of the screen: 239 cd/m2 on power;
Contrast at max brightness: 650:1;
White point: 6700 K;
Black on max brightness: 0.32 cd/m2;
Average DeltaE: 1.66 uncalibrated, 1.11 calibrated.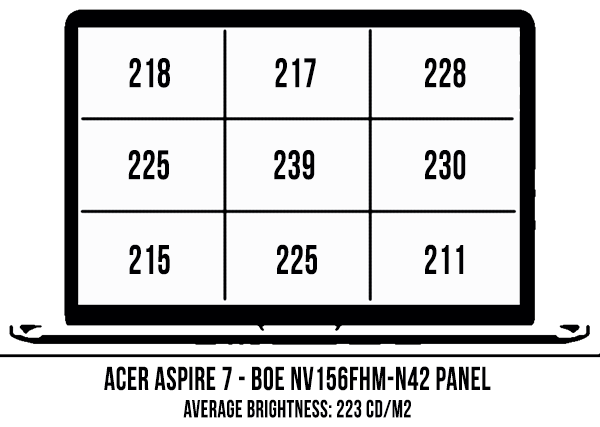 Calibration out of the box is decent, but a slight gamma correction can be obtained by calibrating the panel or using the profile available here. The mid brightness and reduced color coverage are the main nits here, which means this laptop is not the best option for those working with graphics and video. It's also not suitable for outdoor use, but should do fine as long as you keep it indoors or in dimmer environments.
I also have to add that the bezel pinched the panel on our test unit in a few points down the lower edge, which translated into light bleeding creeping onto the screen. That's a quality control issue that you'll find in a greater or smaller amount on most laptops. For instance, our Aspire 5 sample shows less bleeding, despite having the same panel and a similar screen frame. In other words, this is just a matter of luck, which is why I recommend buying from a source that accepts returns, in case you draw the short stick.
In conclusion, I have mixed feeling about the screen Acer puts on the Aspire 7. On one hand it's a decent IPS matte panel with good contrast and uniformity, plus the ability to lean back flat to 180 degrees, which for me is a big selling point. On the other it's just average in terms of brightness or color, and uses PWM modulating across the entire brightness range. It's true most competitors don't offer better panels in this segment, but I for one would have expected something else on this series.
Hardware and performance
Acer offers this laptop in a multitude of configurations and we got to test a top-specked variant, with a Core i7-7700HQ processor, Nvidia GTX 1050 Ti graphics, 24 GB of DDR4 RAM and dual-storage, with an M.2 80 mm SSD and a 2.5″ HDD.
Potential upgrades would imply upping the RAM to 32 GB (there are two DIMMs available) and perhaps replacing the HDD with an SSD if you want a quieter and faster mass-storage solution. The included M.2 SSD only supports SATA speeds, and from what I can tell based on HWInfo, the M.2 slot is not hooked up via 4x PCIe lines, which means you can't benefit from faster PCIe or NVMe SSDs. That's to be confirmed though.
Accessing the RAM and HDD is a basic task on this Aspire 7, as they are hidden behind dedicated bays on the back. Accessing the SSD, battery or Wi-Fi chip on the other hand requires taking apart the entire back panel, which takes a bit more effort and knowledge. It's hold in place by a handful of Philips screws and shouldn't be hard to pop open with the help of some plastic priers. I wasn't allowed to get inside this sample, so I can't show you any interior pictures this time. All I can say is that the Aspire 7 seems to have the same internal build as the Helios 300, showcased in this video.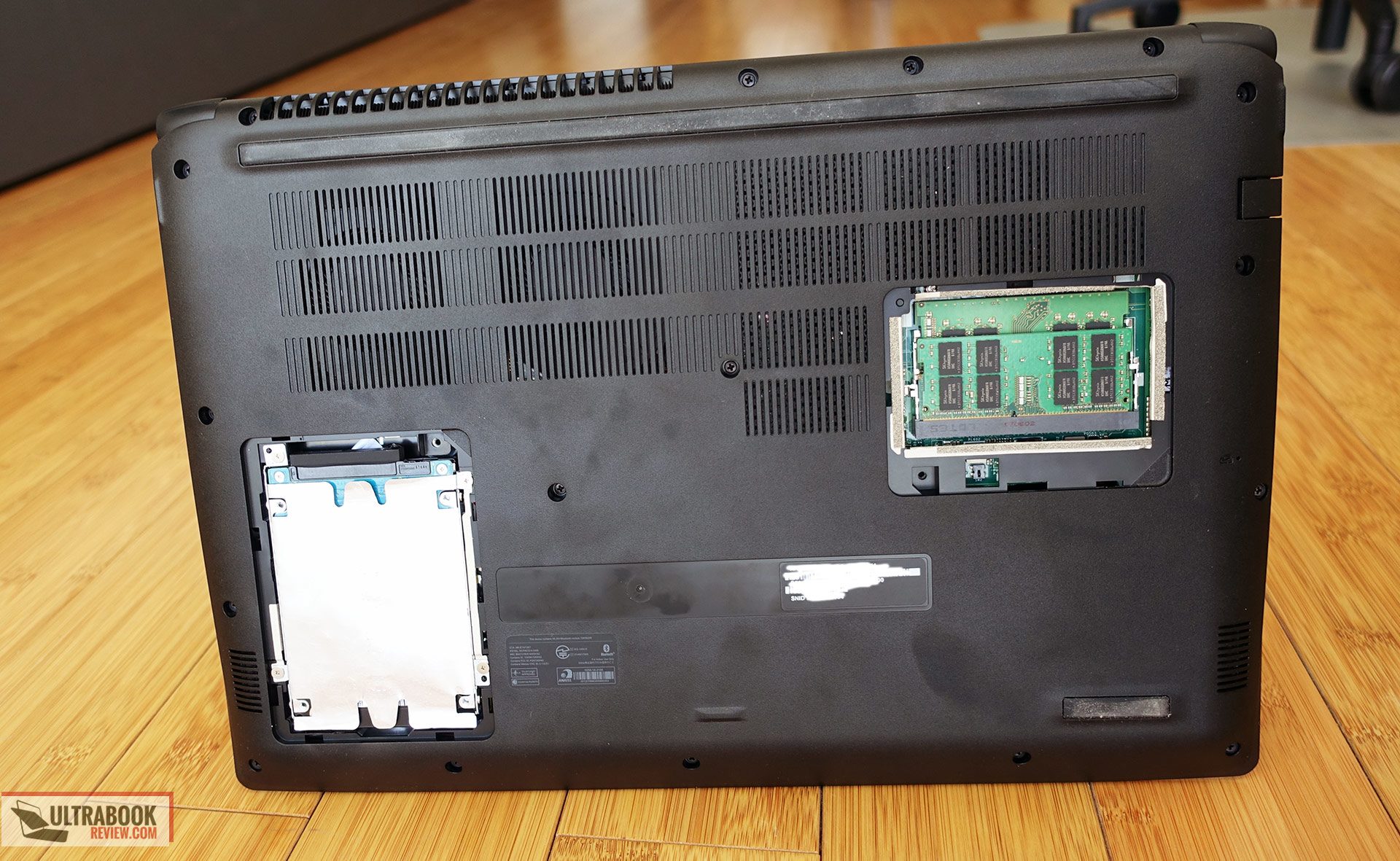 When it comes to performance, the sample did well in our tests, as expected from such a configuration. There is some bloatware installed that you should take care of, but that aside, I haven't notice anything that could interfere with how the laptop handles daily tasks, demanding chores and games. I haven't noticed any throttling or performance drops either.
You'll find some benchmarks results below, in case you're interested in hard numbers.
3DMark 11: P9202;
3DMark 13: Sky Driver – 19323, Fire Strike – 6781, Time Spy – 2482;
PCMark 08: Home Conventional – 3267;
Geekbench 3 32-bit: Single-Core: 3742, Multi-core: 13864;
Geekbench 4 64-bit: Single-Core: 4519, Multi-core: 13500;
CineBench 11.5: OpenGL 65.34 fps, CPU 8.13 pts, CPU Single Core 1.70 pts;
CineBench R15: OpenGL 94.85 fps, CPU 729 cb, CPU Single Core 139 cb;
x264 HD Benchmark 4.0 32-bit: Pass 1 – 168.45fps, Pass 2 – 45.87 fps.
I also ran a few games. Since this laptop will also ship with Nvidia GTX 1050 graphics, I've also added what you should expect from those variants in terms of gaming results. In very few words, the 1050 Ti chip is 10-25% faster than the 1050 alternative, so is well worth getting if gaming is one of your priorities, especially since it's usually only about a $30 – $50 premium.
FHD Ultra – GTX 1050 FHD Ultra – GTX 1050 Ti Shadow of Mordor ~45 fps 55 fps Dirt Autogrid ~75 fps 90 fps Tomb Raider ~75 fps 85 fps Bioshock Infinite ~65 fps 75 fps Farcry 4 ~52 fps 63 fps
Emissions (noise, heat), Connectivity and speakers
As I mentioned earlier, the Aspire 7 has a very similar internal design to the Helios 300. That means that as you're looking at the laptop from the back, the hardware is placed on the top-right side, with heapipes spreading to the two coolers that occupy the left side.
If you're read our review of the Helios 300 you probably know I wasn't very happy with this particular implementation on that laptop and it's about the same here. The Helios 300 supposedly gets Acer's new AeroBlade fans with metallic blades and increased CFM over the older generations, and I can't tell for sure if the Aspire 7 gets them as well because I wasn't allowed to get inside and take a closer look, and there's very little information about this model online. What I can however tell you is that the cooling implementation behaves the same here as on the Helios 300.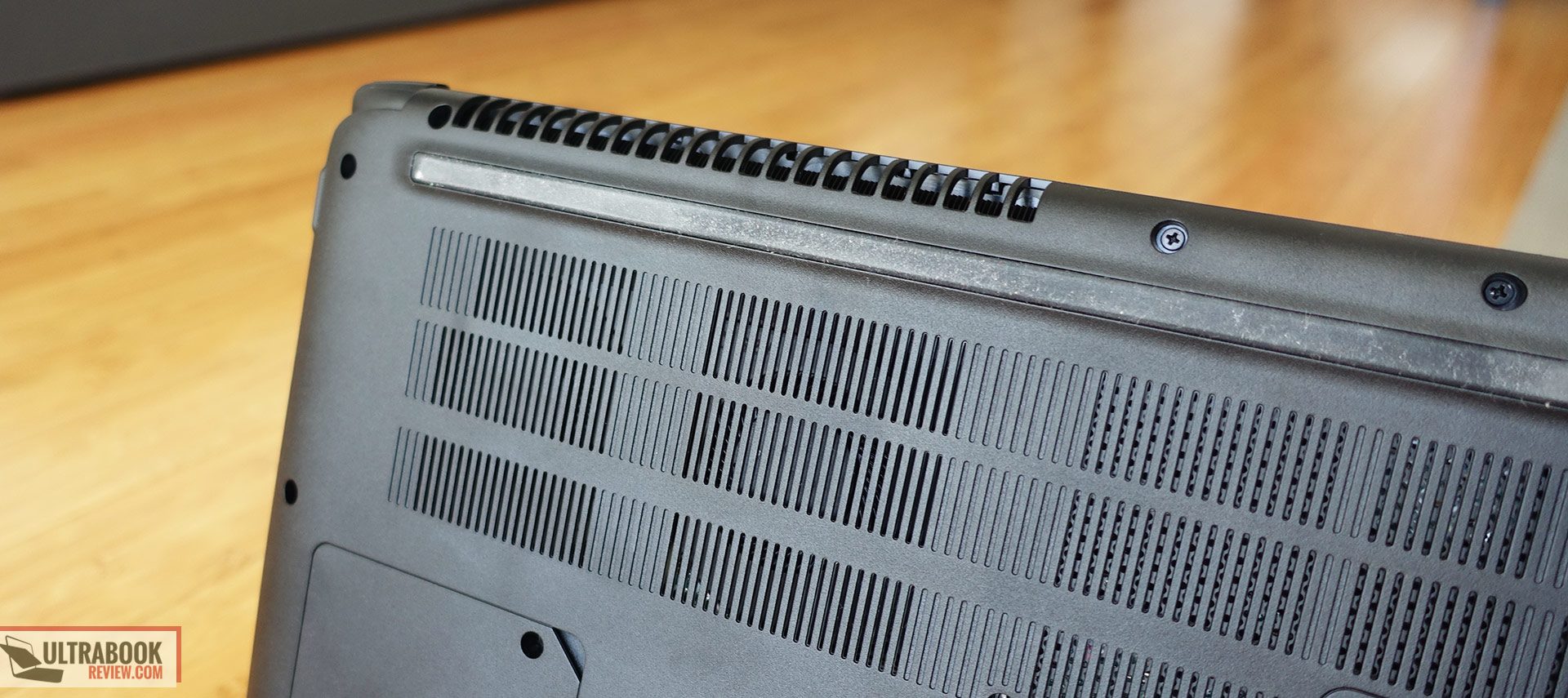 That means the CPU and GPU don't get excessively hot and perform very well even on prolonged loads. The CPU averages about 80 C and the GPU averages 65 C in gaming, which is a few degrees lower than on the Aspire VX15 and about on par with the Asus ROG GL553.
Outer case temperatures on the other hand is where this Aspire 7 trails pretty much every competitor, getting hotter than even the Helios 300 with GTX 1060 graphics we reviewed a while ago. The entire back area on top of the CPU and GPU reaches temperatures of 50 C and above, which are far from comfortable. The metallic interior gets hot as well, leading to sweaty hands. Details in the pictures below.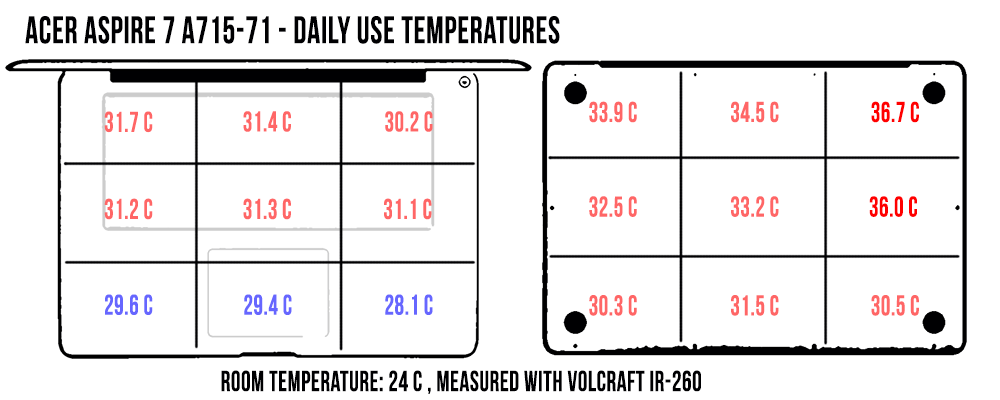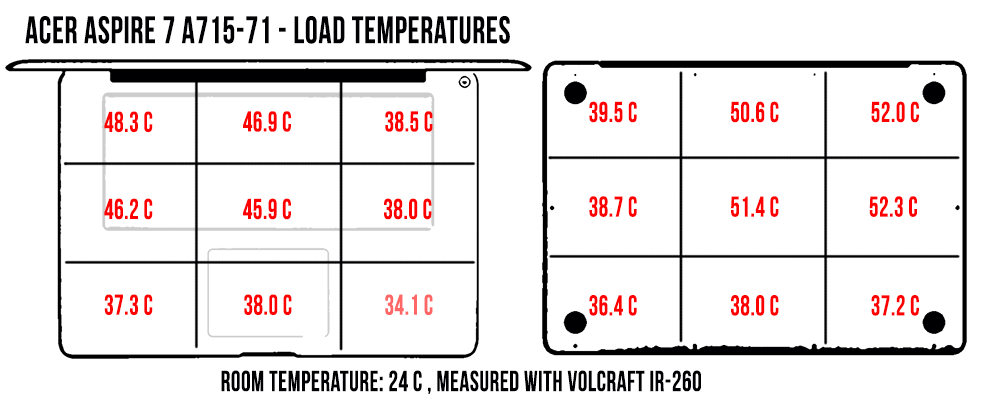 *Daily Use – 1080p Youtube clip in EDGE for 30 minutes *Load – playing FarCry 4 for 30 minutes
Noise wise, the two fans on this laptop aren't loud. They both spin at the same time, but are barely audible with daily tasks and even shut completely off in some cases. I haven't noticed any electrical noise either on this sample, so if you dump the HDD you can get a totally quiet machine with this Aspire 7.
The fans ramp up under load, but even at this point they only reach noise levels of 43-44 dB at head level, which is under the segments averages. That's hardly a consolation for the high temperatures though, I would have gladly accepted noisier fans that would actually do a much better job at keeping external temperatures lower.
Connectivity wise there's Wireless AC, Bluetooth and Gigabit LAN on this laptop. Acer went with a Intel 7265 wireless module on our sample, which performs well in close proximity of the router, but barely holds on at 30 feet with two thick walls in between. The signal quality and overall speeds drop in this latter case, to the point you'll actually feel in daily use.
As for the speakers, they are placed on the underbelly and are rather average. We measured a maximum volume of about 75 dB at head level, a little lower than the speakers on Helios 300 or the VX15, while the sound quality is tinny, with little to no bass. On the other hand I didn't notice any distortions at high volumes, so there's at least that, but you will feel the vibrations they send into the palm-rest.
As for the HD webcam on top of the screen, it's washed up and lacks much in detail, but should do for occasional use. Make sure your room is properly lit though, otherwise the person at the other end will have a hard time seeing you.
Battery life
There's a 48 Wh battery on this laptop and as a result you shouldn't expect that much in terms of battery life. See the numbers below for more details (screen set at 50% brightness, which is roughly 120 nits):
10.2 W (~4 h 40 min of use) – very light browsing and text editing in Google Drive, Balanced Mode, screen at 40%, Wi-Fi ON;
7.6 W (~4 h 15 min of use) – 1080p fullscreen video on Youtube in Internet Explorer, Balanced Mode, screen at 40%, Wi-Fi ON;
6.2 W (~7 h 40 min of use) – 1080p fullscreen .mkv video in the Movie app, Balanced Mode, screen at 40%, Wi-Fi ON;
7.7 W (~4 h 15 min of use) – 4K fullscreen .mkv video in the Movie app, Balanced Mode, screen at 40%, Wi-Fi ON;
14.5 W (~3 h 20 min of use) – heavy browsing in Edge, Balanced Mode, screen at 40%, Wi-Fi ON;
40.0 W (~1h 10 min of use) – gaming, High Performance Mode, screen at 40%, Wi-Fi ON.
Video playing results were actually quite good for a Core i7-7700HQ configuration, so Acer did a fairly good job optimizing that processes.
Our model came with a 120 Wh power brick and a full charge took over 2 hours.
Price and availability
The Aspire 7 is listed in Europe at the time of this article (Mid June 2017), but not in other regions.
Based on the info we have so far, I expect it to sell for between $800-$1000 and rival the Aspire VX15 line in terms of pricing, with whom it also shares the same hardware platform and screen.
We'll update this section once we know more, and in the meantime you can follow this link for more info on the configurations available at the time you're reading this article.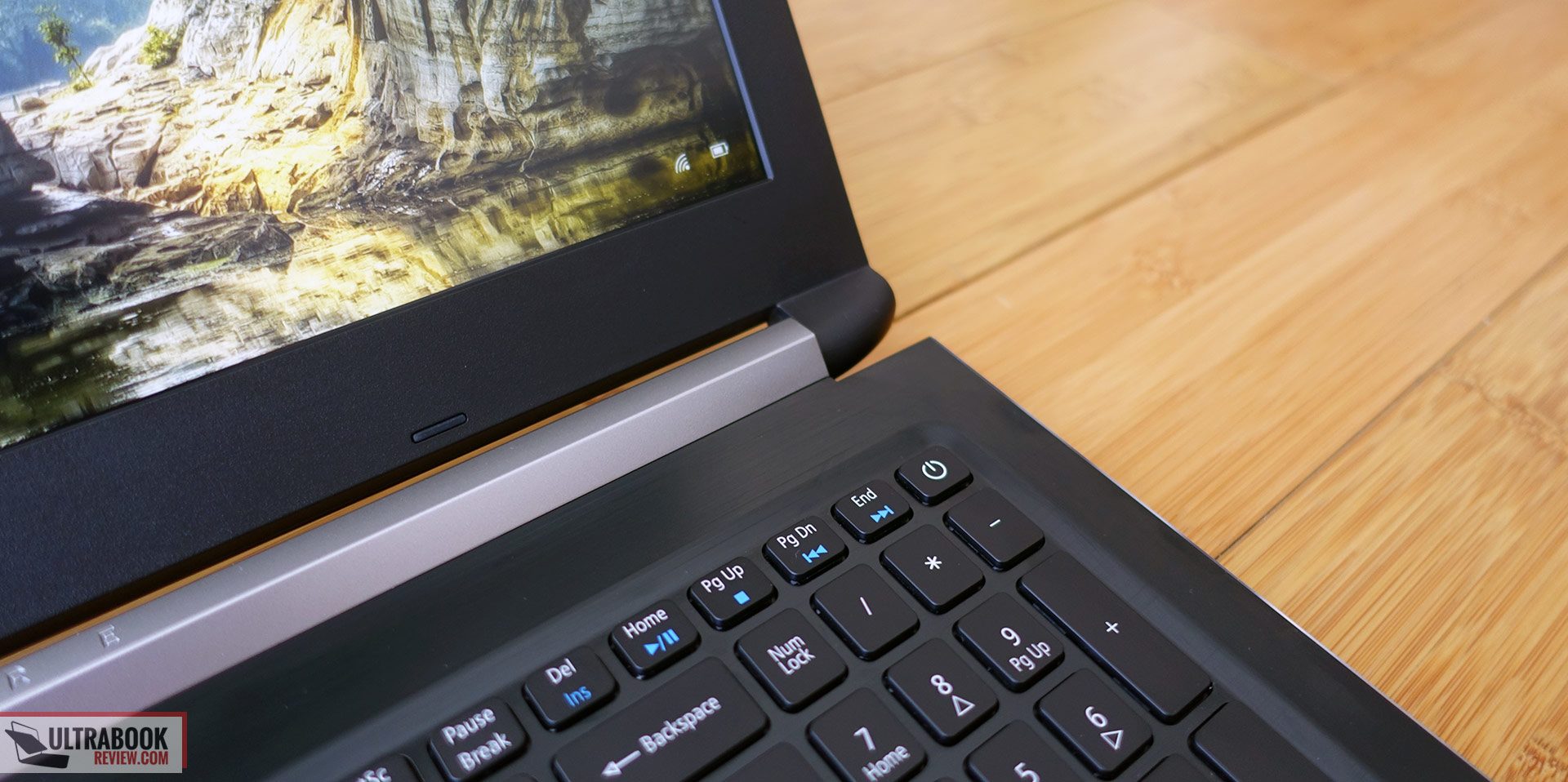 Final thoughts
After spending about two weeks with the Aspire 7 I can conclude it's in many ways what I would expect from a mid-range multimedia laptop these days.
It's well built and gets simple looks that make it a good option for all sorts of environments, including schools and strict work places. It gets a decent keyboard, trackpad and screen, powerful hardware and the performance that allows it to handle daily chores at ease, but also more demanding software and gaming at FHD resolutions.
However, in order to keep prices down, Acer had to cut some corners: the battery is only average in size, the display isn't very bright or color accurate and the speakers are pretty mediocre. I for one could live with those, and I expect most of you would probably do as well, especially since this Aspire 7 is more affordable than most of its competitors.
My only major gripe is with how hot this machine runs when put to work and that for me is a deal-breaker: 50+ C on the back and nearly 50 C on the interior is just too much for a computer than't not ultra-portable and is not very powerful either. I can except such high numbers from something like a Razer Blade or even an MSI GS63, but not from a 5.3 lbs 15-incher with merely a GTX 1050 Ti onboard. It's true however that we reviewed an early version of this laptop though, so you should take our findings with a grain of salt and read other reviews and opinions online before deciding if the Aspire 7 is the right unit for you or not.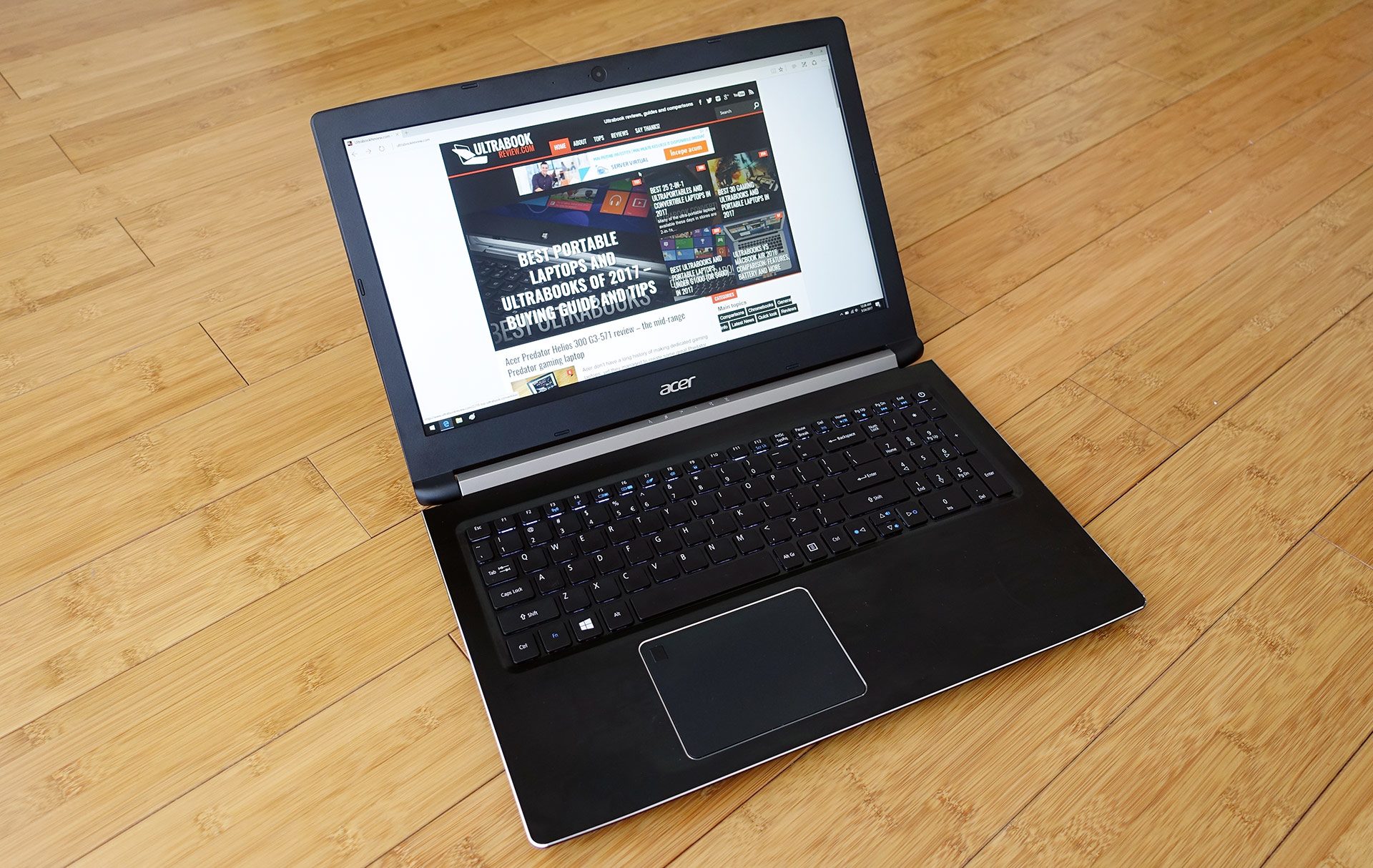 As far as the competition goes, there are many other laptops with Nvidia 1050/1050 Ti graphics on the market, but most of them get aggressive gaming schemes. Those of you that appreciate the more tamed down aesthetics of this notebook could also have a look at the Dell Inspiron 15 Gaming, Lenovo Legion Y520, Acer Nitro 5 or the Asus FX553 series, each with their pros and cons.
That's about it for this review, but the comments section below is open for discussions, so if you have anything to add to our impressions of the Aspire 7 A715-71 or any questions, feel free to get in touch.